50% Science, 50% Students, 100% Symposium
Sixth Annual Student Research Symposium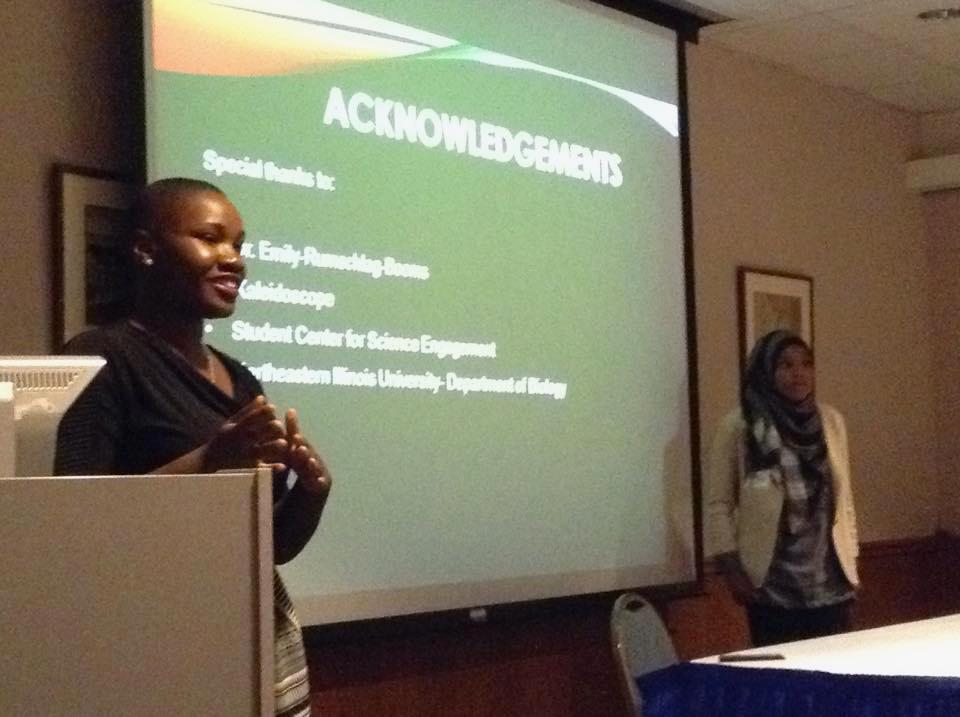 Though NEIU is home to many English, Art, Music or other majors from liberal arts programs, every year is a chance for the students of the Science programs to flex their science muscles and show them off to the world.
Every fall the Student Center for Science Engagement (SCSE) gathers students from the entire Science Technology Engineering Math (STEM) programs in the school and organizes the Annual Student Research Symposium. It is here that these students present research projects they contributed to during the summer to the rest of their peers. Not only is it a chance to exhibit their contributions to the scientific community, but also an opportunity to connect with other young scientists or even inspire others to join the wonderful world of science.
The Sixth Annual Student Research Symposium took place on Friday Sept. 26 at the Golden Eagles room in the Student Union. More than 50 students and 26 faculty members presented research projects in biology, chemistry, computer science, earth science, mathematics, physics, and psychology. Though only 13 oral presentations were given at the symposium, science lovers had the opportunity to explore a total of 25 poster presentations which were displayed in Village Square. Students accompanied each poster explaining what it took to embark on their research and how that research advances their field of study.
Among the Biology department's oral presentations was a project about Amyotrophic Lateral Sclerosis (a neurodegenerative disease made more widely-known by the Ice Bucket Challenge.) The project, titled "Caenorhabditis Elegans Model of Amyotrophic Lateral Sclerosis: Understanding the Role of TDP-43 Expression on HSN Motor Neuron Function" was presented by student Zelene Figueroa. It explored the role that gene TDP-43 plays in mobility loss by studying transparent roundworms that were tagged with TDP-43. One major implication of Figueroa's research is that current therapies for ALS could potentially be improved and made more effective by targeting the disease's side effects.
NEIU chemistry student Rifka Joly and Kay McCorker from Illinois State University gave a presentation titled "H5N1 Avian Influenza Entry: Sialic Acid's Potential Sidekick". Joly and McCorker's research is important to note because of the rise of antibiotic resistant flu strains in recent years. Continued research into this subject could lead to the development of new influenza medications.
The range of student presentations reached further than disease. Research on topics such as the praying mantis, soil erosion, effects of multitasking and underrepresented Latino STEM students reflected the diversity that NEIU has become known for.
When asked about the symposium's turnout, SCSE coordinator Dr. Sylvia Atsalis said "We see every year as a success because another cohort of students has gone through rigorous scientific research training and emerged with improved awareness of how science works and their place in the world of science."
Dr. Atsalis went on to say "There is no question that students should engage in doing summer research or some kind of internship, whether or not they go on to graduate school."