Happy Anniversary Barry Bonds*
The worst thing about any anniversary is not being able to happily celebrate it and today that is the case for baseball fans.
On this day, in Sep. 2006, Barry Bonds hit his 734th home run, breaking Hank Aaron's National League record.
Bonds' eight-year anniversary is that one event not being rejoiced. The long-time San Francisco Giants outfielder was part of the infamous "steroid era" of baseball and is statistically one of the most important players in history of Major League Baseball (MLB) history. Bonds was Most Valuable Player seven times, an eight time Gold Glove winner, Silver Slugger at left field 12 times and he was a three time winner of the Hank Aaron award, given to the top hitter in each league.
Bonds could have gone down one of the greats of all time, but his "unknowing" use of steroids will always put an asterisk by his impressive stats.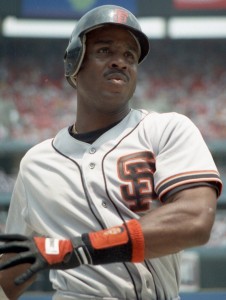 Later in the 2006 season, Bonds did what every power hitter had desired to do for decades, surpass Aaron's MLB home run record. Aaron carried the record of 755 home runs for a remarkable 33 years after passing Babe Ruth's 715 career home runs on April 8, 1974.
Today, the public will accuse any player who hits a large sum of home runs of using performance-enhancing drugs (PEDs) and it is all because of Bonds and the steroid era.
Also brought to fame during that era were Sammy Sosa and Mark McGwire. Roger Maris set the single season home run record in 1961 and not until 1998 did Mark McGwire break the record.
That year has been claimed as the year that saved baseball but in reality it did not.
According to Scott Lindholm of BeyondTheBoxScore.com, attendance was already on the rise as of 1996 and after the popular home run chase, the attendance actually declined. It reached its highest numbers in decades as the steroid era players began to decline and retire.
Three years after the Sosa and McGwire home run battle, Bonds broke McGwire's single season record as steroid use was becoming more prevalent in baseball. This was only the beginning of the mess that was created.
In 2005, Jose Canseco released the infamous book, "Juiced", in which he spoke of the times he personally injected McGwire with steroids and of how many players continue to use steroids. The book became a best seller and the public began to strongly question the MLB.
Shortly after Canseco's book release, Congress decided to get involved and began questioning all big hitters from that era.
Sosa notoriously did his testimony with a translator, McGwire tearfully denied to answer and Rafael Palmeiro laughably pointed his finger at Congress saying, "I have never used steroids, period," less than five months later he got suspended for the use of PEDs.
Sosa was also found to have used steroids and McGwire broke the news in 2010 that he used as well. Bonds, likewise, eventually admitted to the use of steroids but denied he knew what it was. He claimed his personal trainer had misled him claiming it was a flax seed oil and arthritis cream.
Bonds was later indicted for perjury and obstruction of justice based on his grand jury testimony in an investigation involving his former trainer Victor Conte and BALCO, a steroid-dealing company founded by Conte.
So to say this is the eight-year anniversary of Bonds' feat is something some may say hesitantly because of the preciousness of baseball records and the immoral ways these players broke them. In reality no one likes a cheater and the home run records were broken because of steroids and there is really no argument otherwise.
Players can claim they could have broken those records without PEDs, but because of their use of the drugs, those claims remain unfounded. These "great" players put enormous black eyes on their careers and it really could have been worse for them because steroid use can be deadly. Instead, the only things deceased are the legacies of these former heroes.