NEIU's Highs and Lows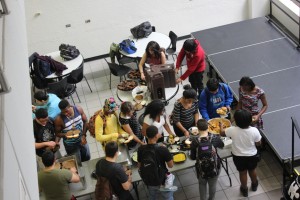 NEIU has been for a long time recognized as a diverse school through informal dialogue amongst its students and faculty, though it is now officially claimed as one of the most ethnically diverse schools in the nation in the recent publication of "Best Colleges" by U.S. News and World Report. In addition, the report stated NEIU's students graduate with the least amount of debt amongst other Midwest regional universities.
"I'm not surprised to hear this news. Every time I walk around campus and head to my classes, I always encounter faces of different color and people of different cultures. It's great we're being recognized for it," says Carlos Munoz, an NEIU senior majoring in Social Work.
According to the US News and World Report database, NEIU is the most ethnically diverse university in the Midwest region, followed by Robert Morris University which both have a diversity index of 0.68. The formula used in their calculations accounts for African-American, American Indian, Asian, Pacific Islander, white and multiracial and they then give a range from 0 to 1, with a number being closest to one signifying the most diverse population.
Not only does NEIU have the most ethnically diverse population in the Midwest but also is the only public four-year university that is federally designated as a Hispanic-Serving Institution.
Under examining debt, only 18 percent of NEIU's 2013 graduating class had unpaid loans with the average debt summing up to $13,213. Also notable, the US Department of Education released a report on average default rate of universities for the fiscal year of 2009 finding that the average was 13.4 percent nationally. NEIU's 2009 default rate was 10.1 percent.
In a news release by the school Sharon Hahs, president of the university stated, "The diversity of our community transcends not only what we do, but how we do it. We welcome, accept, respect and embrace our differences because we value learning from others. We support divergent perspectives and expect our community to voice differing views of history, politics and world events—that is how we add value to our educational experiences and grow as individuals."