Let The Advisory Begin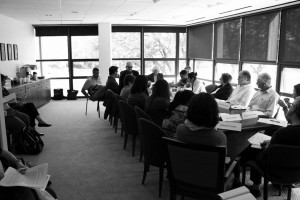 At NEIU there is a group of individuals known as University Advisory Council (UAC) devoted to serving the concerns of the NEIU community. The UAC's first meeting of the academic year occurred on Friday, Sep. 19.
At the meeting, the UAC planned a university dialogue called NEIUSpeak. The dialogue will be titled, "Bridging Differences Through Civil Discourse: Diversity and Dialogue Tools."
This dialogue will focus on developing skills for having thoughtful discussions about difficult topics. The talk is expected to take place in Feb.
"I really believe that this council is vital," said UAC Chair Carlos Melian. "I think we are committed to being a true advisory body, to the president and to being as inclusive as possible."
Kenneth Anderson, a consultant from the American Association of University Professors that commented on the state of shared governance at NEIU recommended the formation of the UAC in 2011, which was established on Jan. 1, 2013.
The UAC consists of faculty, civil service employees and the administrative and professional committee. There are 20 members that come from these different constituencies and that includes two undergraduates and one graduate.
Once a month UAC meets to discuss several agenda items suggested by members of the NEIU Community. Any member of the NEIU community is able to participate in these meetings through two different forms.
One form of participation is to submit a recommendation to the council, which is known as an agenda topic. This is done by visiting the UAC's page on the NEIU website and submitting a form explaining your recommendation. The executive committee looks at every suggestion and determines if it will come up as an agenda item in the next meeting. All suggested items, whether or not they are accepted as agenda items, are posted on a document, which is publicly available on the UAC portal.
The other form is by requesting a public forum during the meeting. Community members can request to speak at the meetings about a topic of their choosing. The speaker will have three minutes to speak to the council and then will hear a two-minute response.
"It doesn't have to be what the council is talking about. It can be something happy," said former chair Kate Hahn, who strongly encourages participation in the monthly meetings, which is open for anyone to attend. Agenda suggestions must be submitted through the official form as well as requests for public comment. Requests submitted through email will not be accepted.