Neighborhood Community Speaks out at Board of Trustees Meeting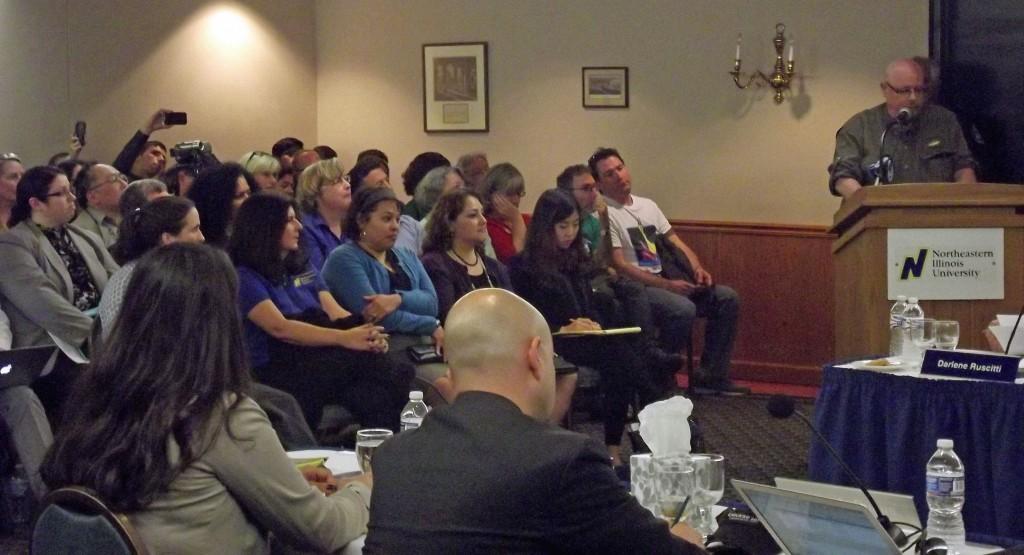 Though often filled with dry talk of committee reports, finances and voting procedure, the NEIU Board of Trustees meetings are more often than not the most important meetings regarding the university's future.
Administration jargon usually sets the tone for the scene as the Board of Trustees (BoT) votes on funds and executive decisions. However, the most recent BoT meeting was host to high emotions and a television camera as community members and faculty took the opportunity to voice their thoughts regarding NEIU's planned use of Eminent Domain to acquire six properties by Bryn Mawr and Kimball. Beforehand, the board also delegated on several different matters including the need for recruitment, a prospective doctoral program at NEIU, and the opening of the new El Centro Campus.
Lower Enrollment for the Whole State
"We knew we would be down again, and we planned for 3 to 3.5 percent," said Dr. Sharon Hahs, President of NEIU. University enrollment numbers have been slowly declining in recent years, one of the reasons for last semesters 3 percent tuition raise for new students. "It's not official yet, today I can not bring you the official final [enrollment numbers,] but it looks like it will be closer to 5 percent."
President Hahs also mentioned that other Illinois state universities are experiencing similar trends, with exception of University of Illinois which has received an influx of nearly 600 Chinese students. According to the Chicago Tribune, these Chinese students help make up the $211 million that international students bring to U of I. According to President Hahs, Southern Illinois University campuses remained level in enrollment.
More Money in Advertising
On a related note, the BoT also discussed matters regarding the hiring of a new media aggregator. Carnegie Communications, a marketing company based out of Massachusetts, would manage the purchases of ads for the university so long as they do not exceed an allocated $1 million, an increase from the previous year's $600 thousand.
The agency would act as a middleman between the university and media companies, taking their pay from the media companies. Vice President for Institutional Advancement Melba Rodriguez explains with a hypothetical example, "So if I had $100 thousand, and I go to WGN…" She continues, "WGN would say 'I'll give you $15 thousand dollars, to give me the $100 thousand."
VP Rodriguez also added that since Carnegie "buys in bulk" they are able to effectively get ad space at a discount. "The $100 thousand, can actually become $125 thousand to Northeastern, because they buy so much."
The Board voted unanimously to approve the use of Carnegie Communications.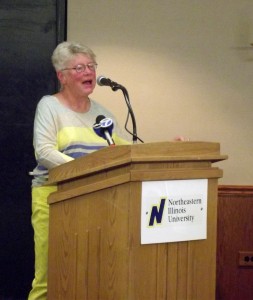 Boots on the Ground
Other trustees had more to say on the recruitment efforts of NEIU. Trustee Jin Lee emphasised the recruitment of local and suburban high school students to be an area of growth. Trustee Lee also provided data from three Park Ridge, Illinois High schools. Out of these three suburban schools, 50 graduates move on to DePaul University, 45 to Loyola, 69 to University of Illinois in Chicago, 67 to University of Illinois Urbana-Champaign, and 14 to Northeastern.
Trustee Marvin Garcia also shared thoughts on the future of recruitment. "It's boots on the ground that brings students to Northeastern. This creates an important presence." Trustee Garcia added "There are some very good model programs across the country we should look at. There are even pilot programs involving students in peer recruitment."
Trustee Jonathan Stein agreed saying, "We need somebody there, to develop a relationship with a potential student, or potential high school counselor. I'm in sales. If you got a good product to sell, it's the easiest job in the world, and we've got a great product."
A Doctoral Program at NEIU
The BoT also discussed the potential of NEIU's first ever doctoral program, which was laid out by professors in the College of Education.
Projected to be available in the 2016-2017 school year, students in the College of Education would potentially be able to pursue a Doctorate in Special Education. As a 60 credit hour program, it would be designed for students who have achieved a master's degree in special education.
When discussing some of the reasons for bringing a special education doctoral program Trustee Garcia said, "This program will bring some prestige and cache[sic] to our university, along with our university. I think those two fit together" He also added, "There's a need for special education. There's a market out there."
Computer Guys, Roofs, Janitors and Snow
Aside from approving the operational budget for the 2015 financial year and the Budget requests for the 2016 financial year, the BoT unanimously approved several different expenditures.
The BoT approved the use of a search firm to fill vacant positions in technology services. According to President Hahs, the estimated costs of using a firm to find a Senior Database Administrator and a Programmer analyst is "around $20-$25 thousand dollars."
Also approved were allocations to continue repairing roofs on campus. The Library ($120 Thousand), Physical Education building ($80 thousand) and the Building H (estimated $300 thousand-$400 thousand) roofs are in need of major maintenance.
With the opening of the new El Centro campus, also comes the need to contract a janitorial firm to maintain the new building. NEIU has selected Ada S McKinley Community Services, which supports The State of Illinois' Business Enterprise Program for Minorities, Females and people with Disabilities. The cost of hiring the vendor is roughly $112 million for the next year .
Also approved was the $200 thousand cost of hiring a snow removal service for the 2015-16 financial year. The money will come from the parking fee, included in student tuition.
Cheers and Tears at the Public Comments Section
The BoT gives the opportunity for public comment to anyone with concerns or interests regarding the university. However, with the recent neighborhood outcry regarding the NEIU administration's decision to acquire six parcels of land on Bryn Mawr Ave, the concerns undoubtedly outweigh the interests.
As the Independent reported in the September 9, 2014 issue, NEIU's Decade of Dreams expansion includes the acquisition of several businesses on Bryn Mawr Avenue, through a law known as Eminent Domain. Under such a law, any state institution can claim land, provided they can prove it is for "the public good" and compensate the owners a fair market price, regardless if the owner wishes to sell or not.
Several of the community members went over their allotted two-minute speaking period while addressing the BoT. One such member was Bruce Van Inwegen. "Where's your good faith? When right out of the gate you offer an ultimatum which has as your final argument the barrel of a gun." As Van Inwegen left the podium, he said to the Trustees "You all should be ashamed to yourselves." to which a majority of those in attendance cheered and applauded, and was captured by an ABC 7 cameraman present at the BoT meeting.
The cameraman, would have the opportunity to catch more outbursts from other community members. Kim Moseid chastised the BoT by saying "We understand that Northeastern is within its legal rights to use constitutional authority to invoke Eminent Domain." She continued, "It certainly does not mean it is the right choice. It is an abuse of power."
Gina Fong, also of North Park, criticized the plans by explaining how they would disrupt the businesses of the area, including the Bryn Mawr Breakfast club, which is expected to open for business in the week of Sept. 21. "Build on Foster first, withdraw the Eminent Domain lawsuits, and save these families' homes and futures."
Other neighbors would agree that NEIU should build on the southern end of campus, on Foster Avenue. One such neighbor is David N. Simon, who says "Let Northeastern put its first student housing where it belongs: on its own empty athletic field on Foster, and make it big enough there!"
Community Garrick Beil presented a petition with over 1,000 signatures, and promised that there is no settlement for his family saying, "My grandparents fled Germany because of a maniacal tyrant," and that they're "not running anymore."
However, one community member did speak in favor of the expansion. Casey M. Smagala, Director of Development at the Albany Park Community Center explained, "I am in support of this development because of the resources it will bring to minorities of the area." He later said "I support this development, for the American Dream, and for the immigrants in our community."
Several professors spoke as well in opposition to the Eminent Domain expansions. Dr. Christina Gomez, Dr. Marcos Feldman, Dr. Brett Stockdill, all presented reasons to withdraw from Eminent Domain. Professor Emeritus Connie Speake spoke in favor of the development explaining that she hopes with dormitories comes more geographic diversity to the campus.
Professor Comments
Dr. Shelly Banister, Professor of Justice Studies, spoke to the name of Lech Walesa Hall, and expressed that his 2013 homophobic comment are not reflective of NEIU's values or its LGBTQ community. Dr. Banister also delivered an emotional telling of a student who that very same day was assaulted for passing out literature supporting LGBTQ rights.
Dr. Sophia Mihic, spoke to inform the board of the year's first University Professionals of Illinois (UPI) meeting and said, "The Membership is generally unhappy with the general mismanagement of the university." She cited workload issues, classes being cancelled, and the use of Eminent Domain on neighbors. "That is money spent on legal fees that could have been spent on a peaceable accommodation," but instead is "used in a fight and diverted from instruction."
The next Board of Trustees meeting will take place on November 13, 2014 in the Golden Eagles room in the Student Union. And readers interested in the informational packets, meeting minutes, or audio of the meeting can be found at http://www.neiu.edu/about/board-trustees under "Board Meeting Materials."