Review: 'Bobrauschenbergamerica' Comes to Stage Center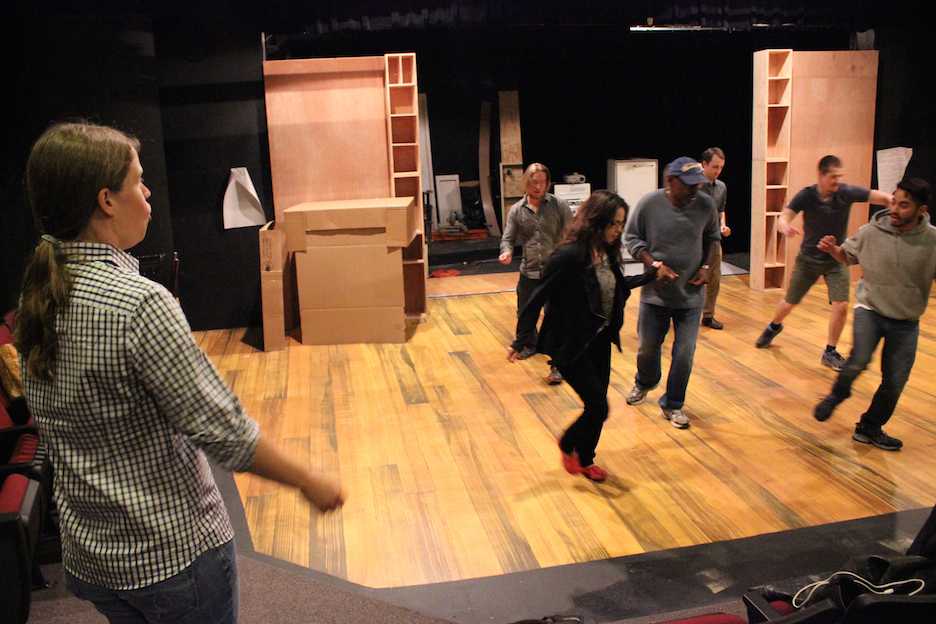 NEIU's Stage Center Theater is back to work with the latest production "Bobrauschenbergamerica," Charles Mee's one-act-tribute to Bob Rauschenberg, an American painter and graphic artist. Both the playwright and artist were known for their juxtaposition of different media in their art.
Rauschenburg used a lot of nontraditional materials in his paintings and sculptures. He also embodied American history and culture into his pieces. In his work you can find many pictures of American icons such as Marilyn Monroe and Janis Joplin.
Charles Mee incorporates music, dance and poetic language into nonlinear writing. He takes stories that are already known and expands them, adding and adding until a patchwork of experiences is made.
"There is no such thing as an original play," writes Mee on his website charlesmee.org and explains that culture writes us first and art is a product of its time period.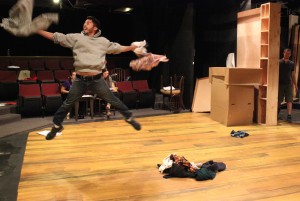 Sometimes writers take stories, conversations, dreams and revelations from friends and family and call it original. Mee explains that even our own lives are not honest to originality, that everyone is constantly remaking what a culture brings to an individual.
"I've always wanted to [direct] a play by Charles Mee. He writes all of his plays in this kind of collage style," said Kristen Hunt, the director of "Bobrauschenberhamerica." Mee's plays rely on ensemble, carrying many characters with curious relationships. Hunt believes it is important for young actors to explore ensemble-based plays.
She was also drawn by Mee's incorporation of physical action and poetic language. "I think they are really rich and interesting and there's something audiences haven't seen before," Hunt said. "They're a really different style from what's in the rest of the season; a nice compliment." They are popular contemporary plays expressing a distinct style which Hunt wants to display.
"I like the fact that this play encourages us to think about theatre and also about art in general. It's trying to get people to see and experience that art is for everyone, that art is really kind of simple," she said.
Hunt added that Bob's mom, a character in the play, described how art was not a part of their lives, yet the message conveyed in the play is that art is everywhere.
"I'd like for people with little context to the theatre to come out of here thinking I don't have to know everything about what it means," Hunt said. "Any interpretation is valid." She wants her audience to enjoy the interesting visual combinations and enjoy their time experiencing a variety of feelings.
The play is about Bob Rauschenburg who was active in the '50s, '60s and '70s and placed everyday life materials in a gallery context, a collage. Charles Mee, who wrote in a collage style, celebrated Rauschenberg by bringing his art to the stage, juxtaposing relationships and stories just as the artist did with his visual arts.
"It really pulls in from all types of media across the board," said Heather Chilson, a junior majoring in biology. "There's dancing and you actually get to see some of Rauschenberg's art pieces." Chilson plays Susan, a character with a lot of romance issues who is confused but holds a lot of wisdom.
"I have never seen a show like this, and I am in this show," she said. "It's pretty interesting to be on the other side." Chilson wants the audience to have a good time and take in the history, the story and the food.
That's right, there will be food. Those who were present for last season's production "Miss Julie," which was also directed by Hunt, might remember the snacks provided during the show. The foodie in everyone will surely be satisfied.
The cast wants the audience to have an open mind and allow themselves to fell emotion. Don't forget to leave room for good food and new ideas at this season's production of "Bobrauschenburgamerica."
The show runs Oct. 9-11, 16-17 at 7:30 P.M., Oct. 18 at 2 P.M. and 7:30 P.M. in the Stage Center Theater.