Review: "House Sounds" at House Shows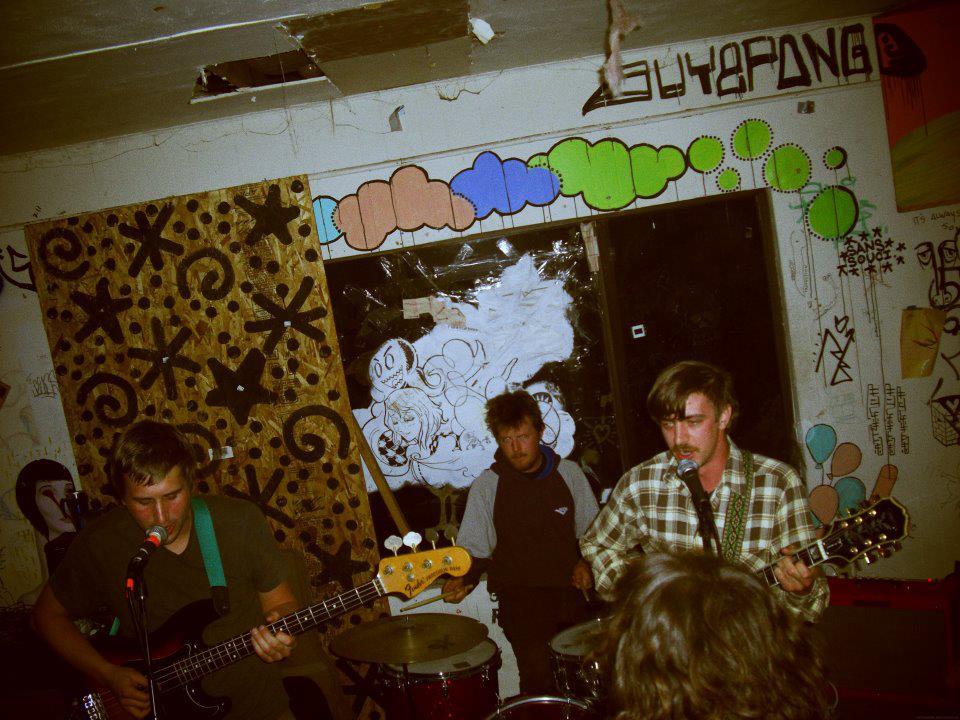 For those in the know, Chicago's DIY music scene is a thriving network of enthusiastic and inspired young artists. "There's a lot going on. You can pretty much listen to a new band every day," explained senior Ian Feigle of the indie rock 'n' roll band House Sounds.
A communications and English major, Feigle spends his days studying and working, but by night, you might find him rocking his life away amidst Chicago's vast landscape of underground house venues, where the floorboards precariously give, cheap beer coats the floors and ceilings, and every house sounds like an adventure with names like Wally World, Animal Kingdom and Café Diarrhea.
"At this one place called Wisconsin Dells, I had paint thrown all over my face during a show."
Feigle described the appeal of house shows. "You're almost guaranteed a crowd. And they're pretty wild. Shows don't usually start until 11—11:30 … I'll be worn out, drenched with sweat. My ears are ringing to hell, and I can't ask for much more."
Feigle discovered rock 'n' roll at an early age. "I have very early memories," he said, "waking up on a Saturday morning and my dad blasting Frank Zappa."
And even then he applied a DIY attitude towards music. "I had a makeshift drum-set that I'd just sort of mess around on."
Influenced by bands like The Melvins, The Pixie, and The Kinks, in the 8th grade, Feigle formed his first band called The Wankers.
"We bought instruments to start a band," Feigle said.
Raised in Phoenix, Feigle described its punk scene as vibrant and accessible. "We played at this place called the Locust Bar, and all the bands I wanted to see have played there."
Feigle moved to Chicago in 2008 from Phoenix in hopes of becoming a member of Chicago's swelling indie-punk scene. Prior to moving here, Feigle met House Sounds bandmate Kenny Klemair at an audio engineering school. Coincidentally, they both decided to move to Chicago where they met Matt Kordonowy, the third member of House Sounds.
Instruments rotate in the band, and each member plays an equal part in the writing process. The result is an eclectic collage of well-sung lo-fi vocals, catchy guitar licks, driving bass lines, slick rhythms and thoughtfully selected electronic sounds. Rock 'n' roll is the common thread, but each song weaves in elements from other genres like surf or ska or '90s post-punk.
House Sounds has two albums, self-titled and Interrobang, plus a third one in the works. Interrobang was recorded in the basement they practiced in. Computer programs like Garageband and Fruity Loops have made recording music affordable for musicians.
"It's super accessible," Feigle explained. "I know quite a few local acts who record in their bedrooms with just one microphone."
Another important aspect of the DIY scene is distribution. Interrobang was released on cd and cassette tape through a DIY distribution company, Maximum Pelt. More recently, a lot of bands release cassette tapes as an analog alternative to digital platforms.
"Cassette tape are super cheap to record on. Plus they have an aesthetic—a bedroom feel. They have an intimacy," Feigle said.
Chicago's endless network of bands extends across stateliness and even international borders. In 2011, House Sounds toured California with the French band Le Mutants. In 2013 they reconnected with Le Mutants for a Midwest tour.
Feigle currently DJs at WZRD (88.3 FM) on Sunday nights from 8 pm-12 am. After graduation he wants to get involved in public radio. He expects to graduate fall of 2015.
You can see House Sounds at WZRD's showcase at the Gallery Cabaret (2020 N Oakley Avenue) on Sept. 19. In fact, House Sounds played on WZRD's program Thursday Night Live before Feigle was a student at NEIU.
They will also be playing at the Empty Bottle (1035 N Western Avenue) on September 21, and at Cole's (2338 N Milwaukee Avenue) on Sept. 27.
To hear House Sounds, visit maximumpelt.blogspot.com.