Radio Host Speaks
Tony Sabria joins Meet the Media Night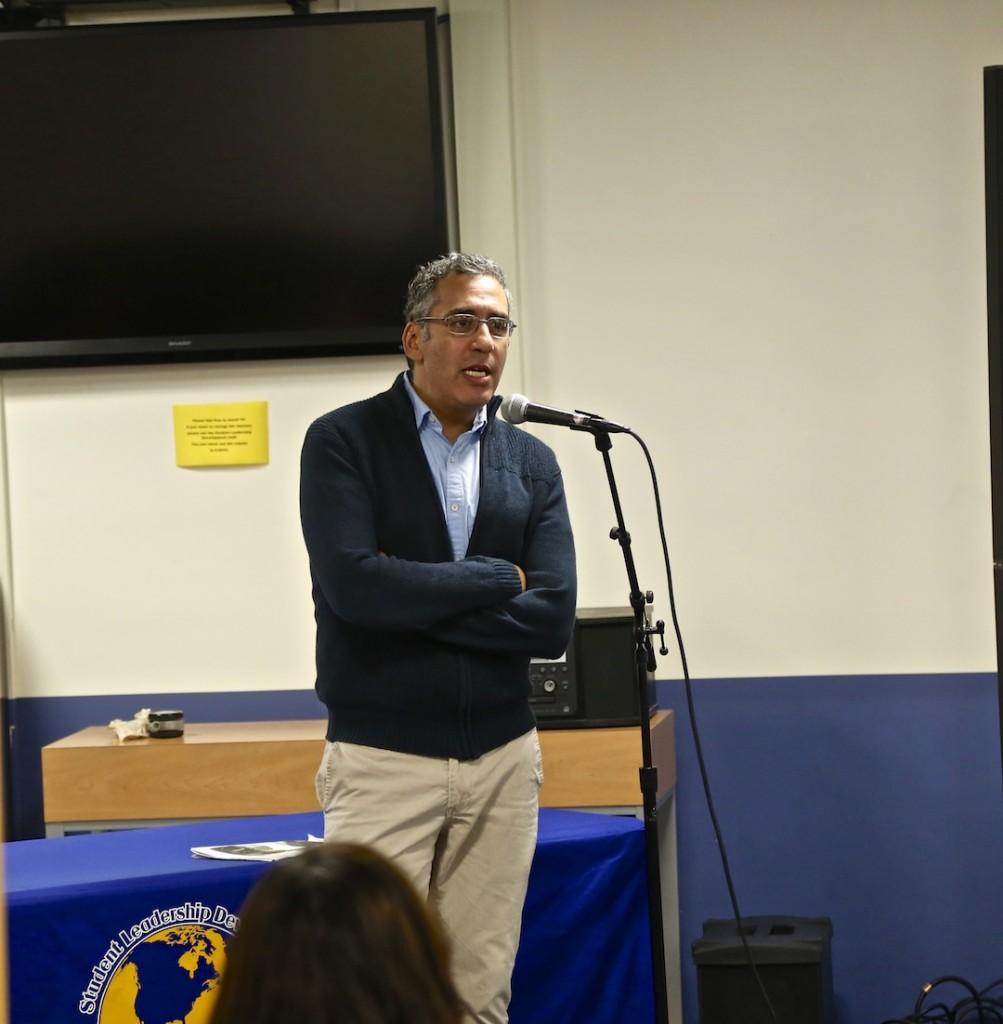 Award-winning journalist Tony Sarabia was the guest speaker at Meet the Media Night, an event organized to promote NEIU's media outlets: SEEDS Literary Journal, WZRD (88.3 FM), Que Ondee Sola, and The Independent. Sarabia offered valuable insight and advice for those pursuing a career in media.
Sarabia is the host of "The Morning Show" and "Radio M" on WBEZ (91.5 FM). It's hard to believe that the award-winning journalist had a hard time with homework and even admits that he still gets nervous when in front of a group.
Sarabia began his curiosity in current events as a boy reading the newspaper comics, or watching the Vietnam War and Watergate hearings on television. "I was really from that television news age, and even at a young age I was drawn into what was happening around the world … and I have always been a huge music lover, I'm a frustrated musician, and so frustrated musicians usually end up as music DJs." Like a lot of students, however, he wasn't sure about what he was going to do post-graduation and it took the journalist a while to find his own voice.
After receiving his first rejection letter and overcoming his insecurities, Sarabia became an intern at WBEZ and has since succeeded in pursuing his passion for curiosity and music. His career of 25 years has presented him with countless awards for his work, including an Associative Press Award for his documentary "Unlocking the Closet: Stories of Coming out Later in Life." He has definitely come a long way from working at Crate and Barrel in downtown Chicago.
Sarabia also offered a lot of great tips for those interested in journalism. Despite changes in technology, he explains how some things remain the same.
"Being successful in this industry is two things, the ability to write well and to be curious … but most of all is the sense of curiosity," Sarabia said. He wants radio enthusiasts to be able to adapt to changing technology but recognize the need to know what is going on outside their own sphere.
"You got to be a good listener," Sarabia said. Radio offers what he calls "drive-way moments" where people are so intrigued by a story that they won't get out of their car. He credits the format of radio which gives people a voice and also allows them to be heard and appreciated.
But what about the voice and persona of a radio host? Sarabia's trick is to be yourself, to talk into the mic as if you are speaking to one person. "It's not about the voice but about how well you can tell a story," he says.
The event came to a close, but inspiration lingered. NEIU's media groups truly open the door to curiosity and to freedom from the routine.