Go Greek or Go Home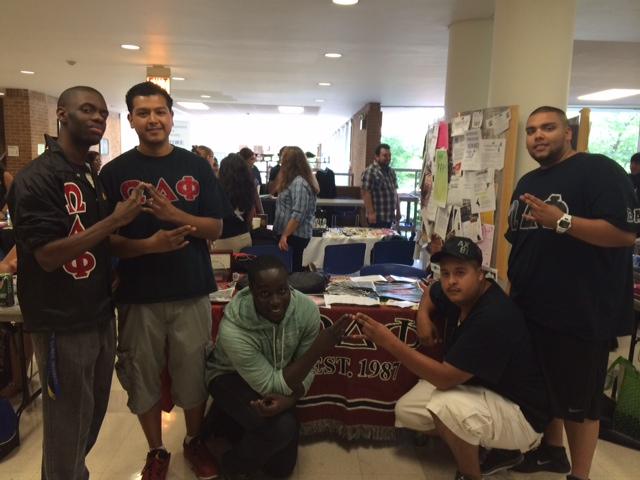 Though there is no Greek row and extravagant sorority houses, students involved in Greek life at NEIU share common values and ideals. Friendships are formed and are made to last a lifetime.
Director of Student Leadership Development Veronica Rodriguez described Greek life as "(…) an organization that is bound by similar principles and beliefs. There's this brotherhood or sisterhood that goes beyond just a regular organization that you sign up for and join and that's it."
The Greek chapters are very involved with philanthropy. Each fraternity and sorority focuses on a different organization and will get involved with fundraisers and projects. Some organizations that they are involved with include the American Diabetes Association, Breast Cancer, Domestic Violence, and Suicide Prevention.
For example, Theta Chi Omega often participates in the Polar Plunge, and Omega Delta Phi works with a school in Evanston where they mentor high school kids over the summer.
Kyle Thomas, a member of Omega Delta Phi and President of the United Greek Council, was a little hesitant about joining a frat. He had heard crazy stories of hazing and wild parties from his family members who were involved with Greek life in their youth. He weighed the pros and the cons and soon realized that going Greek was a great decision.
Thomas believes that people are joining the NEIU Greek organization for the purpose and the model of the organization.
"My brothers are my brothers, when I go to their house I'm treated like it is my home. Like we have that relationship with each other where we don't have a [frat] house, we don't need one." Not having a frat house hasn't impacted Kyle's relationship with his frat brothers.
Rodriguez said "(…) here, what makes that special and what makes that even more important is that [Greek society] is something that connects students to each other and the University." Instead of a student coming to class and heading right home, now they have new friends and a group of people to hang out with. They have events to attend. They have a connection.
Cody Smith, a member of Omega Delta National Fraternity, got involved in his frat through a friend. His favorite part of Greek life is the brotherhood. Though he didn't want to sound cliché, no other word seemed to describe the emotion that he was trying to explain.
Smith had some advice for any students on the fence about joining Greek life: "Check out all the different organizations, what might be right for me is not going to be right for you." He thinks that his involvement in Greek society has shaped him into a well-rounded individual, has pushed him outside of his comfort zone and has boosted his confidence.
Rodriguez said that Greek life is all about "(…) being a better person, making your members better people, and having this bond beyond the few years in college." So whether it's Greek yogurt, Greek toast, or Greek life, go Greek!