The Land of WZRD
A stone's throw away from the now vacant WZRD radio studio is a multipurpose room where the wizards now dwell.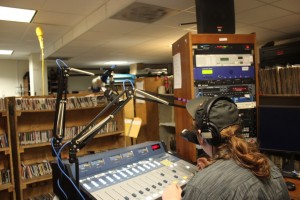 In seeking refuge from the asbestos that has since been removed from the under layers of the vintage tile floor, NEIU's freeform radio station [WZRD 88.3FM], is thriving.
Asbestos is a fire-resistant, fibrous mineral infamous for causing cancer. It was used for the insulation of materials, like those found underneath archaic floor tiling within buildings constructed during the 1970s.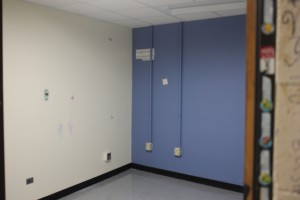 "We're at the end of the stages," said Jonathan Extract, an NEIU junior and station manager of WZRD. "Taking everything out of the space gives us a chance to re-evaluate what we need, clean [it] up and do new things."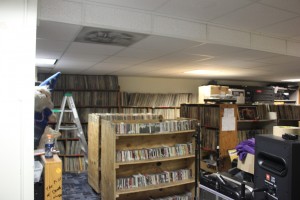 Re-evaluation of inventory is no small task involving an approximate 15,000 CDs and another 13,000 vinyl records. The wizards of WZRD will have a completely renovated studio in the same location, right across from the student lounge under Beck's Book store.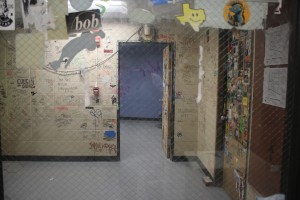 "I would like to give a shout out to Dennis Sagel," said Extract. "He works on campus and has been doing a lot of work for us, from designing the move to the layout of the multipurpose room to physical labor."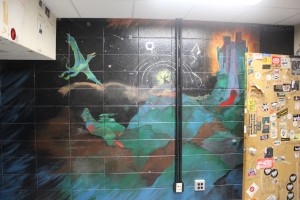 The student disc jockeys moved out in June of this year and will be moving back soon but in phases.
"NEIU has been really good about doing this removal. We're excited to get back," continued Extract.
In completing the renovations, two walls were knocked down and a few others were newly painted. The upgraded studio space will include floors, equipment, ceilings, lights, furniture and shelving.
"What I think it's going to look like is a city, like Berlin," said Extract. "It has all of the history there; it is still functional and still in use."
The changes implemented will not wholly obstruct the persona built up and maintained for the 30 plus years WZRD has been producing radio. The design for the new studio space still keeps the nostalgic writings, stickers and artistic graffiti of yore, thus maintaining its rich history.
"Two rooms were painted. The new white walls are going to give opportunity to new generations to write [on them] and express themselves," said Extract.
Extract encourages students to come knock on the door of the multipurpose room for a sneak peak and to know about how to join the organization. "That's what I did!" he said.
Students can come and visit the wizards in their temporary space located in the student lounge should they desire to meet, greet and connect with the bunch at WZRD.