Chicago Bulls' Advocate Center
The Chicago Bulls will have a new practice facility to be ready for the 2014-2015 season. The newly established Advocate Center is located across the United Center, on South Wood Street, between Monroe and Madison. It will give the players a hassle free travel when attending game days and will give them much more access to the city of Chicago.
The Bulls Organization and Advocate Health Care have established a multi-year agreement. According to NBA.com, Michael Reinsdorf, President and Chief Operating Officer for the team, said: "It's truly a partnership that is with one of the leaders in the healthcare industry. They want to make a difference in the community, just as the Bulls want to make a difference in the community." Reinsdorf added, "We're hoping to partner together to come up with incredible programs that will make a difference in the lives of so many people."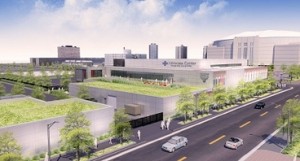 The Advocate Center is approximately 60,000 square feet, twice the size of the previous facility, the Berto Center located in north suburban Deerfield.
It includes two full-size basketball courts, locker rooms with therapeutic pools, a video room, coaches' offices, weight room and a room to address the media. The second level inhabits a green roof terrace, conference rooms, cardio room, and executive offices. The estimate cost of the new facility was $25 million.
Executive VP of Basketball Operations for the Bulls John Paxson said in an interview with ESPN Chicago: "Our players have wanted to live in the city for quite a while; being up north, as much as we've loved the Berto Center, it's been difficult when you think about guys traveling downtown on game days. This is going to allow our players to live in the city and be part of the community." Paxson has been with the Bulls organization since 1985, both as a player and an executive.
Tom Thibodeau, Bulls head coach, is also satisfied with the outcome of the facility. "We're thrilled and we couldn't ask for anything more; It's going to be a great facility with everything state of the art," he told Bulls.com. "It's going up very quickly and I know our players are very excited to get down here."
The Bulls and Advocate have partnered previously with programs like Safety Together to educate the youth in different schools on cleanliness. Bulls players like Taj Gibson, Jimmy Butler, and Bulls mascot Benny the Bull also participate heavily on visiting patients and their families in Advocate hospitals to spend time with them taking pictures and signing autographs.
The Berto Center had been home to the Bulls players since 1992 and is located in Deerfield, IL. It has been listed for $5 million since December 2012, though is still under contract. It has already caught the attention of a few companies, so it might be turned into anything from a biomedical facility to an event center.