What's Next with Ensemble Español?
Aug. 22, 2014 marks sixty days since NEIU's very own Ensemble Español held its summertime International American Spanish Dance & Music Festival.
Recalling back to the month of June, the Ensemble celebrated the festival with Twelve Days of Spanish Dance. The first two days kicked off with a flamenco and classical concert.
Days 3 through 9 consisted of fifty-seven dance classes and workshops in building J on the NEIU main campus.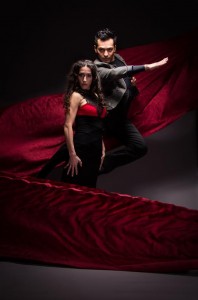 Days 10 through 12 revealed the grand finale: a newly created Spanish ballet performed in two acts named Mil Clavos–translated is One Thousand Nails—by renown dancer and choreographer, as well as NEIU Alum, Ron de Jesús.
"Immediately following the festival, the professional and youth company participated in intensive dance classes with Paloma Gomez, former principal dancer of the National Ballet of Spain," wrote Ensemble Executive Director Jorge Perez in an online interview.
Ensemble has since traveled to Massachusetts to perform Mil Clavos at the Jacobs Pillow International Dance festival, America's longest running festival for dance. Ensemble then traveled back to the Midwest where they performed their ballet sensation at the Auditorium Theater in Chicago.
As for the plans for the upcoming 2014-15 school year, Perez wrote, "We will continue with our year round educational outreach programming including our Spanish Dance classes as part of the Music and Dance program at NEIU."
Examples of such programs are: After School Matters targeted at high school students, in-school residencies, Tales of Spain field trip concerts and their annual holiday concert in December.
This does not begin to scratch the surface of all of the Ensemble's plans.
The organization will also collaborate with Parent Power Chicago, another program-enriched organization working with the arts in various communities around Chicago such as Austin, Englewood and Humboldt Park.
The Ensemble's touring plans include Iowa in Jan. and March, and a company tour of Spain in July.
Just in time for back-to-school, the Ensemble Español is grateful to have such a gifted and zealous staff providing structure and guidance in all program areas.
In a final word to all incoming freshmen and new students of NEIU, Perez wrote, "Welcome! College is a great time in your life and by the time you receive your diploma you will have grown and changed in positive ways you never expected. You may want to consider dancing your way through college with the scholarship endowments Ensemble Español offers as well as our dance program in the music department. Ole!