Take the A Train to China
NEIU Jazz Band goes to China
What did the NEIU Jazz Band do on their summer vacation? Tour China of course. The band gave three performances during their trip, twice at NEIU's sister school, the Northeastern University of China in Shenyang, and once at the first annual International Festival of Jazz in Beijing, where the band opened the festival to a packed house.
Led by Jazz instructor Mayo Tiana and music history professor and Beijing native, Dr. Peter Chang, eight students attended the trip: Cesar Pino, piano; Will Gumbiner, bass; Julian Rocha, drums; Ryne Nusret, saxophone; José Delgado, saxophone; Jacob Jahraus, saxophone; Katie Samayoa, trumpet; and Robert Alonzo, trumpet.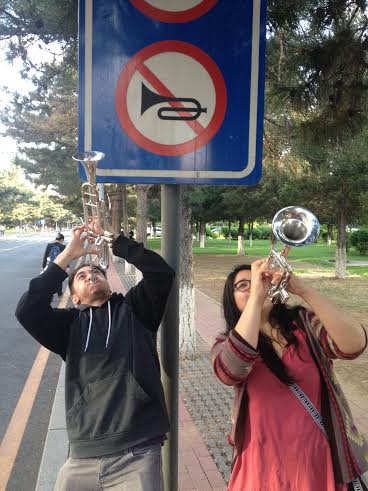 Seven years ago, NEIU's sculpture teacher, Shencheng Xu, set up an exchange program between NEIU and NEU of China in Shenyang. Over the years, art students have come back and forth between Chicago and China, but this is the first time the music department made the trip to China.
The first half of their two-week trip was spent visiting NEU of China in Shenyang. Trumpet player, Katie Samayoa describes, "The campus was gorgeous. The foliage was beautiful. There was a park in the middle of it with a really pretty lake." Throughout the week, they gave 2 performances and attended workshops with the Chinese music department.
Drummer Jay Rocha describes the first performance. "There were a lot of nerves that was felt on the first one. Holy Cow! I'm sitting in a country with a bunch of people who are not familiar with this music!"
Much of the audience was made up of students of classical and traditional Chinese music, and although they'd never heard jazz before, "…people were moved by it. It transmitted. Everyone that was there wanted to be enlightened by this music […] I see jazz as a uniquely American art form, and here we were, a bunch of Americans playing jazz for people that had never heard it before."
Throughout their stay in Shenyang, the band spent the time getting to know the NEU of China, and connecting with its students.
"The students were the nicest people I ever met. They bent over backwards to make us comfortable," Katie Samayoa explains.
Piano player, Cesar Pino even ran into a few Chinese students he'd met when they were studying in Chicago a few years back. The band attended music workshops with Chinese music students, who taught them how to play traditional Chinese instruments. Saxophone player, Ryne Nusret turned out to be pretty good at the ehru (aka Chinese fiddle) and purchased one.
By the time the band gave their second performance on the campus, the nerves of the performance exacerbated by culture shock had been completely dissolved. The room was packed, all abuzz from their previous performance. Much of the audience was now hip to jazz. "It wasn't just these foreigners that came to play, it was now their friends" Samayoa describes.
Jazz instructor, Mayo Tiana, who also plays trombone with the band, spoke of this performance with particular affection. "We were hot! They were rockin' in their seats […] we came back out for an ovation and an encore. It was the first time I'd ever received a bouquet after a performance."
After the show, the band invited all their new friends back to the hotel to party.
Early next morning, they packed up and headed to Beijing for two days. From there, they took a train to Xi'an, where they spent two days, and then they went to Shanghai.
Throughout their touring, they were always provided with a tour guide. "I'm a history major. And for me, to listen to these tour guides talk about the history of the city […] that's happiness for me," Rocha gushes.
And the food, as Samayoa describes, was "…unbelievable. I still can't have Chinese food in America […] we were always sitting at big round tables with big platters of food to share." It was over these dinners, the band bonded as more than a band, and more like a family.
An even greater resource than tour guides and Google Translator was Dr. Chang. Ghang effectively became the band's road manager. Chang would help load and unload instruments; make sure everybody always had their tickets; always made sure their things were safe; he would help translate and provide insight into Chinese culture. For a couple days, Chang went to visit his family while the band continued their sightseeing. His presence was greatly missed, as Rocha describes, "The glue had been removed."
Dr. Chang met back up with the band in Beijing on the day of their third and final performance at the Central Conservatory of Music, which Chang refers to as the "Juilliard of China." The band was there to kick off the first annual Beijing International Jazz Festival.
"We got to the third concert and we were ready. And that one was packed to the gills […] people were standing on the window sills trying to get a glimpse," Rocha added.
They opened the show with Billy Strayhorn's classic, "Take the A Train." "After the first couple seconds of that first song, the band was hot. I never heard the other musicians solo like that. We were tight. I never played so loud in my life. We felt like rock stars," Samayoa said.
Tiana describes, "The first night, it was solid. The second was on fire. In Beijing, we caught the moment. It was a great vibe in the room. It reminded me of being on the road."
Throughout the trip, Tiana would regale the other musicians with tales about playing jazz on the road back in the day, but touring China with the NEIU Jazz Band has become one of his