Belle Knox: A Feminist in the Porn Business
It has been about seven months since pro-porn feminist crusader Belle Knox entered the sex industry and began making X-rated videos for producers like Adam & Eve, Facial Abuse, Babes, Teen Fidelity, and Reality Kings.
Unlike most sex-based performers who simply blend into the background of a multi-billion dollar male dominated sex-trade, Knox, an outspoken Duke University student who has received viral international media attention via outlets like CNN and the BBC, claims to be a feminist sex worker.
In a recent interview with Time she said, "Feminism means I can take ownership of what I enjoy sexually and that sexuality does not have to determine anything else about me. You might. But I will not…feminism is not a one size fits all movement."
Her views contrast the views of Gloria Steinem and Andrea Dworkin who have, in the past, written that porn is violent and it promotes the subjugation of women. Although Steinem in a Huffington post interview has stated, "Porn means female slavery. Erotica is something quite different. Eros means love and free choice."
Still, Steinem has not shown where the line between porn and erotica is to be drawn.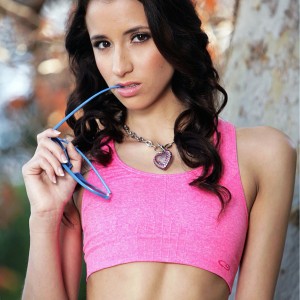 In Dworkin's book "Men Possessing Women," she writes about a 13-year-old girl that was forced into prostitution where the pimps and customers made pornographic images of her. Dworkin saw porn as a weapon used by men to dominate and destroy women. But, is it fair to say that all women in the porn business were forced in front of the camera by pimps?
Knox seems to be agreeing with Steinem and Dworkin. In an interview with BBC News, Knox identified with the plight of other sex workers by stating that although millions of people consume porn, "Yet no one is willing to consider the lives of the people behind the camera. No one wants to hear about the abuses and exploitation that take place, no one wants to hear about the violence committed every day against sex workers, no one wants to consider that we have hopes and dreams and ambitions." In the same article, she claims she entered the porn industry to pay her annual $60,000 tuition at Duke.
Knox is not the only porn star to make a big splash from the porn industry and into the international spotlight. In 1972, Linda Lovelace starred in a low budget stag movie called "Deep Throat." Whenever interviewed about the movie, Lovelace claimed that she was forced into prostitution and pornography which included a few films of her having sex with a dog. When referring to her stint in the movie Deep Throat, Lovelace expressed her bitter feelings by saying, "When you see the movie 'Deep Throat,' you are watching me being raped…They made a few bucks off me, just like everybody else."
In 1974 she made "Deep Throat II." Lovelace died in a car crash back in 2002.
The 1980's saw the rise of another troubled porn star named Shauna Grant who was a naïve, small town girl from Minnesota who made many adult movies produced by land sharks like cokehead Bobby Hollander. Grant committed suicide after contracting herpes, having an abortion, using cocaine with her producer Hollander, and experiencing an estranged relationship with her live-in boyfriend.
Like other porn stars of the past with troubles, Knox has admitted to cutting her left thigh because she was unhappy with her weight. She revealed the story behind the scars on her leg when Facial Abuse's Jimmy Hooligan asked her about the cuts right before she was slapped, choked, and spit on during one of his productions on a website he runs called Facial Abuse.
What is more symptomatic of a girl in trouble than one who is explaining to an abusive pornographer how she abused herself because of the way she felt about her self-image? Her scars can easily be seen in her videos and still shoots.
Despite her troubled past, Belle Knox has managed to appear on television shows like "The View" and radio shows like "Howard Stern" where she explained her dive into the sex industry.
Knox claims that she wants to graduate from Duke University and then go on to law school to become an attorney. What firm could she work for considering her X-rated past? This is questionable unless she starts her own business. Law firms would probably avoid hiring her because it would cause juries to discount her credibility.
Another problem she may not have anticipated is the fact that porn stars have short careers. How can she maintain her stardom long enough to make it through four years of college and three years of law school? In that seven-year period she would have to have sex with several hundred people, risk STD's, and over exposure which could lower her take home pay.
On the other hand, if Knox is fortunate enough, she could land higher salaries for her work because of her popularity and eventually get out of the sex industry as 1980's porn star Traci Lords did.
How Belle Knox's career develops in the long run is anyone's guess. Yet no one can deny that she is a troubled young lady who is articulate, ambitious, attractive, popular, and wealthy perhaps, yet headed down a very dangerous path as so many have trekked before her with cataclysmic results.