A Celebration Is In Order
By Andrew Lopez
– [post-date] –
As the NEIU Alumni Hall filled with students, staff and faculty, the 12th Annual Black Heritage Awards Ceremony brought with it the kind of energy that could fill a stadium.
Dr. Gerald Mitchell, Jr., Director of Project Success at NEIU, began the evening by stressing the importance of such an organization. "I was a product of a program like this at a different university, so I have a very close and personal connection with what we do here," he said.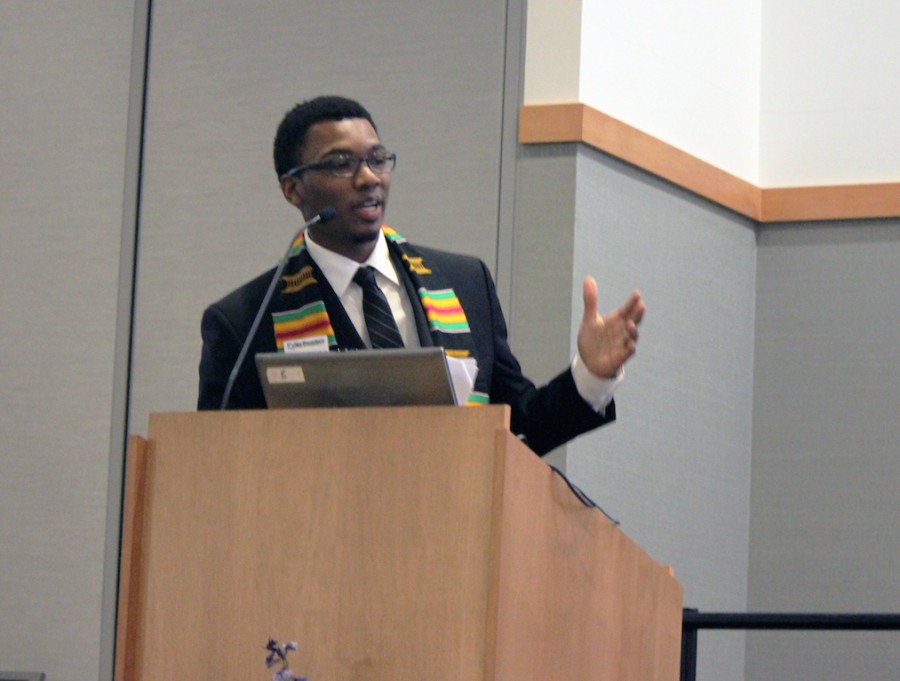 Project Success acts as a transitional aid for African American and first generation college students, particularly students who may not meet requirements for admission but who show academic aptitude.
The organization got its start in 1968, a pivotal time following the Civil Rights Movement and has provided African American students with the support to continue and to succeed in higher education.
Among those receiving Awards of Excellence were Phillip Jackson, founder and current Executive Director of The Black Star Project, which carries a similar role to Project Success. Dr. Lance Williams, Alice Marguerita Pennamon, Erica S. Brown-Pierce, Dr. Olivia Perlow and Regina Marie Turner were alumnus and faculty who received awards as well.
The students' Awards of Excellence were given to Mervit Ahmen, Shevonne Booze, Veleka Meeks and a Future Leaders' Award of Excellence to Rotimi Akinosho, a Northwestern University graduate with a courageous story of his own.
"I remember four years ago, being in the same position, not knowing what I wanted to do with my life," said Akinosho. "I had an opportunity to go to college, and at Northwestern University I had my share of difficulty, but I knew what I wanted to do."
Akinosho worked hard to finish his degree at a university that he felt shunned him, which only made him work that much harder to graduate with the help of programs like Project Success.
Akinosho is now an actor, recording artist and model, having recently appeared in the new movie Divergent.
Dr. Sharon K. Hahs, President of NEIU, stressed the importance of programs like Project Success. "Our commitment has always been to support this program directly," said Hahs. "We established it with university funds."
"I feel as if Project Success is adding to Northeastern Illinois University," said Michelle Cacatus, a senior at NEIU, adding, "which is a school known for its diversity."