The World's Finest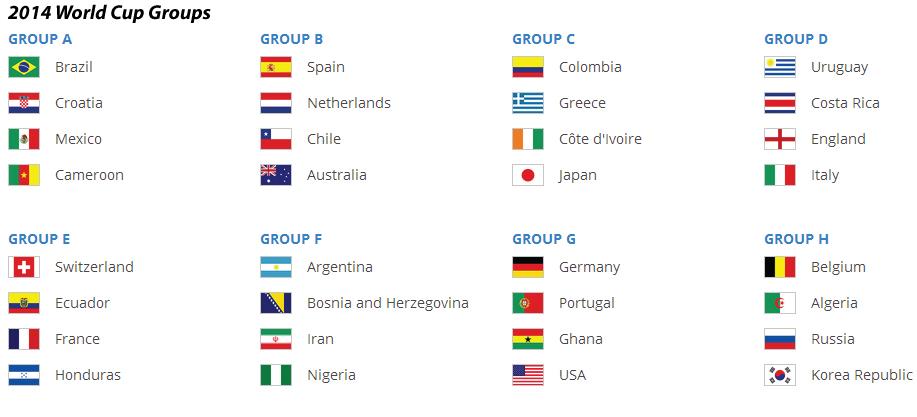 The sporting world's most popular tournament is right around the corner, and this year, the World Cup will be as memorable as any other.
Predictions are heavily favored for the teams in the eastern hemisphere to win it all, but this year, teams from the west may be better than expected.
The World Cup will be hosted by Brazil for the first time in 64 years since hosting it in 1950. This will be FIFA's 20th World Cup since it began in 1930. The 32 teams were split in eight groups and many teams have a challenge ahead of them while others may coast right through the preliminary round.
Group A consists of Brazil, Croatia, Mexico, and Cameroon. Brazil is one of the favorites to win the whole tournament, so group A should be theirs. The second team advancing will be between Mexico and Croatia. Cameroon would have to shock the world to get out of this group as they are the weakest of the four.
Group B is compiled of Spain, Netherlands, Chile and Australia. Spain and Netherlands are favored to win this group. Spain is ranked as the best team in the world while Netherlands is a favorite after becoming the runner up for the last World Cup. Chile is a good team in a tough group, but it would not be a surprise if they advance. Australia is left in a tough situation which would leave them in last place.
The teams in Group C are Colombia, Greece, Ivory Coast, and Japan. Colombia and Greece are the strong front runners while Japan is the weakest of the four. Popular soccer star, Didier Drogba and company, can show the world that Ivory Coast can advance. Experience will play a major role with these four teams.
Group D is made up of Uruguay, Costa Rica, England, and Italy. Between the Uruguay, Italy and England, winning the whole cup is not a long-shot. As my bloodline of a Costa Rican, I believe Costa Rica may be the least popular team but under the radar may be the best situation for them. Any team can advance from this group, but as always, every sport has a Cinderella team; why should the Cinderella team not come out from a group this tough?
Group E is home to Switzerland, Ecuador, France and Honduras. Switzerland and France are favored to win this group. Ecuador showed a weakness of not posting a win away from home during the qualifiers but showing that they did not lose a game at home can say something about them. Honduras, on the other hand, may have to play near perfection to advance from this group.
Group F has Argentina, Bosnia-Herzegovina, Iran, and Nigeria. Argentina is a top contender to win it all, so they will advance from this group, while Bosnia-Herzegovina will most likely be the second team advancing. Nigeria has shown great potential, winning 2013 CAF Africa Cup of Nations. With a winning attitude under Coach Stephen Keshi, Nigeria can possibly be the second team advancing. Iran has to show great discipline from former Portugal coach, Carlos Queiroz, to advance to the next round as they are the weakest of the four.
Group G is made up of four strong countries, Germany, Portugal, Ghana, and United States. Germany is also a favorite to win it all so they will likely advance. Portugal, led by the world's best player, Cristiano Ronaldo, will have quite a challenge in the first round. Ghana was the Cinderella team in the 2010 World Cup and they still might have the slippers to advance to the next round.
The United States, led by new coach, Jurgen Klinsmann, has received a lot of attention over the past year. Snubbing Landon Donovan from the final roster has questioned his leadership. As a person who earned a diploma as a baker, he might have a secret ingredient to advance from this group.
Group H has Belgium, Algeria, Russia, and Korea. Belgium and Russia are highly favored to advance while Algeria may need some luck. Korea is the weakest of the four but they can destroy their opponent's chances from advancing.
FIFA's 2014 World Cup begins Thursday, June 12 with Brazil versus Croatia, and the final will be Sunday, July 13.