2014 NBA Draft: A Bull Market
As Bulls fans continue to salivate at the thought of adding Kevin Love or Carmelo Anthony in the offseason, discussions are beginning to focus on potential draft prospects. The NBA draft will take place on Thursday, June 26th in Brooklyn, NY.
Analysts believe this will be one of the deeper drafts in recent memory, with a long list of potential first-year impact players. The top of the draft is filled with already household names like Jabari Parker and Andrew Wiggins, but there will still be impact players available when the Bulls pick in the late teens.
The team has the rights to the 16th (via Charlotte) and 19th picks in the draft and with the uncertainty that surrounds the roster, inexpensive contributors are a must-have from those picks.
The Bulls will most likely try and get some offensively talented players, as they've been desperate for scoring in recent seasons. Following the probable pardon of Carlos Boozer and letting veteran Nazr Mohammad walk in free agency, front-court depth will also be a priority.
Those two characteristics are embodied in Michigan State product Adreian Payne. At 6'9 Payne controlled the paint in his senior season with the Spartans averaging 16.4 points and 7.3 rebounds. Payne stayed at MSU for all four years, a trait that the Bulls front-office team of Gar Forman and John Paxson traditionally covet. Payne can score in the paint. He also has great touch and can stretch the floor with his jumpshot.
Forman and Paxson will also likely target a pure shooting perimeter player. Players like Doug McDermott and Nik Stauskas will likely be gone by the time the Bulls draft, but perimeter shooters will be available. Duke's Rodney Hood, Michigan State's Gary Harris and Kentucky's James Young are all sharpshooters and seem to fit the mold of who Forman and Paxson usually draft.
Then there are the relatively lesser known players. The "under the radar" guys that could potentially fall to 16 or 19 where the Bulls draft, and can contribute immediately.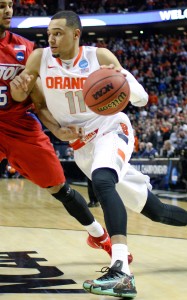 T.J. Warren out of North Carolina State is a guy that can flat out score. He is not the pure shooter that the above-mentioned players are, but he can create his own shot better than most players in this draft. He scored 40+ points twice this past season.
UCLA's Jordan Adams is another guy who carried his team's offense during stretches last season. He is a very good all-around player in addition to his scoring. His intangibles are spectacular and he has the heart and competitiveness that would surely win over coach Tom Thibodeau and Bulls players in a hurry.
Lastly, there is Syracuse point guard Tyler Ennis.
Even if Derrick Rose returns to health and prosperity, the Bulls need a quality backup point guard, and Ennis would give them that. Ennis has the ability to run the offense and distribute, but he can also provide the scoring that the Bulls need. While with the Orange, Ennis averaged 12.9 points, 3.4 rebounds, 5.5 assists and 2.1 steals. A stat-sheet stuffer and a capable defender which is a must playing for Thibodeau.
Expect the team to keep both picks instead of trading up. They may find that packaging them in a trade for an established NBA scorer may be necessary so don't rule that out.
This is a huge offseason for Forman and Paxson. Adding a player like Love or Anthony would be great, but the rest of the roster would need to be filled out with inexpensive contracts. Those can be found in free agency, but also could be found with the 16th and 19th picks.