2014 Chicago Bears Draft Recap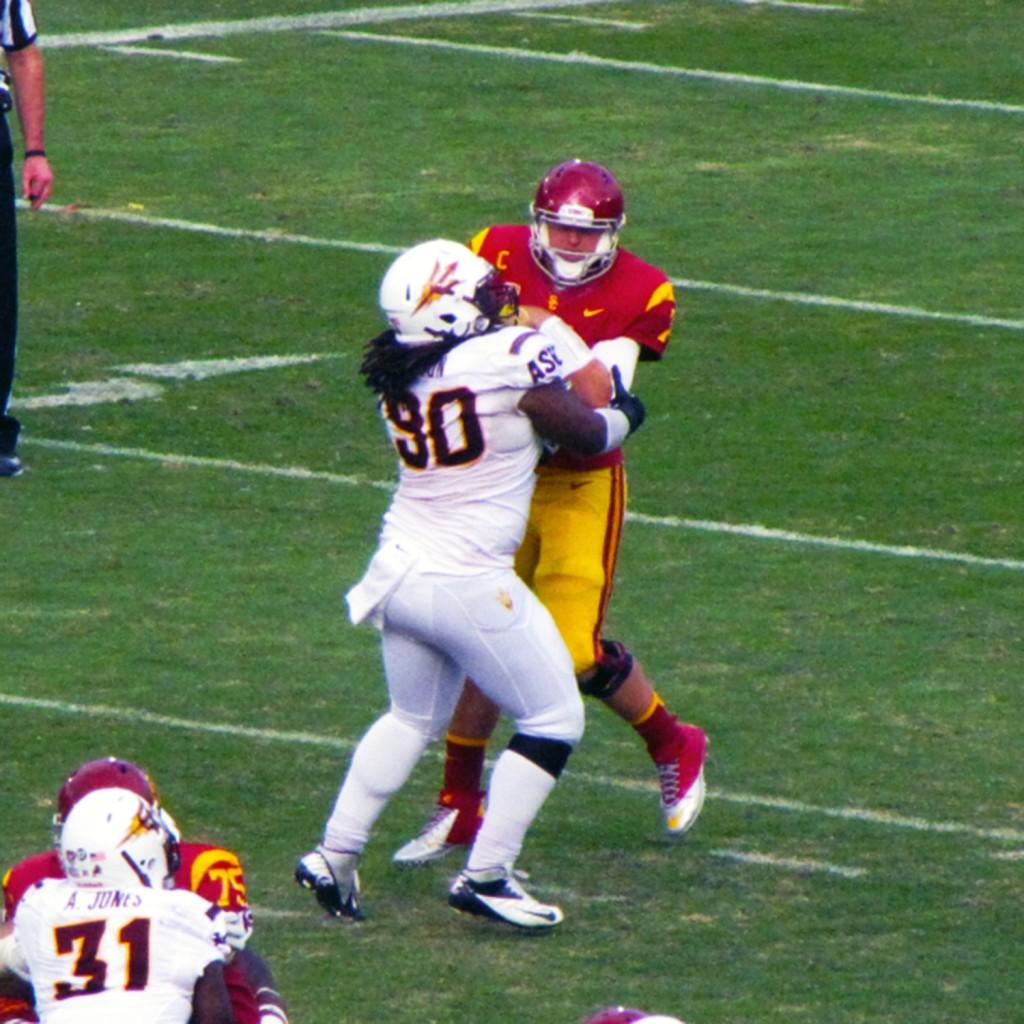 This year's NFL draft marked Phil Emery's third draft as general manager of the Chicago Bears. The past few drafts Emery has struck gold with some of his picks such as pro bowlers Kyle Long and Alshon Jeffery.
Emery has shown that he is not scared to go after a player he likes, even if he is overpaying according to the experts. For the most part, his picks have been very successful and always give Bears fans a reason for some excitement.
Coming off one of the worst defensive years against both the run and the pass, the Bears had a lot to do this offseason.
Emery did a great job of adding to a pitiful defensive line with the signings of Jared Allen, Lamar Houston and Willie Young. He resigned cornerbacks Tim Jennings and Charles Tillman, but safety was still a huge concern.
With not much talent at safety it seemed like a lock that the Bears would draft one sometime early on to fill a starting gap. Other concerns included cornerback and offensive line depth.
With the 14th selection the Bears decided to go with Kyle Fuller. Fuller was an outstanding cornerback at Virginia Tech who has shown great field awareness and can really play physical despite being smaller.
Even though the top safeties in the draft were still available at this point, Emery grabbed him because he really likes the guy. Fuller might be able to play safety because of his great football IQ but will most likely be the nickel back and future replacement for the aging Charles Tillman.
In the second round, the Bears addressed the defensive line with Ego Ferguson. At 6'3 and 315 pounds, Ferguson can wreak havoc in the middle, but it is his speed that is very intriguing. He can line up at the defensive tackle position or on the outside end spot which can help the Bears with keeping players fresh. While he shows great intangibles, he only recorded one sack at his time at LSU. He is a guy with a ton of potential, but still needs to develop.
With the 82nd overall pick, the Bears made my favorite pick of the draft with Will Sutton.
In 2012, Sutton was playing at 290 pounds and was an absolute force at Arizona State. However, he was asked to put on some weight and shot up to 315 pounds of bad weight. He was still good enough to win his second PAC-12 defensive player of the year award but was a step slower along the line. He weighed in at 303 pounds at the combine and if he can get back down to 290 pounds he should be competing for a starting position.
In the fourth round the Bears added some much needed depth at running back with Ka'Deem Carey. Carey is a more physical back, but running a 4.7 40-yard dash at the combine hurt his stock. He won the PAC-12 offensive player of the year award with over 1,700 yards rushing. He has added some lateral agility and has good hands out of the backfield. Carey gives the Bears a good backup so Matt Forte can take some plays off.
When their fifth round pick came along, the Bears traded up to finally grab a safety with Brock Vereen. Brock is the younger brother of Patriots running back, Shane. Emery must have really liked him in order to trade up to get him. He has great instincts and a good feel for the ball, but is a poor tackler in the run game and a bit undersized. He may not win the starting job, but with a good training camp there is a possibility.
With their first pick in the 6th round the Bears took quarterback, David Fales. Fales will most likely be the third string quarterback, but he can learn a lot from head coach Marc Trestman. Like former backup Josh McCown, Fales does not have a rocket arm but is a smart quarterback. Playing and learning under Marc Trestman will go a long way for Fales and he could be the team's back up next year. Not a sexy pick, but a pick that will help the team overall.
With his second pick in the sixth round Emery shocked everyone again by drafting a punter, Pat O'Donnell. Many felt that he would go undrafted, but the Bears were in need of a punter. He has a strong leg but needs to improve his accuracy and hang time to make the team.
Their last pick in the seventh round was used to add depth on the offensive line with Charles Leno. Leno started every game at left tackle the past two seasons at Boise State. He is big, has long arms and good footwork but struggles in the passing game. He needs to become stronger and work on some things, but for now, he is a good backup to an already great line.
Overall, I think Emery did a great job.
He may have reached for a few players, but he knows what he likes and will go get the player he wants. He added depth and possibly a few starters for the defense in this draft. Fuller will most likely not start until next year barring injuries. Ferguson and Sutton are the guys I would watch for. Both possess great talent but just need to hone their skills. We could see both in the rotation if they work hard during mini-camp. Another good draft for the Bears and hopefully these guys help push them over the edge and into the playoffs.