For Korean Visitors, NEIU Stands for Global Values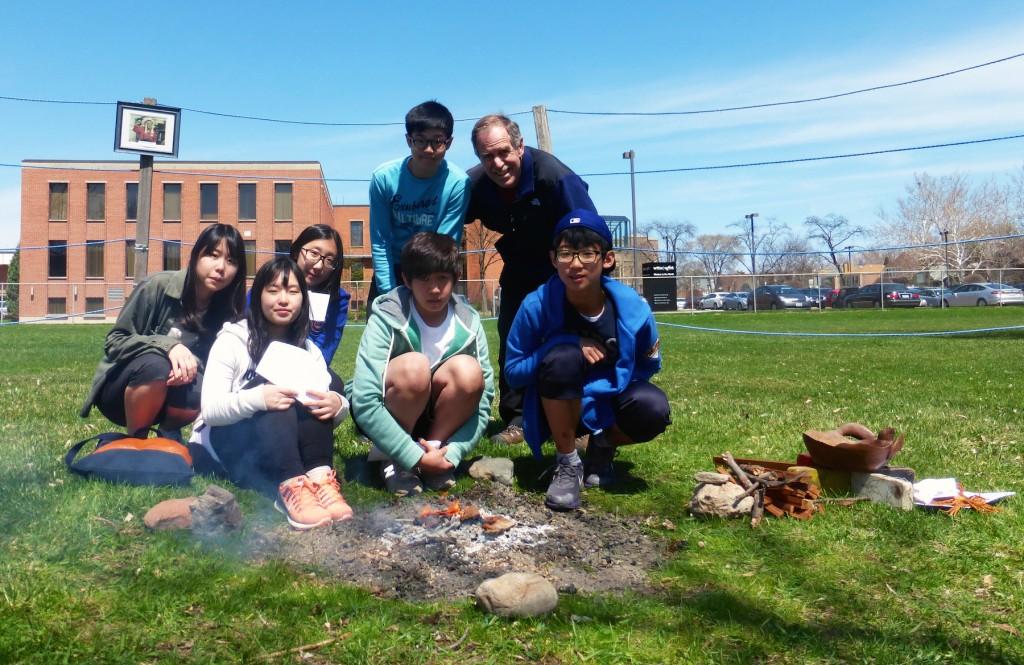 NEIU may not be a sight to see on most travelers' lists while visiting Chicago, but six eighth-graders from across the world would argue that it should be.
Six students from the Korea International School Jeju visited Chicago along with their eighth-grade team leader and English teacher Katie Fregetto. In addition to Chicago Cubs and Sox games, an architecture cruise and school visits, Fregetto and her students climbed the NEIU PE Complex's rock climbing wall and participated in a peace fire ceremony.
"Rock climbing has become more popular throughout the Korean culture," said Fregetto. Through their rock climbing lesson and peace fire experience, students learned the importance of perseverance, teamwork and world peace, according to Fregetto.
Skylar Cho is one of the eighth-graders. Her eyes were opened to a new way of achieving her goals as she made her way around the wall. "We don't always have to go straight up to reach something. There were times I couldn't find any rock near, so I had to move sideways," said Cho. "Really, getting somewhere is to constantly step forward, and it doesn't always mean stepping out, but sometimes stepping aside to find a better, more stable rock."
Dan Creely, a member of the Teachers of Experimental and Adventure Methodology (T.E.A.M.) organization and former PE instruction at NEIU, led the peace fire. The fire pit, located just north of the PE complex, sits alongside a peace labyrinth, a peace pole and feldspar crystals believed to be about 1.8 billion years old. Next to the fire pit stands a tree with a scar on its north side where a lightning bolt once struck, according to Creely.
Just beneath the branches of this tree is where peace fires have been lit for the past 13 years.
T.E.A.M., an organization made up of volunteers housed in the Department of Health, Physical Education, Recreation and Athletics, hosts annual conferences focused on creating peaceful communities.
"The story of the peace fire really helped connect myself and my students to the global aspect of our trip," said Fregetto. "Mr. Creely even gave us a follow-up mission of passing a message of peace to a Korean on Jeju Island."
"I hope the world peace continues to spread through the passing of the peace fire," said David Moon. "I will tell this story to my friends, the spirit of peace will spread!"
Jasmine Kim, another Korean eighth-grader, plans to visit both Chicago and NEIU again. "I met such nice people and made unforgettable memories," she said.
"The greatest surprise was how open-minded and willing the Korean eighth-grade students were to embrace another culture," said Fregetto. "I was hoping students would develop a better sense of global citizenship, and understand their actions in South Korea can directly or indirectly impact individuals around the world."
Cho said: "I just want to thank everyone I've met during the trip, every student and teacher for being extremely kind to me. I would love to invite any of those individuals to Korea!"