Run, Horses, Run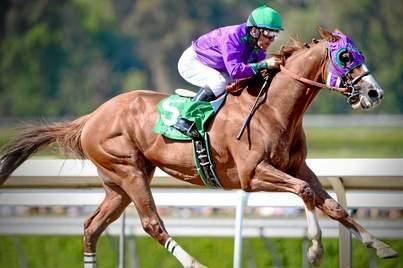 The running of the 140th Kentucky Derby is ready to set the gambling world into a frenzy as the race for the Triple Crown gets underway at Churchill Downs on Saturday, May 3.
This year, there has been a fair amount of parity with getting the field set, as recent defections have opened up spaces for contenders who were on the precipice of competing. Uncle Sigh, Vinceremos and Harry's Holiday have all been added to the field as a direct result of these defections.
The favorites are well ahead of the other competitors for this year's "Run for the Roses," with a difference of 50 points between the first and fifth ranked contenders.
Ranked No. 1 overall this season, with 150 points, is California Chrome, trained by Art Sherman and owned by Steve and Carolyn Coburn & Perry and Denise Martin. This California stallion is the far and away favorite across the field for the Derby this year. Undefeated in his three races in 2014, California Chrome has fans and experts alike believing in his ability to take first prize.
After California Chrome, parity ensues between season rankings and predicted favorites according to experts. The experts on the Kentucky Derby's official website have ranked the top five contenders to be:
California Chrome (No. 1 – 150 points)
Hoppertunity (No. 7 – 95 points)
Intense Holiday (No. 8 – 93 points)
Ride on Curlin (No. 11 – 55 points)
(T)Wicked Strong (No. 4 – 102 points)
(T) Samraat (No. 5 – 100 points)
Interestingly, Vicar's In Trouble (No. 2 – 120 points) and Dance With Fate (No. 3 – 108 points) were rarely listed as favorites by most experts, and in the few instances, they were very low on the prediction scale. This attests to the widely felt notion that season rankings and total points acquired have little bearing on likely Derby winners, after the top ranking.
Hoppertunity is truly the up-and-comer to watch alongside California Chrome. Hoppertunity placed second at the Santa Anita Derby in April, almost three full lengths behind California Chrome. Trainer and Hall of Famer Bob Baffert and owners Karl Watson, Mike Pegram and Paul Weitman are hopeful that Hoppertunity will be running in stride with California Chrome.
With the potential for an exciting photo finish, this year's event is sure to give the Kentucky Derby a proper-style experience for owners, contenders, gamblers and casual fans alike.
For more information about the contenders, including pedigrees and race histories, as well as legal wagering options, visit KentuckyDerby.com.