North by Northeastern Festival Celebrates CMT Students
A multitude of students' talents were recognized and rewarded at the 5th Annual North by Northeastern Media and Performance Festival (NxNE Festival) in conjunction with the 2nd Annual Communication, Media, and Theatre (CMT) Day Celebration.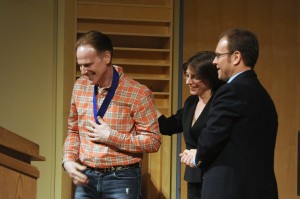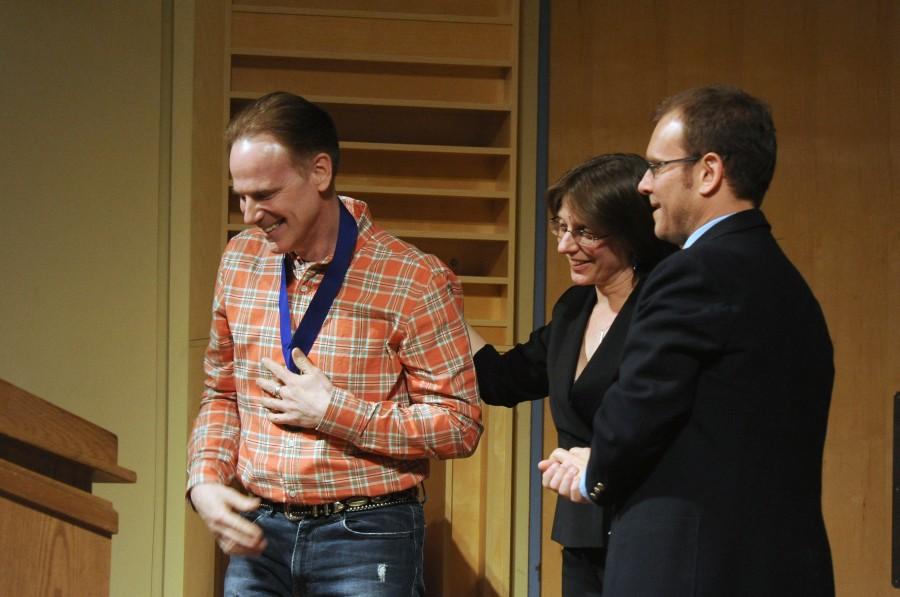 The event commenced with an award ceremony introduced by CMT Department Chair Katrina Bell-Jordan, in which she recognized all the faculty members that helped organize the event, with special mention to Cyndi Moran and Tony E. Adams.
"Each year Tony and Cyndi's vision and leadership help us to plan CMT Day and the North by Northeastern Festival. You may not realize because they make it look so easy, but they spend countless hours putting into the special program we offer them," said Bell-Jordan. "We owe them much gratitude."
Dr. Bernard J. Brommel was honored for providing three of the CMT scholarships. Collectively, Brommel has provided more than 20 scholarships to NEIU and is NEIU's first million-dollar donor. Brommel was a CMT professor at NEIU for more than 30 years and is now retired.
"I've been so lucky to be able to do what I did for scholarships at NEIU, but I did it for my wonderful students," said Brommel. "I so appreciate the thousands of students that I had at NEIU and the success they had after they graduated." Brommel said he would rather be remembered for his teaching than his gifts.
The projects presented were selected by jurors Lesa Davis from NEIU's department of anthology, H.D. Motyl from Southern Illinois University's department of radio and television, and Eric Scholl from Columbia College Chicago's department of television.
The first project shown, "Lumière Revisited," had the audience in side-splitting laughter. The Lumière brothers are credited for being two of the first filmmakers in history.
The infectious laughter did not end there. One particular Charlie Chaplin-inspired piece told the story of two runners, one chasing after the other's affection while continually running into obstacles. "In the Park," the three shorts by Juan Torres, taught viewers that love can sometimes have a funny way of ending up in handcuffs.
Robbie Leon and Genevieve Youhanna's audio project invited viewers into their world of musical experimentation, and it is best described as stated in their project, "I'm trying to create a magnetic field, I want to attract people."
"La Villita," by Jennifer Nuñez, took viewers on a tour of the Chicago's Little Village neighborhood, showcasing common lives of the community that inhabit what appeared to be a bustling 26th Street. Street vendors, performers and the general public that swarmed the sidewalks are reminiscent of town plazas that are located around Mexico.
The NxNE Festival concluded with NEIU alumnus Luke Sword's short narrative, "ReTake." According to Sword, "[Providing support], that's what the CMT department does best. If you have a vision and plan of execution, there will be a professor saying, 'Make it happen!'"