Review: Lootcrate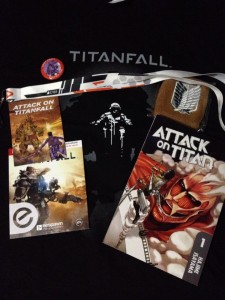 3.0 out of 5 Stars
The subscription-service based company Lootcrate.com appears to be everything a fanboy or fangirl could want: it follows a strict formula of themed crates rather than providing a random selection of items.
Lootcrate is a company that offers monthly subscriptions to customers (referred to as looters), providing them with a plethora of pop-culture goodies.
The first crate left me wondering if I was an unfortunate miss, or if the following crates would redeem the service.
I first received an "adventure" crate and it contained: a multi-colored Bravest Warriors bowtie, a small figurine from Dunny Sideshow, a bacon themed greeting card, a Bravest Warriors digital comic, and a t-shirt from Shirt.Woot.com.
The second crate, again, followed a theme and was an apparent marketing tool for "Titanfall" on Xbox One. The crate included a "Titanfall" shirt, digital strategy guide, lanyard, magnet and a copy of popular Japanese Manga "Attack on Titan."
Having played "Titanfall," I assessed that this crate was merely a large promotional tool for the game and ran parallel with items one would receive for preordering.
The third and final crate was a dragon themed crate. A 20-sided "dragon dice" stress ball, a 20-sided dragon die, two figurines from "Game of Thrones" and a nondescript Viking figurine. Topping off the package was "dragon jerky," which was basically beef jerky coated in a questionable green powder.
Weird beef jerky aside, they do offer a single-month subscription for $19.37 and will post the theme of every crate a few days prior to launch. So, if Lootcrate lists the theme as "ninjas" and that's what you like, you can sign up solely for that crate.
Lootcrate is aware that not everyone can sign up for its services year round and might only want to get one or two crates that interest them. That is where Lootcrate shines, by offering crates that appeal to specific fanbases at an affordable rate.
Long-term subscriptions and set themes can turn an exciting monthly package into a total bummer, making you feel like Brad Pitt in Se7en yelling, "WHAT'S IN THE BOX?!"