El Centro of Attention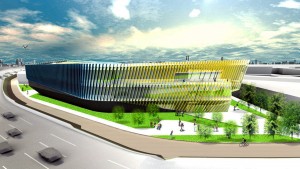 There's been quite the buzz about the new El Centro building's unique design elements and its placement along the Kennedy Expressway. Architect Juan Moreno said he and his firm set out to not only bring attention to the new location but to put NEIU on the map as an iconic Chicago landmark.
The new home of El Centro is located at 3390 North Avondale, right where the Kennedy bends.
During the initial planning stages, city officials were concerned that the noise created by the expressway would disturb students. Moreno created a design that protects the learning environment by using soundproof glass. "You don't hear the sound until you walk outside," said Moreno.
Sun-shading fins will be affixed to the soundproof glass to make up the outside of the building. The fins will be blue on one side and gold on the other. Crain's reporter Dennis Rodkin described the site as receiving "two glimpses of the same building."
With about a half a million commuters traveling inbound and outbound the Kennedy each day, Moreno wanted to explore the building as a full day experience for drivers.
While driving inbound on the Kennedy in the morning, drivers will experience the gold fins only. When leaving at the end of the day, drivers will see the blue fins. "In that time frame, [drivers] have just experience branding of the university," explained Moreno. He referred to this experience as NEIU's "movie trailer" or "teaser."
"When drivers off the Kennedy see classes going on at all hours and days, we hope that they'll learn that Northeastern serves both traditional nontraditional students and investigates their educational needs and goals to see how we can help them," said Chief Communications Officer at NEIU and Director of University Outreach Erika Krehbiel in an email to the Independent.
Jessica Bandera, a sophomore Spanish major at NEIU, is concerned that people aren't familiar enough with NEIU's school colors to recognize that it's Northeastern, but thinks it's a good idea to get the building noticed.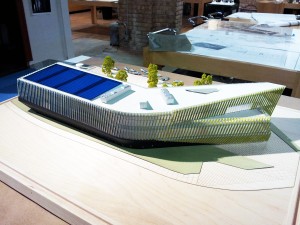 "Highway marketing is becoming huge," said So Ahmed, a junior Accounting major at NEIU. "Think about how many people will see it gridlocked in rush hour traffic [sic]."
"This building can't be bashful," said Moreno. "It can't be a suburban solution where the parking lot takes prominence and then the building sits in the background. That's not what this is about."
Moreno toured the current El Centro facility on 3110 N. Pulaski Road and spoke with students and staff members to jump start his planning. "It was fascinating to hear about the legacy of the university," said Moreno. "There's a great pride of the students who go there, and there's so many wonderful results that are happening from the students."
Moreno was inspired by how the university recognized the need to give El Centro students more than leased space from a high school to continue producing those results.
"This is a $28.5 million endeavor that invests in the students," said Moreno. "You just don't hear many stories like that."
Crain's reporter Dennis Rodkin also referred to the building as a "marker building" while being interviewed on WTTW's "Chicago Tonight."
"The city has this unbelievable legacy with architecture," said Moreno. El Centro can be an introduction to that legacy, according to Moreno.
"People will have to engage with it; they must acknowledge its existence, and it'll get them asking the question, 'What is this?''' said Shayne Pepper, CMT professor at NEIU.
The current El Centro location serves as a multicultural center, providing education programs, bilingual, English and Spanish outreach programs as well as its Community Education Program to the Latino community.
Moreno described the new reception lobby as a "canvas for the community to use."
"This past year, the University has signed a number of Memoranda of Understanding (MOU) with area community and non-profit organizations as a way to formally communicate our commitment to welcoming the community," said Krehbiel in response to how NEIU will invite communities to the new location.
Northeastern currently has MOUs with organizations such as the Korean American Services Center, La Casa of the Resurrection Project, and Family Focus with future signings planned in May with the Albany Park Community Center and the Latin United Community Housing Association, according to Krehbiel.
Moreno is President/Founder of JGMA (Juan Gabriel Moreno Architects), a firm that is very involved in education and the Chicago Latino community. He credits his Project Manager Cosmin Vrajitoru and Project Architect Michael Cady for El Centro's success thus far, team members who have been on the El Centro project from day one, according to Moreno.