NEIU Campus Recreation hosts the highly anticipated La Copa Soccer Tournament every year, and this year's event on September 16th did not disappoint. With thrilling matches and an inclusive atmosphere, La Copa once again proved to be a standout event on campus. Campus Recreation consistently organizes a plethora of events throughout every semester, but La Copa stands as one of its flagship events.
The tournament featured three spirited teams: the blue, red and yellow teams. NEIU students, who wanted to participate in the three teams, were summoned via advanced registration from targeted emails in August.
After the bouts had been completed, the blue team emerged victorious. The final game had spectators nail-biting as it ended in a 1-1 tie during regulation. It all came down to penalty kicks, where the blue team pulled away with a 3-2 score, thanks in no small part to an outstanding game-winning save performed by Jordi Banuelos, who denied David Canola's shot. 
The La Copa Tournament offered more than just fierce competition. It was a splendidly shared experience for all participants, who bonded over their passion for the game. Each team performed valiantly, and all teams displayed exemplary sportsmanship throughout, creating a positive and respectful atmosphere on the field — a testament to the values of fair play and camaraderie that sports embody.
Notably, the referees exhibited serious improvement compared to the previous year's  tournament. Their officiating was more consistent and precise, contributing significantly to the overall enjoyment of the event.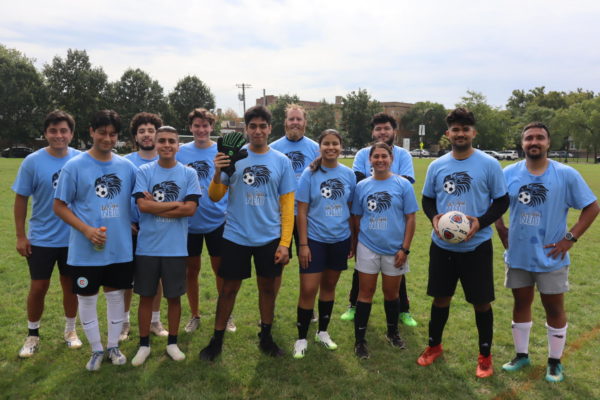 Campus Recreation expressed its satisfaction with the successful tournament and its commitment to offering many exciting activities for NEIU students. In addition to soccer, the department provides sports programming for basketball and volleyball, along with fitness classes that students can join for free. These opportunities foster a sense of community and well-being among NEIU's student body.
As La Copa continues to be a highlight on the university's sports calendar, NEIU students can eagerly anticipate future editions of this remarkable event, where athleticism, sportsmanship and community converge on the soccer field.
Story continues below advertisement