The first Faculty Senate meeting of the year brought with it a changing of the guard as Dr. Nancy Wrinkle stepped down as Chair of the Faculty Senate. Dr. Nikolas Hoel was elected to succeed her.
The meeting began with a round of applause as NEIU's Interim President, Dr. Katrina Bell-Jordan, was welcomed to sit at the senate table as an ex-officio (non-voting) member of the senate. This was in stark contrast to last year, when senate members were actively calling for the removal of then-President Gloria Gibson as an ex-officio member.
Chair Report, Hope for the Future
Chair of the Senate, Dr. Nancy Wrinkle, opened the meeting with her last Chair's Report, saying, "I've noticed a new energy on campus this week. Feels really good. It's a new day. And I'm very happy to be here with you as we embark on the important work of shared governance."
In her report, Dr. Wrinkle highlighted some items for the senate to address in the coming year, including the creation of a public-facing website for the Faculty Senate, as required by the Illinois Open Meetings Act. NEIU is currently the only public university in Illinois whose faculty senate does not have a website.
Dr. Wrinkle encouraged the senate to consider further amendments to the Faculty Senate Constitution, citing a major accomplishment of the senate during the 2021-2022 academic year: the restoration of voting rights of non-tenure track faculty in the Faculty Assembly, the full body of NEIU faculty that the senate represents.
"The question remains of the decision-making power of instructors in departmental governance," Dr. Wrinkle said, referring to those non-tenure track faculty. "We did not discuss this in the assembly or in the Senate." She also encouraged the senate to address "many outstanding contradictions and confusions" in the Constitution. All amendments to the Faculty Senate constitution must be ratified by the Faculty Assembly before going to the university president for final approval.
"There's a shared sense of optimism as we begin this new chapter at Northeastern," Dr. Wrinkle said. She tempered that statement by saying she had heard of "significant difficulties" with NEIU's new human resources and payroll software, Workday, which had been implemented earlier this year. Dr. Wrinkle said, "My hope is that our Faculty Council for Finance and Administration will be able to contribute to understanding and addressing the challenges that departments are facing with Workday."
Dr. Wrinkle concluded her last chair's report by thanking the faculty senate for her time as chair over the last two years, calling them "intense and amazing."
"
"There's a shared sense of optimism as we begin this new chapter at Northeastern." -Dr. Nancy Wrinkle
— Dr. Nancy Wrinkle
 The Faculty Senate held elections for its top leadership in the coming academic year. Dr. Wrinkle was succeeded by Dr. Nikolas Hoel, a professor of history from the College of Arts and Sciences, as Chair of the Faculty Senate. Adam Goldstein of the Communications, Media & Theater (CMT) Department was elected Vice Chair. Sarah Fabian, also from CMT, was reelected as secretary. Dr. Hector Morales Jr., of the Goodwin College of Education, was elected to the steering committee, which sets the senate's agenda. Dr. Nancy Wrinkle was also elected to the steering committee, in order to maintain continuity from the previous senate leadership.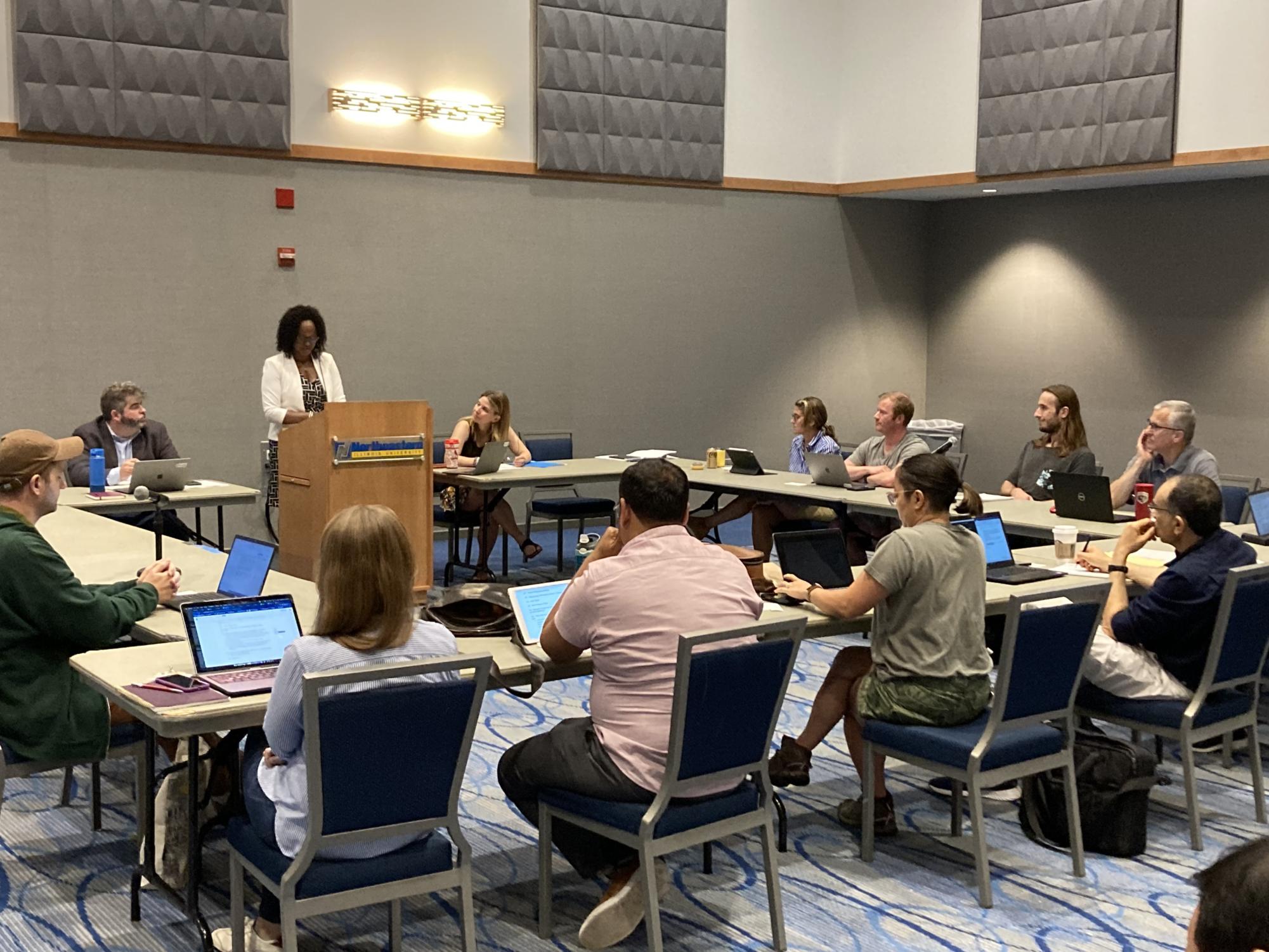 President's Report, Dr. Katrina Bell-Jordan
Dr. Wrinkle yielded the floor to Interim-President Katrina Bell-Jordan, who began her President's Report by giving credit to the staff and faculty who have been working to make NEIU function, referring to herself as just one member of an "ensemble cast."
Dr. Bell-Jordan gave the senate an update on enrollment. As of Aug. 22, 2023, NEIU had enrolled approximately 546 new freshman students. That is only 19 short of the goal of 565. For transfer students, she said 594 new transfer students had enrolled, well short of a goal of 710.
The official enrollment count was due to be reported to the State of Illinois on Sept. 1, 2023. The Independent will report those numbers as they become available. The number of students enrolled determines NEIU's budget, as tuition dollars from students make up the majority of NEIU's budget.
Dr. Bell-Jordan also announced the appointment of Irma Ortiz, of the College of Arts and Sciences, as the Interim Associate Vice President for Student Success and Retention. She added that she was still working on an appointment of an Interim Vice President for Enrollment Management.
Introduction: New Police Chief, Joe Przybyla
During public comment, NEIU's new chief of police, Joe Przybyla, addressed the senate, introducing himself. He said he spent 21 years with the Northern Illinois University Police Department, rising to the rank of Commander. He also said he is currently a tenured Associate Professor at Kishwaukee College in DeKalb County, teaching two online courses there.
Chief Przybyla also mentioned two initiatives to address staff and faculty concerns. NEIUPD officers are going to receive instructor training to teach ALICE Training, for addressing active shooter situations. He also said he will be hiring an Emergency Management Coordinator, whose first task will be to write up emergency plans for each building and post signage of what to do and where to go, in each room, in case of a tornado, fire or other emergencies.
Current Faculty Senate Members
The Faculty Senate has experienced some turnover since the Spring 2023 semester. Listed below are current members of the senate, as well as vacant positions. The Faculty Senate welcomed three new members at the meeting, Dr. Brian Torosian, representing the College of Arts and Sciences, as well as Dr. Xiwei Wang and Dr. Nont Dhiensiri representing the College of Business and Technology. Any faculty who are interested in filling the vacancies can contact Senate Secretary Sarah Fabian at [email protected]. The next Faculty Senate meeting will be announced in an emailed Targeted Announcement.
College of Arts and Sciences
CAS 1 Brian Torosian
CAS 2 Sarah Fabian Secretary 2023-2024
CAS 3 Nancy Wrinkle Steering Committee Member 2023-2024
College of Business and Technology
CBT 1 Anne Le
CBT 2 Xiwei Wang
CBT 3 Nont Dhiensiri
Goodwin College of Education
GCOE 1 Hector Morales Steering Committee Member 2023-2024
GCOE 2 OPEN
GCOE 3 OPEN
Ronald Williams Library
LIB 1 Christopher Straughn FCT Representative
LIB 2 OPEN
LIB 3 OPEN
Senators At-Large (representing all faculty)
At-Large 1 Dennis Grammenos
At-Large 2 Shannon Saszik
At-Large 3 Charles Funk
At-Large 4 Essam Elshafie
At-Large 5 OPEN
At-Large 6 OPEN
At-Large 7 OPEN
Non-Tenure Track / Academic Resource Professional
CAS NTT Nik Hoel Chair 2023-2024
CBT NTT Ken Sotak
GCOE NTT Linda Nidelkoff
LIB ARP Ashley Howdeshell
Student Government Association (non-voting)
SGA Rep (ex-officio) Mikulas Koudelka