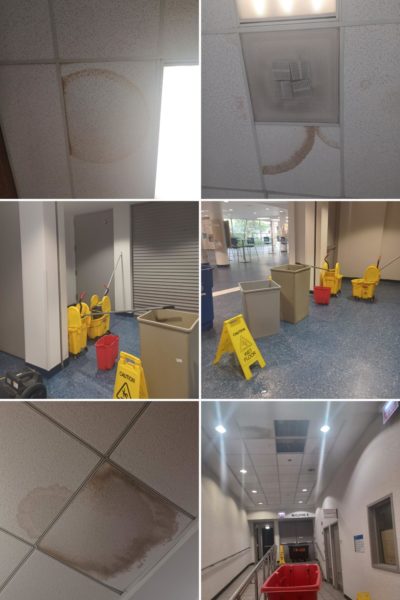 After heavy rains on July 12, 2023, the Independent confirmed leaks in the ceilings at multiple locations in the Student Union. University staff placed garbage receptacles to collect water in the cafeteria. Puddles of water were on the floor by the student square doors, where facilities management staff have reportedly mopped up during the day.
This is not the first time NEIU has faced leaking structures. A faculty member reported long-term water damage and leaking in the Fine Arts Building. The Independent has confirmed the ceiling outside room FA 215 has long-term water damage. 
The Independent contacted Christopher Childers, Executive Director of Marketing and Communications, at NEIU. Childers stated, "Northeastern constantly updates its aging infrastructure and has identified ten small leaks on campus."
According to Childers, the bidding process for a roofing contractor is currently under consideration. In the future, a capital development project will replace the roofs of Lech Walesa and Bernard J. Brommel Halls.