Tears, laughter, and an Alternative Spring Break trip in Arizona
Life as an Immigrant, Immigration Policies and Hope for Those That Have Sought Life in the U.S Were Some of the Topics That Were Learned in Tucson.
Every year, NEIU hosts Alternative Spring Break trips to students, aimed at providing immersive experiences related to the topic of the trip. This year, groups of 10 students, one student leader and a faculty member traveled to different cities, which includes Tucson, Arizona, San Juan, Puerto Rico or Selma, Alabama. This article will focus on the Arizona trip, with BorderLinks, a program in Tucson that "offers experiential learning opportunities that explore the difficulties of migration and life along the U.S./Mexico border", according to their website.
Throughout the trip, the group had the opportunity to learn about immigration policies, life as a migrant and the resilience of those who cross the border. There were also interactive activities throughout different locations in Tucson as well as one trip to Nogales, Arizona. In addition to this, there were daily workshops on specific information related to the border and immigration and nightly reflection about both the workshop and the activities.  
The members of the trip reflected the average age range of those who attend NEIU. The group consisted of individuals with varying ages and backgrounds. The oldest member of the group was older than the delegation leader, Josue Saldivar who was there for the entire week, while others were in their mid to late 20s and had varying degrees of school completion.
Locations Galore
Throughout the six-day trip, there were several opportunities to explore Tucson.
Students from the trip visited the historic Fourth Avenue Business District, which is known for its local art, music and well-preserved historic buildings. The street has been preserved and restored since it became known as a commercial district in 1916. Several shops that the group visited on this street reflected the city's vibrancy. These included retro toy shops, a local co-op grocery store and a local art gallery.
Another location we visited was Gates Pass, one of the areas by the Tucson mountains. Named after Thomas Gates, a local pioneer who helped to maintain the pass for transportation in the late 19th century, it offers stunning views with rough terrain for exploration. However, some of the group members had to turn back after a certain point due to how high the mountains' elevation was. 
The last full day saw a last minute change to the itinerary, with a trip to Las Milpitas de Cottonwood, a community farm in Tucson. The tour of the six-acre land showcased several gardens from different community members, along with plots of land rented out for a small fee. The farm practices various types of recycling, including collecting rainwater, creating aqua farms and cultivating their own compost pile. The farm also serves as a socializing spot, with recycled benches, seats made from adobe clay and picnic tables for community members to congregate.
The group also took a quick trip to Nogales, Arizona, located right by the Mexico–United States border. They witnessed the full picture of how the border looks in person, with a look into Nogales, Mexico. The person who shared their testimony did so while we had a look at life separating the two cities from becoming whole again. A mother and her child talked to a woman from the other side of the border, while border patrol trucks went up and down the street, and a truck that came down the street with someone that they had caught. 
Emotional Revelations
During this trip, the group explored various aspects of immigration which were explored through workshops, reflection, and personal testimonies from people, from local residents, immigrants and students.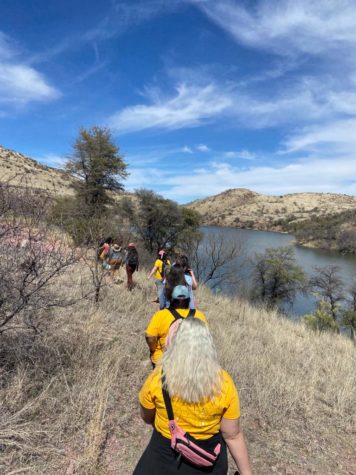 One of the activities was going through somewhat hazardous terrain, in order to simulate how immigrants would cross the border through dangerous conditions in the desert. A workshop later on in the week focused on the challenges faced by those that do cross the border, that would have to endure worsing conditions from border patrol, such as destroying water stashes and deploying helicopters out on patrol with the intention of dusting those attempting to cross. That workshop also highlighted the resilience of those who do cross, with one example of someone making tracks in order to drive a car over the border, with disastrous results.
Later on in the week, there was an enlightening testimony from a worker from Casa Mariposa, a detention visitation program that provides resources for prisoners. She disclosed how she was brought into the country for work under false pretenses by a friend and had to endure years of suffering to stay in the United States in order to get the justice she deserved. Throughout her testimony, she described the horrors that she went through in those years with a calm, soft tone in her voice.
After this particular testimony, the group engaged in a lengthy reflection about how hard her situation was for several years, as well as the other aspects of how she arrived in the country. Several group members were in tears that evening.
Finding Knowledge
Going through these personal experiences can change a person, and high-stress situations can reveal one's character, as Lexie Wright-Ball, the chosen photographer from the trip, noted.
After settling back into everyday life, I must admit that I have been forever changed by those experiences, not only through the planned activities but also through the different interactions with my group members. We made it a point to give "shout-outs" to at least one person each day, and after one reflection, we all cried together.  The following reflection had us laughing so hard, that one person ended up on the floor in uncontrollable fits of laughter.
Josue Saldivar, the delegation leader, was a wonderful and accommodating host to all of the group members. Within hours of learning of his birthday, all of the group members started to plan for a surprise birthday party for him.
I have found family there, and though we have had our different lives, we are planning on having monthly dinners together and celebrating each other's birthdays. 
——-
I would like to thank my non-mexican dad, my brother, my non-mexican mom, my twin, Stephanie, Hillary, Lexie, Natalie, Jennifer, Melissa (the awesome group leader), Nati, Josue, Eddie and all the other people I have met in Arizona.