Unlocking Knowledge: Exploring the Riches of Northeastern Illinois University's Library and Its Abundant Resources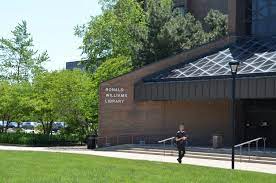 The Spring 2023 semester will be coming to an end. You have to ask yourself one question, "Are you ready?" Have you started pulling your references together for that final paper? When was the last time you got the chance to go over your notes for the semester exam? And what about just a quiet place to catch up on those last-minute rewrites?
I am sure that there are many of us that walk past the library and do not give it a second glance. From my own experience, I have been in the library for a total of three times out of two years. I am very sad to admit that many times I choose to study by the Cafe Descartes or the cafeteria and even on my couch at home (or in your dorm room for those that live in The Nest), anywhere but the library.
However, after having the opportunity to speak with a wonderful resource for a class that I myself am taking. I am convinced that we as students of NEIU should introduce ourselves to the librarians at our main campus as well as other locations we might use so that they are familiar with us and our needs. The librarians are more than willing to assist you in finding the resources you may need or at least, being able to point you in the right direction. Chrissy Cogswell, Information Services Librarian who works at El Centro, is a wealth of information and provided me with a great deal to work with ensuring that if I work hard, use my resources wisely and I write an exceptional paper I will be able to get a good grade on my end of semester paper.
Your first stop at the library could start with the "Chat" option, right from the comfort of your own home or dorm. You can use the library's online resources right where you are at. 
There are useful tabs on the site: Database/Articles, Journal Finder and Research Guides, all of these are great resources to use in order to find just the right item to polish that research you are doing.
One thing that makes the library better is that you are not limited to the resources within our library, there is the feature that allows you to share books between universities. For an example of how to use these resources, you can reach out to one of the librarians who will gladly walk you through the process. Robin Harris, Interim Associate Dean of Libraries and CCICS Library Coordinator/Information and Services Librarian Ronald Williams Library, said to the Independent "We meet people where they are". With over 249 search engine resources, it may feel overwhelming at times but the librarians are there to assist you on this leg of your academic journey. There were many resources for use as Harris pointed out, such as the resources available to disabled students, who perhaps need additional services to assist in hearing or even seeing the resources There is also available assistance provided to copy materials and even to locate something if need be.
The library started a monthly newsletter that features events that are happening within the library: from TRIO events, to lectures, and seminars to ensure we all take a moment to enjoy life. There are even visits from a puppy on Thursdays from 2 p.m. to 4 p.m., so we can all get our cuddles in. From taking out a book, printing out a peer reviewed article, borrowing from a resource from a neighboring university or the learning resources center, there is something for everyone at the NEIU libraries. So grab your student ID and head on over to the library and find out what hidden gems you discover.