Concert Review: Alter Bridge use beauty, calamity to exorcise The Rave's demons
Over the last 16 years, Alter Bridge have emerged as titans of rock n' roll. Once perceived as an imitation of Creed–guitarist Mark Tremonti, drummer Scott Phillips and bassist Brian Marshall were each founding members–Alter Bridge vehemently rejected that stigma, instead forging their own sense-arresting brand of stadium rock. Sixteen years later, and the Florida hard rockers sit at the forefront of rock n' roll.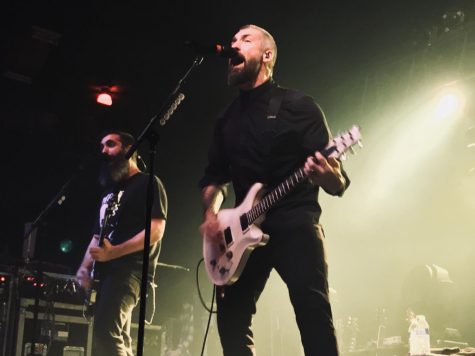 Touring in support of their newest album, Walk the Sky, Alter Bridge visited the Rave/Eagles Ballroom in Milwaukee, Wis., alongside Michigan-based sextet DEEPFALL and Sevendust's Clint Lowery,
DEEPFALL kicked off the night, whetting the crowd's appetite by staggering hard rock with humor. The set was relatively nondescript, though guitarist Anthony Battista delighted the crowd with his exactness, executing solos with one arm positioned behind his back. There was also something artistic about Battista's precision with his power chord progressions, adding a unique dynamic to an act looking to make themselves a household name.
Clint Lowery of Sevendust took the stage next, playing a setlist comprised exclusively of numbers from his debut album, God Bless the Renegades. From the start, it was apparent that Lowery is an amicable, humble performer who loves the rock n' roll genre. He redirected the crowd's attention from himself to his bandmates while fervently thanking the Milwaukee crowd for always "bringing the energy."  It was a gracious display of the camaraderie that operates as an adhesive between fans and performer.
Unfortunately, Lowery's set didn't resonate with the crowd as expected. While the crowd responded with vigor to Lowery's acknowledgment of his work with Sevendust, the Alter Bridge crowd seemed largely unfamiliar with his solo work, reacting with near apathy despite Lowery's willingness to engage the crowd.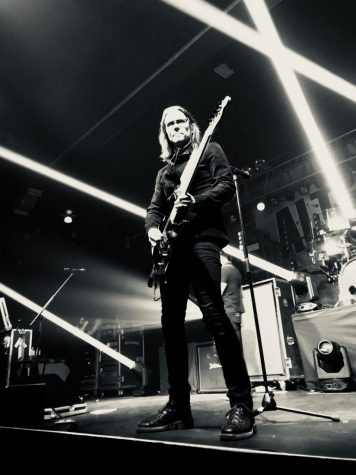 Furthermore, the instrumentals were inharmonious, competing with one another rather than cooperating.  At one point, Lowery's bassist, whose energy is unrivaled, hovered around his amp as he attempted to detect the source of noticeable feedback. Nevertheless, Lowery is a capable frontman with infinite potential should he opt to fully commit to his solo career. 
Anticipation permeated throughout The Rave ahead of Alter Bridge's arrival. The crowd, monopolized by fans of the Orlando hard rockers, speculated about setlist additions and omissions while gushing about their favorite Alter Bridge hits. Once the band emerged from the back, they were greeted with rapturous applause, a fitting welcome for a group of inconceivably nice guys seconding as this generation's foremost rock quartet.
Alter Bridge's modern interpretation of arena rock thoroughly encapsulates the integrity of rock n' roll. An arbitrator for the disconnect between classic rock n' roll and today's sanitized rendition of rock and its subgenre, Alter Bridge features this generation's top vocalist and guitarist, with each of their efforts intelligible as meticulously crafted epics. Kennedy himself embodies serenity amid chaos, retaining his relaxed, crescendoing vocals atop cataclysmic riffs and hammering drums. 
Kennedy's skill as a guitarist is also grossly underappreciated. His ability to effortlessly transition between harmonized vocals and scorching mini-riffs is intoxicating, as evidenced by his role in introducing 2014's "Cry of Achilles." 
Of course, Kennedy's prowess doesn't diminish Tremonti's contributions. As the greatest guitarist of his generation, Tremonti's guitar solos are both transcendent and a saving grace for a resurgent genre. Tremonti's precision is mechanical as he subconsciously executes blistering solos with relative ease. The manner in which he navigates the fretboard with indiscriminate accuracy is exhilarating, reminiscent of the nuances and complexities that elevated classic rock to the top of nearly every chart. As Tremonti assumed lead vocals for "Falling Forever," his guitar essentially operated as a fifth limb, his dexterous fretting skills unobstructed by the added responsibility.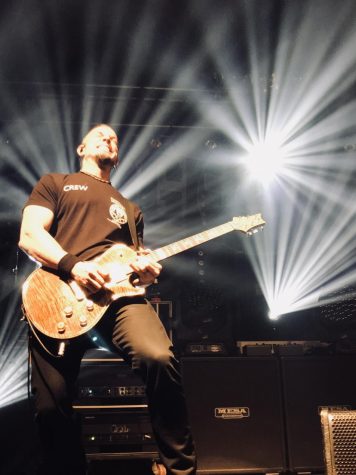 Despite a few notable omissions–"My Champion," "Show Me A Leader" and "In Loving Memory" were noticeably absent from Alter Bridge's setlist–the performance featured a stainless balance between hits and deep cuts. Benefiting from an exceptional deep catalog, Alter Bridge dusted off "You Will Be Remembered" for the first time during the Walk the Sky tour. "Watch Over You" was a sorrowful exhibition of beauty and tranquility.  The crowd commandeering "Open Your Eyes," which Kennedy spotlighted as the first single under the Alter Bridge banner, was borderline emotional, representative of the maturation of both Alter Bridge and the fans' appreciation for their craft. 
As expected, it was "Blackbird" that stole the show, a performance underscored by collaboration and flawless and unblemished sureness. A seven-minute lecture in the complexity of music writing, the anthemic "Blackbird" features a bright yet haunting opening riff, angelic vocals and a mind-numbing guitar solo that was voted by Ultimate-Guitar.com as the greatest of all-time, making it a champion of both modern and classic rock. Seeing the four members of Alter Bridge completely engross themselves in their performance is a transcendent experience, one that offers listeners greater appreciation for the effortless skill put forth by Alter Bridge on stage. And encased in the performance of "Blackbird" is the lack of ego from the standard bearers of rock, as shifting spotlights traded the attention from Kennedy to Tremonti as they executed their portion of the infamous "Blackbird" solo. 
After a brief intermission, the band resurfaced to play "Godspeed," a song about departed friend Seth Luker, and "Addicted to Pain." The encore operated as a well-deserved victory lap following a rock n' roll spectacle. Alter Bridge remain one of the few can't-miss acts in rock today. A soulful celebration of Alter Bridge's evolution from a tentative new act seeking to shed the perception of imitation to pillars of a revitalized genre, Alter Bridge further cemented their place at the forefront of rock n' roll.