Ranking: NEIU's Top 10 rock concerts of 2019
In honor of the many great concerts we were fortunate enough to attend over the past year, the NEIU Independent ranked the top 10 concerts of 2019. Please remember that this is a ranking of concerts we personally attended; we are not able to accurately comment on those we were not present for. Enjoy!
Honorable Mentions
Scott Stapp
Scott Stapp's free Fourth of July performance as Frontier Days in Arlington Heights, Ill., should serve as a reminder as to why he is considered a living rock legend. While his exaggerated vocal inflections might not fit everyone's tastes, Stapp continues to produce high-quality albums to this day, his most recent being the hard-hitting The Space Between the Shadows. Now working alongside the incredibly talented and underrated Yiannis Papadopolous, Stapp's performances are reminiscent of his days with Creed. Appearing happy, sober and healthy, Stapp looks to be in the best shape of his life.
All Time Low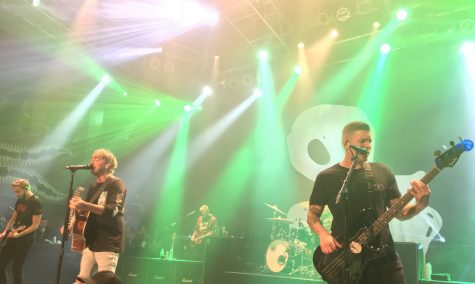 The boys from All Time Low rocked the House of Blues in Chicago, Ill., to close out 2019. Playing the trendsetting Nothing Personal in its entirety, All Time Low's authenticity and love for pop punk more than made up for their relatively nondescript stage design and lighting scheme.
Buckcherry
I initially balked at the prospect of buying Buckcherry tickets for their show at Route 20 Outhouse in Sturtevant, Wis. However, the Anaheim rockers coaxed the crowd into a frenzy with their high energy, balanced setlist and fun dance moves. Vocalist Josh Todd made the stage his own personal Dance Dance Revolution (remember that game?) as the band performed both new and old hits alike. While I was disappointed by the omission of "All Night Long" and "Everything," newer additions off of 2019's Warpaint impressed, particularly "Bent" and the scaled back "Radio Song." 
Evanescence
When Evanescence came to the Rave/Eagles Ballroom in Milwaukee, Wis., I was tentative to see the band that introduced me to the darker elements of rock. With vocalist Amy Lee as the only remaining original member, I was worried that Evanescence would be a caricature of themselves, overcompensating to mask such consequential departures.
Evanescence quickly dispelled such fears. Seeing Lee perform live is a surreal experience. Lee possesses one of the top voices in music, harnessing the ability to manipulate her crescendos to seemingly fit any instrumental trajectory. Despite being drenched in sweat from the sweltering heat–the Rave/Eagles Ballroom doesn't offer air conditioning in mid-July–it was impossible not to bang our heads and scream our lungs out alongside Lee.
10) Bring Me The Horizon
Say what you will about embattled Bring Me The Horizon vocalist Oli Sykes, but he simply commands his audiences. The manner is which Sykes puppeteered the Byline Bank Aragon Ballroom crowd was impressive, allowing the relatively quiet Lee Malia to steer the instrumental portion of the set while retreating to the background.
The Sheffield rockers' live performance of "Doomed" was especially impressive, dripping with theatrics, drama and anticipation. Draped in a Winter Classic Chicago Blackhawks jersey, Sykes' vocals combined with a stark green hue to lend a sense of foreboding eeriness. Sykes' silhouette pranced with a blissful indifference, though the effect was pensive rather than apathetic. Overall, a spectacular concert at a historic venue.
9) 311, Highly Suspect and The Glorious Sons
The Glorious Sons opened the final show of 101WKQX's annual The Nights We Stole Christmas concert series and quite simply brought the house down. Displaying their artistic maturation from 2017's Young Beauties and Fools to 2019's A War on Everything, the Canadian rockers impressed a predominantly 311-centric crowd with their unsheathed version of alternative rock.
Highly Suspect was spectacular as usual, though their abbreviated set left quite a bit to be desired. Notable omissions included "Lydia," "Little Ones" and "Canals," three of their top five most-streamed songs across digital platforms. Nevertheless, Highly Suspect's deep arsenal allowed them to easily compensate for the type of subtractions that would cripple lesser bands' setlists.
Vocalist Johnny Stevens is a superstar.  His flow in contemplative and smooth, rivaling the best of both rock and hip-hop. His fretting skills were also on full display, particularly during the set opener, "Bath Salts." As expected, "My Name is Human" earned the loudest response, with the crowd ricocheting each and every lyric back at Stevens.
311 concluded the most balanced lineup of the Nights We Stole Christmas concert series with a veteran performance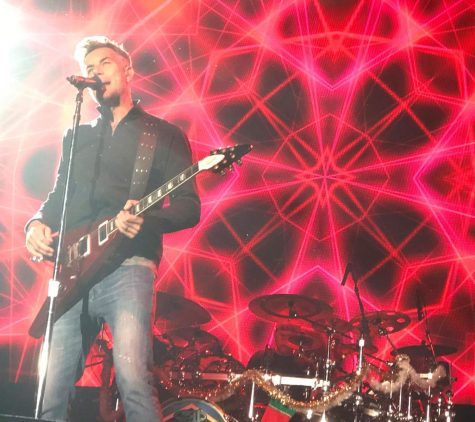 in front of a stunning visual display. If Highly Suspect's setlist left something to be desired, 311's was outright barren, grossly underrepresenting their most recent work and completely bypassing every album and LP released between 2003 and 2014.
Nevertheless, 311 is simply too fun to criticize. They perform with such a childlike giddiness that it's nearly impossible not to appreciate their live efforts. They are a guilty pleasure, refusing to subscribe to any one genre, yet somehow managing to fuse the best elements of multiple genres into one setlist.
Plus, their video display is unrivaled.
8) HELLYEAH, Nonpoint and Deepfall
HELLYEAH visited the Apollo Theater AC in Rockford, Ill., alongside Nonpoint and Deepfall for their A Celebration of the Life of Vinnie Paul tour.
The energy and intensity exhibited by all three bands was overwhelming. Michigan rockers Deepfall commenced the night, whetting the crowd's appetite for the acts that followed. While the Deepfall project is still in its infant stages, the band features some incredibly talented performers, providing undeniable optimism for both the band's future and staying power.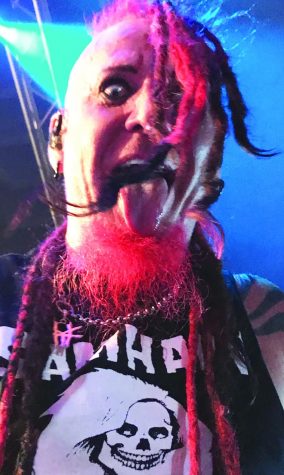 Nonpoint's extraordinary ability to keep evolving as musicians was on full display, as they impressed with their newest additions to the setlist,, such as "Chaos and Earthquakes" and "Dodge Your Destiny," the latter inciting spontaneous dancing during the bridge. 
Vocalist Elias thrives on crowd engagement, exhibiting his infectious energy each time he assumes center stage. The Fort Lauderdale rockers also paused their set to celebrate guitarist Rasheed Thomas' birthday.
However, HELLYEAH's remembrance of departed drummer Vinnie Paul (formerly of Pantera) is what will remain in fans minds long after the thrill of attendance dissipates. If you've never seen Chad Gray live, he truly is one of metal's great performers. His flow rivals the best of any genre while his militant, in-your-face stage presence operates in stark contrast from his wholesome nature. His monologue on the importance of team work within a genre that has historically promoted coexistence was a beautiful departure from the harshness that HELLYEAH is renowned for. "The Celebration of the Life of Vinnie Paul" tour was an exhilarating experience that staggered groundshaking calamity with commemoration.
7) Alter Bridge, Skillet and Dirty Honey
The first leg of Alter Bridge's Walk the Sky tour featured a palatable, All-Star lineup for fans across the entire rock spectrum. This past October, Dirty Honey became the first unsigned band in Billboard's four-decade history to reach No. 1 on its Mainstream Rock Charts with their single "When I'm Gone." Their live performances are special, offering a modernized version of yesteryear's blues rock. If you're yet to sample "Down the Road" by Dirty Honey, I implore you to stop what you're doing and give it a listen, as it is today's version of Guns N' Roses' "November Rain."
I was relatively indifferent on Skillet coming into the night, but the Christian rockers unbridled energy stole the show. Led by vocalist John Cooper, Skillet overwhelmed the crowd with stage props, ranging from the steam blasters strapped to Cooper's forearms to the elevated platforms that guitarists Korey Cooper and Seth Morrison, whose musical talent has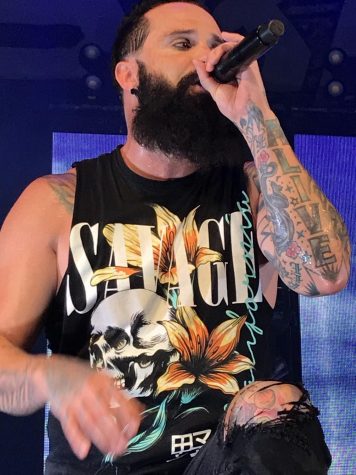 added another dimension to the Skillet brand, played atop of. Furthermore, Skillet's setlist was phenomenal, putting their evolution as musicians on full display as they concurrently revisited the past and highlighted the best of their recent releases, 
Alter Bridge was lethargic on this night and it showed. Nevertheless, vocalist Myles Kennedy and guitarist Mark Tremonti are simply incapable of disappointing. Their precision is methodical, executing complex solos with such an ease that it almost diminishes the effect. Their musical prowess is effortless, guided by the educated hands of arguably the greatest vocalist-guitarist duo of the modern generation.
Kennedy once again reinforced his position as the standard bearer of rock vocalists while Tremonti proved why his brand has become synonymous with the guitar solo. 
6) Disturbed and Three Days Grace
Three Days Grace lead guitarist Barry Stock is one of the most underrated riff specialists in rock history. The simplistic yet dynamic riffs featured in "I Hate Everything About You" and "Home" are intoxicating. Most impressively, Three Days Grace hasn't really missed a beat since Adam Gontier's departure seven years ago.
Personally, I'm a bigger fan of Three Days Grace than I am Disturbed. Nevertheless, Disturbed's performance was simply too much for the Van Andel Arena to confine, which is more a testament to Disturbed's musical prowess than an indictment on the Van Andel Arena's size. While Disturbed impressed with classic hits like "Down With the Sickness" and "Indestructible," it was the sense of community that will inevitably define the Evolution tour. 
Vocalist David Draiman invited a fan who survived addiction on stage to share his story. They displayed a sensational collage that chronicled their journey from basement concerts to stadium tours during "Hold on to the Memories." The introspective interpretation "Sound of Silence" was sinister and beautiful. Cords draped in flames bungeed from the sky as the band kicked off "Inside the Fire."
Distubed's ability to keep churning out great albums without betraying the principles of their brand is uncanny.
5) Queen featuring Adam Lambert
Queen is Queen. If you get the opportunity to witness Queen from a front row vantage point, you jump at the opportunity, no questions asked.
When Queen announced their return to the United Center, I was resigned to the fact that I would either never see Queen live or be forced to labor through a distant view. Instead, I got to see the legendary Brian May from approximately 15 feet away as he displayed the picking and fretting skills that propelled him into the upper echelon of history's guitarists.
It was a special experience, one that was predicated on nostalgia. Images of deceased vocalist Freddie Mercury were prominently displayed as Adam Lambert honorable upheld the integrity of the Mercury brand. The performance operated as an emotional celebration of life, death and the legacies each of us will inevitably leave behind, whether we are a nondescript man diligently working to provide for our family or arguably the most celebrated vocalist in rock n' roll history.
Thank you, Queen, for your contributions to this great genre.
4) Angels & Airwaves and Cage the Elephant
I primarily came to Night One of the Nights We Stole Christmas to see former Blink-182 frontman Tom DeLonge, who currently serves as Angels & Airwaves' vocalist and rhythm guitarist. And while they impressed–the stage ambiance and execution of numbers like "Heaven" and "The Adventure" was nothing short of breathtaking–Cage the Elephant stole the show.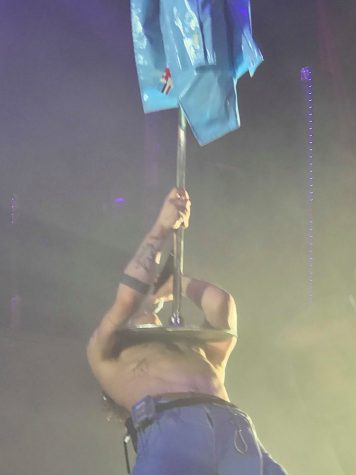 Despite their relatively tame sound, Cage the Elephant enchants audiences with an unruly stage presence. They are bold, quirky and insanely talented. I left the Aragon Ballroom convinced that vocalist Matt Shultz is one of the great
vocalists in modern rock. His energy is inconsistent with the Cage the Elephant's lighthearted sound, but everything he does thoroughly resonates with his audience.
He stripped off layers of clothing until he was down to see-through spandex. He lay prone on the ground as a rabid crowd echoed each and everyone of his lyrics. He peered skyward, microphone in hand like an embattled performer celebrating a successful show.  Simply put, if you've never witnessed Cage the Elephant live, treat yourself to a special experience.
3) Switchfoot, Colony House and Tyson Motsenbocker
From an aesthetic standpoint, Switchfoot's performance at Park West In Chicago, Ill., was relatively tame. There were no pyrotechnics, no vast video displays and no grand gestures on stage. Nevertheless, what was lacking in props was more than accounted for in the sense of love and solidarity promoted by San Josean rockers.
The guys in Switchfoot are just virtuous, authentic dudes. They dedicated a significant portion of their set toward promoting their humanitarian efforts in Africa, where they hope to spread awareness about the hunger epidemic. Hugs were exchanged between strangers as vocalist Jon Foreman tearfully announced keyboardist Jerome Fontamillas as officially cancer free.
Of secondary importance–more a testament to the pure emotion that poured from the Switchfoot concert experience than an slight on the actual performance–the setlist was perfect. Ahead of the main set, Switchfoot treated VIP members to an intimate acoustic performance, fielding requests for seldom-heard tracks. When solicited to play "Holy Water" off of 2016's When the Light Shines Through, the band readily admitted that they forgot how to play the number before offering a patched together version of it. Needless to say, watching a commercially successful band abandon ego and amicably fumble through one of their own songs was a unique and endearing experience.
Switchfoot was incredibly malleable with their main set, abandoning predetermined songs for the sake of fan engagement. They executed their top hits–"Meant to Live," "Dare You To Move"–to perfection while supplementing their setlist with deep cuts like "Afterlife" and "Where I Belong." 
Switchfoot's performance at Park West was representative of everything rock fans expect from the rock genre.
2) Coheed and Cambria and Mastodon
The Coheed and Cambria and Mastodon performance at Huntington Bank Pavilion in Chicago, Ill., actually benefited from inclimate weather.
As Mastodon lead guitarist Brent Hinds commenced one of his celebrated guitar solos, he was interrupted by hostile gusts of wind, which combined with the fog machines to engulf Hinds in a tornado of fog. It was a stunning visual experience–a music video come to life, for the sake of illustrating a portrait–that I'll never forfeit.
The synergy between Mother Nature and Coheed and Cambria vocalist Claudio Sanchez was ethereal. As Sanchez belted his notorious crescendos, wind lashed as his brown mane, creating a whirlwind effect that left concertgoers breathless. Piped in fog whipped around haphazardly, creating an ominous effect that elevated an already masterfully orchestrated performance.
It's impossible to explain how talented Sanchez and guitarist Travis Stevers are. While known on the mainstream market as a concept act, Sanchez' ability to currently sing and execute complex riffs is scarcely rivaled. Furthermore, the lighting and video display added a sense of victory to a rapturous, rain-soaked performance.
1) Slash featuring Myles Kennedy and the Conspirators and Joyous Wolf
When arguably the greatest guitarist in rock n' roll history combines with the greatest vocalist in modern rock, you get musical bliss.  When Slash featuring Myles Kennedy and the Conspirators visited the Pabst Ballroom in Milwaukee, Wis., they put on a show for the ages. Sure, fans expecting a compilation of Guns N' Roses greatest hits might have been disappointed, but the group offered a balanced and complete setlist that satiated even the most greediest Guns N' Roses fans.
Up-and-comers Joyous Wolf kicked off the night with timeless energy, performing their debut EP A Place in Time. For those unfamiliar with the California hard rock quartet, they are one of the next big things in rock. Reese's howling vocals sound like they were transported from the golden era of rock n' roll. Guitarist Blake Allard is a superstar in the making, executing contemplative solos and riffs with relative ease. Furthermore, their genuine friendship translates to a special onstage chemistry
Playing at a relatively intimate venue considering the starpower on stage, Slash enthralled the crowd with his unparalleled fretting ability. An eye-crossing 15-minute guitar solo highlighted the set, though the introspective "Starlight" and "The One You Loved Is Gone" each served as fantastic additions to a setlist defined by power, precision and sheer talent.
— Matthew Rago (@Mattrago98) January 24, 2020
As a defining member of one of the premier acts in rock n' roll history, it's easy to overlook Slash's solo contributions. However, this night was a celebration of the talent, creativity and thematic instrumentals that propelled Slash to the top of the rock n' roll mountain.