Concert review: Pop Evil and Like Machines rock the new year
Pop Evil concluded their abbreviated, four-date tour at The Rave/Eagles Ballroom in Milwaukee Saturday, revisiting old hits while ushering in a new era for the Pop Evil brand. Like Machines and Rubikon rounded out the balanced, rock-concentrated card for the 102.9 The Hog-sponsored event.
For readers yet to attend a performance at the historic The Rave/Eagles Ballroom, it's one of the premier music venues in the Midwest. A quick examination of the club's walls will overwhelm attendees with the venue's rock n' roll heritage, as posters commemorating past performances from bands such as Blink-182, Alice in Chains, Staind and a plethora of other headlining acts who visited the venue during their ascension to superstardom monopolize the wall space.
Boston rockers Rubikon kicked off the night around 8 p.m., coaxing an impatient crowd into investing in their multidimensional performance. While the audience initially responded with polite apathy, Rubikon's energy,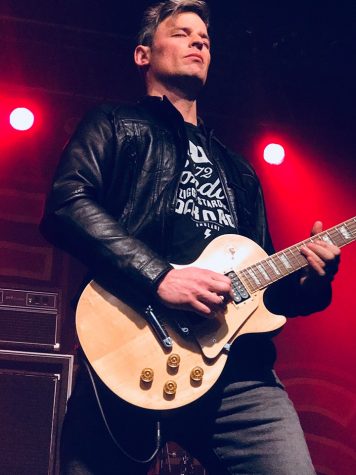 humility and overall appreciation for the rock genre earned the opening act well-deserved applause.
From a musical perspective, Rubikon served as a nice complement to the acts that followed Guitarists Josh Gruss and Dave Raymond traded bluesy solos atop traditional rock riffs as bassist Hugh Eaton entertained the crowd with his brazen love for performing. Eaton even resorted to playing bass while laying in a prone position on the stage after his strap broke.
Drummer Doug Arsham impressed with his ability to concurrently drum and harmonize with vocalist Jae Sims, whose appearance and sound is reminiscent of Dave Grohl of the Foo Fighters.  Overall, Rubikon did an excellent job whetting the appetites of a crowd restlessly awaiting Pop Evil's arrival.
Next up were Atlanta hard rockers Like Machines, whose inclusion in the lineup remained consistent with Pop Evil's history of identifying promising, up-and-coming rock acts. In 2017, Pop Evil toured with Badflower and Red Sun Rising while both acts were still in their embryonic stages. Fast forward three years, and it's Like Machines' turn to impress the crowd with resounding riffs and socially conscious lyricism.
Like Machines commenced their set with their namesake song "Like Machines" before introducing the socially inquisitive portion of their catalog. Following "Like Machines" was the evocative "Kaiser" and "Run, Hide," two songs that serve as an objective, bipartisan exploration of the impact of war and addiction, respectively.
The trio also treated the Milwaukee crowd to songs recorded while the band still operated as The Stir, a title they abandoned in April once confusion arose between the trio from Atlanta and another band that remains active under the same name. Vocalist and lead guitarist Andrew Evans' scathing vocals during "Pedagogue" resonated throughout the venue while "Nightshift" served a fun, energetic sprint bolstered by an incredible catchy chorus.
Like Machines also sampled an unreleased track that featured barbarically distorted riffs that ran parallel to measured, calculated vocals. After engendering support from a crowd largely unfamiliar with their work, Like Machines concluded with 2019's "Destitute,"an penetrative track that interrogates society's response to the homeless epidemic in America.
Simply put, the talent collectively exhibited by the members of Like Machines should not exist on the opening act level. In particular, Evans is a superstar in the making.  If you've never had the pleasure of watching Evans perform, imagine a fusion between Slash's fretting skills and Axl Rose's vocals. Such lofty praise may read as irresponsible hyperbole, but I assure you that the comparisons are warranted, particularly after watching Evans seamlessly transition from vocals to blistering solos.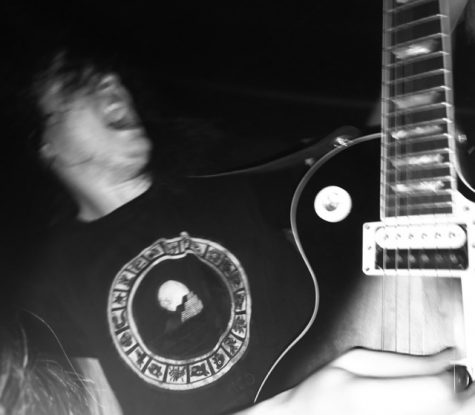 Watching the manner in which Evans expertly navigates the fret board while concurrently piercing listeners' ears with his 80s-centric vocals is an exhilarating experience scarcely found in the contemporary rock scene. Furthermore, the authenticity of the energy displayed by bassist Tanner Hendon, who roamed the stage while essentially puppeteering crowd reactions, and Cheney Brannon (formerly of Collective Soul), who hammered his drum kit with such ferocity that he seemed to pose a hazard to himself, was enthralling.
Throughout the duration of Like Machine's set, it was apparent that something special was occurring. I've seen opening acts organically win over reluctant crowds, but I've never witnessed an opener command chants for an encore.
Playing in a venue that immortalized the performances of once up-and-coming artists in support of acts then-more commercially successful bands, it felt like we were witnessing the emergence of rock n' roll's next big act. In 2003, Chevelle served as the primary opener when they visited The Rave/Eagles Club in support of 3 Doors Down, placed lower on the card than Taproot. A year later, Shinedown visited The Rave/Eagles Club as the primary opener for Disturbed.
Perhaps we'll both laugh and reminisce on 2020 as the year Like Machines visited The Rave/Eagles Club as an opening act.
Pop Evil took the stage at approximately 10 p.m., opening their set with their 2011 hit "Boss's Daughter." The Michigan-based rockers staggered metal and hard rock throughout their duration of the set, sandwiching "Colors Bleed" in between "Boss's Daughter" and "Deal with the Devil," the latter complemented by Drowning Pool's "Bodies."
The instrumentals at the tail end of "Colors Bleed" were sublime, introducing an introspective and borderline emotional element to a set that capably honored the integrity of hard rock. The middle portion of the setlist, which featured "Torn to Pieces" and "Last Man Standing" was highlighted by vocalist Leigh Kakaty's willingness to engage audience members during the former. During "Torn to Pieces," Kakaty knelt down to indulge to the front row, waving and posing for attendees clamoring for an up-close-and-personal photograph.
"Be Legendary" earned a rapturous response, though the excitement subsided in favor of a sense of melancholy once Kakaty announced the band's intention to retire "Monster You Made Me," attributing such a decision to band's commitment toward ushering in a new era of Pop Evil. And while the disheartened audience expressed their dismay toward the looming omission of such a staple of the Pop Evil catalog, the decision is both compatible with the band's new direction and allows Pop Evil to eschew the redundancy that tends to plague other bands.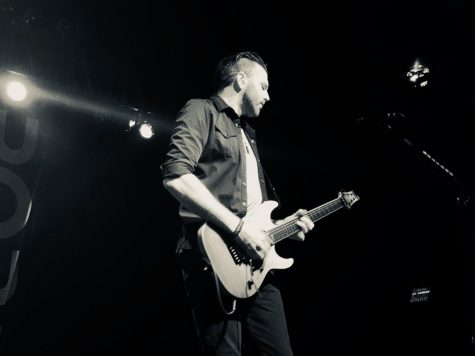 Pop Evil concluded the initial portion of their setlist with the penultimate "Footsteps" before concluding with the quirky, unorthodox "Take It All." Truth be told, I was disappointed with "Footsteps" from a aesthetic standpoint, as the lighting sabotaged the drama of a number built on a foundation of suspense. If my recollection is correct, Pop Evil used to play "Footsteps" before an  predominantly blue hue, offering a sense of anticipation to permeate throughout whichever hall they were performing at. Nevertheless, Kakaty's intense vocals salvaged a song that could have benefited from heightened emphasis on the backdrop.
After a brief intermission, the band returned for a three-song encore, concluding the night with "100 in a 55," "Waking Lions" and "Trenches." Kakaty resurfaced wearing a Milwaukee Bucks jersey before vocalizing his appreciation for the city of Milwaukee and their continued support.
The audience came unhinged for "Waking Lions"–which serves as a welcome deviation from Kakaty's traditional vocal range– with neighboring concertgoers jumping on cue as they eagerly echoed each lyric. To finish the night, Kakaty retrieved members from both Like Machines and Rubikon to share the stage for "Trenches," fostering the sense of community and camaraderie that defines the rock n' roll genre.
While the Pop Evil brand is synonymous with Leigh Kakaty, lead guitarist Nick Fuelling stole the show for me. From a front row vantage point, Fuelling's fingers seemed to lack purpose, indiscriminately hammering away at a fret board absent of direction. Nevertheless, the Pop Evil lead guitarist nailed every note, dictating a Pop Evil sound that has continually evolved as they've departed their comfort zone time and time again.
On the other hand, watching Kakaty perform is the equivalent of watching an upper echelon hip-hop performer who not only possesses the vocal prowess for both rock and R&B, but also the charisma to avoid mindless pandering, misguided catch phrases and unfocused energy.
Finally, one can't help but notice and appreciate the readily apparent chemistry that exists between each member of Pop Evil, from bassist Matt DiRito's amicable demeanor to rhythm guitarist Dave Grahs' willingness to interact with Pop Evil fans on an personal level to drummer Hayley Cramer's presence as a trailblazer within the rock genre.
As always, Pop Evil produced an amazing show, both honoring the integrity of rock n' roll while simultaneously penetrating the full spectrum of its various subgenres.