Concert Review: 311, Highly Suspect and The Glorious Sons tear the house down
101WKQX concluded their annual The Nights Before Christmas concert series Sunday with its most balanced lineup when 311, Highly Suspect and The Glorious Sons took the stage. It seems that every year, one act fails to sell out the Byline Bank Aragon Ballroom. Last year, it was the Death Cab for Cuties headlining show, which performed so poorly from a commercial standpoint that tickets were advertised on Groupon in the weeks leading up to the performance. This year, 311 and Highly Suspect fell victim to collective apathy which, for the sake of fairness, is more a testament to the commercial appeal of the headlining acts that preceded them than an indictment on talent and fan base of either band. 
Nevertheless, where Twenty One Pilots had people camping out in 20 degree weather 48 hours ahead of their headlining performance, only three fans were lined up 45 minutes before doors opened on Sunday. Perhaps the show was handicapped by consumer fatigue or concert inundation. Maybe the pick-your-poison nature of a five-night concert series was too financially taxing for some fans to double or triple dip. Regardless, despite approximately 1,000 unsold tickets, 311, Highly Suspect and The Glorious Sons put on an incredible performance for those willing to brave the searing cold. 
The Glorious Sons kicked off the night with a wild set that featured energetic anthems of youth and blistering guitar solos. Whereas most opening acts are welcomed with either polite applause or passive rebellion, The Glorious Sons organically won over a reluctant crowd with hits like "A Funny Thing Happened," "Wild Eyes" and "S.O.S (Sawed off Shotgun)," turning what could have been phoned in performance into a coming out party for one of rock's hottest upcoming acts.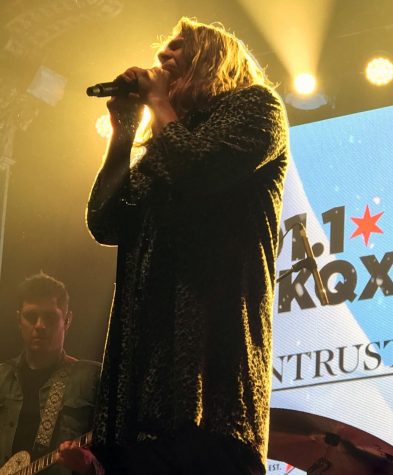 The Ontario rockers staggered tranquility with calamity, forcing fans of true blue hard rock to subconsciously nod their heads along with each and every song. 
Furthermore, their confidence was intoxicating. Guitarist Chris Koster ground his guitar strings along his microphone stand, identifying that even the slightest deviation from the norm was going to emphatically resonate with the Chicago crowd. Vocalist Brett Emmons opted against mindless banter or pandering, instead puncturing the crowd's initial tentativeness with resounding vocals and an in-your-face stage presence. Emmons hopped into the crowd and sang in the faces of Highly Suspect fans. He recruited 311 fans with penetrating glares, daring attendees to challenge his musical prowess. And his message was clear and succinct: The Glorious Sons are ready to take the rock n' roll world by storm.
Next up was Grammy Award winners Highly Suspect, whose set was monopolized by self-described repetition. Vocalist Johnny Stevens has been transparent about his struggles with mental health, using his platform to both extend the proverbial olive branch and introduce a sense of community and camaraderie among those who feel stranded and alone. In particular, "Fly," a song that details the challenges of familial fissures and the subsequent self-deprivation that follows, served as both an emotional outlet and an invitation for everyone to join Stevens' crew, which he describes as "dope" (MCID – my crew is dope). 
Highly Suspect has made a name from themselves by seamlessly blending genres. One moment, they are rocking the house with anthemic songs of angst and self-identification. The next, they are rapping alongside Young Thug, who they collaborated with on "Tokyo Ghoul." For someone who has never seen Highly Suspect live, I was taken aback by the multidimensional talent of each member. Stevens stole the show as the band's vocalist and lead guitarist. Bassist Rich Meyer took the microphone for the pensive and reflective "Arizona," which I admittedly expected them to swap out for "Chicago," and proved that he has both the voice and talent to front his own side project should he ever choose to explore that avenue.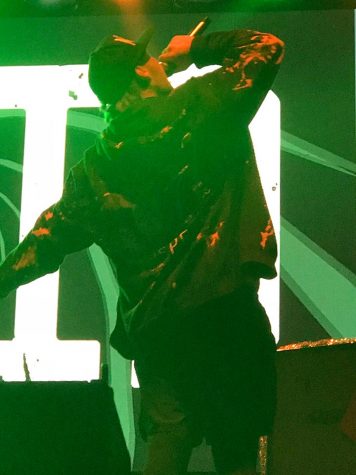 A quick glance around my section of the crowd uncovered an interesting observation. Stevens' mannerisms and verbiage are inconsistent with the majority of today's hard rockers. While his brashness and exuberant personality offers a fun departure from the status quo, it also incited some curious responses from those unfamiliar with the Highly Suspect brand. When the band resurfaced for "Tokyo Ghoul" wearing neon orange jumpsuits, the symbolic gesture wasn't received well, particularly in a city that has been hounded by disproportionality within the carceral system. The change in attire operated as a clear political statement from a band that hasn't shied away from making their political stance known–"Donald's a b*tch and Vla' Putin is too"–though it may not have been executed as well as they envisioned. 
Nevertheless, despite a set that featured a few unfortunate omissions–the band's abbreviated setlist didn't include "Bloodfeather," "Lydia," "Little One," or "Canals"–Highly Suspect offered an exceptional show from start to finish.
Headliners 311 finished off the show with their trademark airiness, inventiveness and quirkiness. Unfortunately, about 60% of the front row departed after Highly Suspect left the stage, missing their opportunity to sample a 311 brand that has inspired cult-like admiration.
Whereas Highly Suspect and The Glorious Sons are actively ushering in a new era of rock with socially conscious lyrics and a cool, calculated stage presence, 311 epitomizes the proverbial dad joke. While vocalist Nick Hexum looks like a runway model masquerading as a rock star, rapper/vocalist Doug "SA" Martinez has a propensity to prance to the front of the stage and execute an endearingly clumsy robot dance. 
Make no mistake about it, 311 is an acquired taste. Their vision doesn't fit uniformly into any one genre. Instead, they've explored the principles of reggae, hard rock, rap and metal, blending the elements of each subgenre to create their own unique sound. Their mellower numbers get the most radio play, but a deep dive into their catalog will expose their ability to explore the harder elements of rock, as evidenced by "Too Late" and "Perfect Mistake." Unfortunately, their two most recent albums, Mosaic and Voyager, were grossly underrepresented on Sunday, with the band instead offering a near-perfect balance between between eight of their 13 studio albums (none of their albums or LPs between 2003 and 2014 made the cut). 
311 played in front of the enormous Aragon Ballroom video screen, which displayed a stunning display of visuals. As the band progressed through their set, the light show conformed to the rhythm and mood of each song. 311 began their set with the popular "Beautiful Disaster" before tempering the crowd with the rhymatic "All Mixed Up" and "Love Song." Once they began "Too Late," the video screen transitioned to a mesmerizing purple display punctuated by a lazily floating representation of astronomical objects. 
"Come Original" and "Creatures (For a While)" were both noteworthy for their crowd engagement, as fans seemed to salivate at the opportunity to increase the tempo and energy. Of all the songs on 311's setlist, "Come Original" seemed to earn the best reception as the crowd echoed each and every lyric alongside Martinez and Hexum.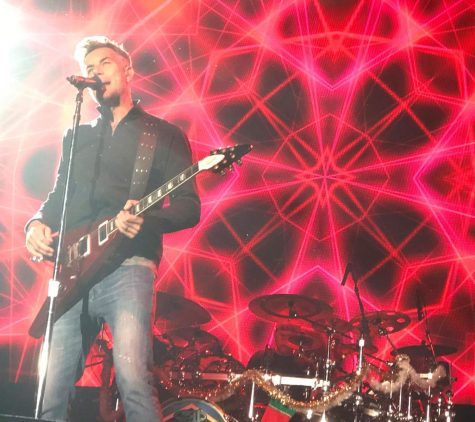 As always, 311 impressed despite what I perceived to be an objectively weak setlist, untethered to genre or expectation. 311's exhibition of musical talent was supplemented by a mind-bending light show, poaching from the stage effects most associated with EDM festivals. If you have yet to give 311 a listen, I implore you to dismiss any preconceived notions you may have about their style and brand and probe the entirety of their collection, as you're almost sure to find a few songs that are consistent your musical tastes.