Cage The Elephant and Angels & Airwaves concert review
An all-star lineup tore the roof off of the Byline Bank Aragon Ballroom.
101WKQX has an incredible knack for recruiting premier rock acts to perform at relatively intimate venues, so it's no surprise that the Byline Bank Aragon Ballroom sold out once it was announced that Cage the Elephant and Angels & Airwaves would team up to kick off the annual The Nights We Stole Christmas (TNWSC) concert series. What was a surprise, however, was seeing fans line up at 8 a.m. on a sub-freezing Wednesday afternoon to ensure barricade viewing. What was even more surprising–bordering on concerning, to be frank–was seeing fans of Twenty One Pilots erect tents two days in advance in preemptive anticipation.
Fans flooded the Aragon Ballroom, excitedly exchanging tales of how Cage the Elephant, Angels & Airwaves and, by extension of vocalist Tom DeLonge's affiliation, Blink-182 have impacted their personal lives. The sense of community and camaraderie promoted within the rock alternative genre is what makes such performances so special–each act seems to transcend music, instead introducing a culture and heritage that warrants celebration. One fan explained her willingness to brave the biting Chicago cold by citing vocalist Matt Shultz's heroic battles with his well-documented depression. Another fan, shivering but undeterred, enthusiastically rattled off his favorite Angels & Airwaves songs, pausing after each explanation to elaborate on his admiration for DeLonge's "multidimensional talent."
After an hour-long intermission between doors and start time, the Federal Empire took the stage, whetting the appetite for the remainder of the concert series. With the benefit of retrospect, the Federal Empire, featuring former Carolina Liar lead singer Chad Wolf, was the perfect selection to commence TNWSC, as their brand of alternative rock sounds like a blend of each TNWSC headlining act, save for perhaps 311. Their sound is simple, reliant on acoustics and folksy melodies. But that's okay, as such simplicity incites authenticity when produced by talent-laden performers. Wolf's appreciation for the Chicago music scene was also apparent, as he thanked Chicago for being the foremost city to stream the Federal Empire's music. 
Unfortunately, an impatient crowd was not as receptive to the Federal Empire as they could have been, which felt somewhat puzzling. The Federal Empire offered the airiness of Cage the Elephant, the indie vibe of Mumford and Sons, and the metallic electronics of 1975 and Twenty One Pilots. Perhaps the crowd was unenthusiastic due to unfamiliarity, though such apathy bordered on passive rebellion. Either way, 101WKQX proved capable of identifying a band that's bound to make waves in the alternative rock scene and provided them a major platform to exhibit their musical prowess.
Angels & Airwaves took the stage to their trademark intergalactic ambiance, offering stunning visuals in support of their objectively mellow identity. While Angels & Airwaves doesn't possess the same commercial appeal as  Blink-182, they do offer a palatable alternative for Blink-182 fans starved of contemplative deep cuts. 
AVA played each of their top hits, including "The Adventure," "Kiss & Tell," and "Everything's Magic," while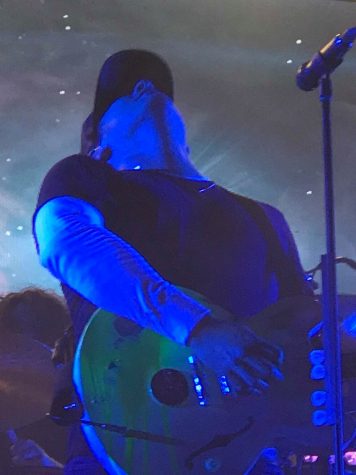 sprinkling in the deep cuts that have differentiated the quartet from other side projects that failed to get off the ground. DeLonge and company truly shined with "Heaven" and "Valkyrie Missile,' showing that their musical genius cannot be confined by today's abbreviated, sanitized mainstream rock standards. Admittedly, DeLonge's vocals left a bit to be desired, though whatever was lacking in the vocals department was more than accounted for by DeLonge's quirky mannerisms, endearing personality and the staggering visual display that seemingly floated behind Angels & Airwaves. 
I wholeheartedly expected Angels & Airwaves fans to hijack this performance. When the San Diego rockers announced their resurrection this past April, fans raced to purchase tickets, selling out the majority of the tour in a matter of hours. Additional dates and venues were added to satiate the demand, with Angels & Airwaves even opting to move select dates to larger venues. Tickets sold on resale websites for upward of $300, an approximate 690% increase from the original price. Considering that this performance was a relative bargain compared to their performance at House of Blues back in September, it was surprising to see Cage the Elephant fans essentially monopolize the crowd. While a faction of fans echoed every Angels & Airwaves' lyric, the other half was comparatively indifferent to their efforts.
Cage the Elephant closed out the night with a resounding performance, reminiscent of the great rock acts of yesteryear. As someone who was not previously familiar with much of Cage the Elephant's work, I was pleasantly surprised by how much effort they dedicated to their stage presence. I expected a mellow, fun-loving, scaled back performance proportionate to the tempered energy that has become synonymous with their brand of alternative rock. Instead, we got a brash, in-your-face performance, with Shultz–who is undoubtedly one of the greatest live performers in rock history–shedding outfits, gyrating his hips and contorting his body for the sake of entertaining the crowd.  By the time the performance concluded, Shultz was down to a skimpy pair of spanks. 
Cage the Elephant's scarcely matched energy operated in stark juxtaposition with their experimental sound, which made for fascinating viewing. Melody-driven hits such as "Broken Boy" and "Skin the Bones" had the crowd bouncing on the soles of their feet. Chart-toppers such as "Ain't No Rest For Wicked," "Come A Little Closer" and "Cigarette Daydreams" inspired anarchy. And throughout the balanced and indiscriminate set, Shultz, alongside brother and rhythm guitarist Brad Shultz, puppeteered the crowd with unbridled passion. 
Cage the Elephant concluded night one with "Love's the Only Way," with Shultz abandoning his theatrics in favor of a more introspective demeanor. A curious choice to conclude such a high-energy performance left the crowd somewhat confused, with many concertgoers eagerly anticipating a lively finale to close out the show. Nevertheless, finishing with  "Love's the Only Way," which admittedly failed to generate crowd participation, remained consistent with the unpredictability of a spectacular performance and served as a capable if unremarkable
closing number.