Nuevas Voices Review
A round of applause for the third annual edition of NEIU's playwriting competition and festival
Nuevas Voces is a play contest that was created by NEIU Professor Jim Blair as a platform for new playwrights in the NEIU and larger Chicago community. It's a way of encouraging the creation of new plays, since it only accepts original pieces, and it gives students the chance to be a part of a performance. 
Each performance has a duration of approximately 10 minutes. In this edition, the third annual contest, four plays were performed. "The Fear of Little Things" by Shannon Naylor, which won first place, tells the story of two best friends trying to deal with the fact that one of them said "I love you" to her boyfriend during sex and he did not say it back. "Live It Up List" by Emily Feldman, which came in second, is a heartbreaking story about unexpected strangers who develop a close relationship and the hard journey they go through when they find out one of them has cancer.  "Frosted" by Ariel Notterman finished third and tells a story about self-love and how to never let society tell you what you can and cannot be, especially a Disney princess. In addition, there was the honorable mention, "Too True to Be Good" by James Jarvis, about two girls who learn that there are strangers who have uncannily similar opinions to their own.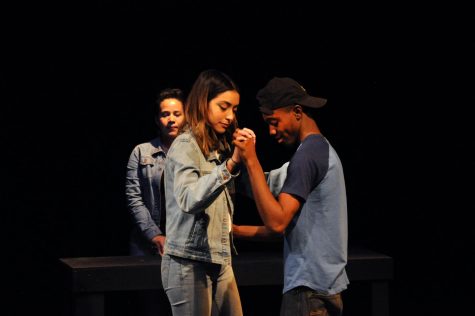 From an ordinary trip to the supermarket to the appearance of Elsa from the movie "Frozen," the plays covered many different subjects. However, one topic appeared in all of them – love – for another person, a stranger, a friend, a significant other or even for one's self. 
The plays were exceptionally written and performed. The actors were charismatic and their characters extremely relatable. Nine students performed the plays: Abbey Kruse, Taylor Stevens, DeShawn Green, Angie Velazquez, Susana Acevedo, Chuck Sipps, Melony Aponte, Emma Brown and Paloma Lozano all did a great job at making the audience laugh and cry. 
The production was excellent. The stories were not connected, but because the actors were the ones who rearranged the stage for each upcoming performance, it made it all feel like fragments of one piece. The soundtrack was modern and fun to hear. The use of music was well thought out and came at the perfect times. The set was simple but the stories and the characters were compelling enough that they did not need an overly complex scenario or script.
Nuevas Voces shows the quality that college plays can have. It's a reminder to the public that great stories can come from different places and they don't need to be in a big fancy theatre to be good. Contests like this, that incentivize the creativity of the younger generation who otherwise would not be able to see their words actually become produced, make a huge difference in so many people's lives. From the person who would not be able to afford to see a live production elsewhere to someone who never thought about pursuing an acting career, it changes everyone who is involved, including the audience. 
The 2020 edition of the contest has already set the dates for deadlines and performances. The submission deadline is Jan. 5. The winners will be announced on March 15 and the tentative performance dates are Oct. 1-Oct. 3.