SGA organized town hall for Sean Spicer lecture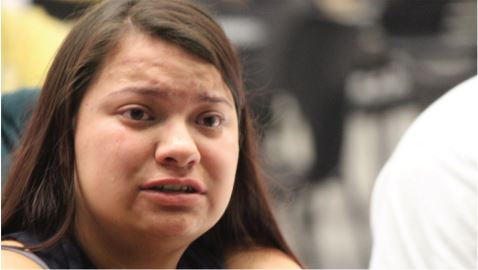 With a 24 hour notice, approximately 30 students, staff and faculty met in the North Side campus cafeteria at 7 p.m. on Thursday, Aug. 29 for a town hall organized by the Student Government Association (SGA) to discuss student thoughts on Sean Spicer coming to NEIU for the Daniel Goodwin lecture series on Thursday, Sept. 12. 
The discussion was led by SGA president, Melanie Glover, who introduced the town hall as "a space designed to support students, a space designed for your voice to be heard, and a space for you." 
Glover was followed by the vice president for student affairs, Daniel Lopez, who stated that he would be taking notes on the questions and responses of the evening. 
NEIU's Ombuds officer, Tyler Smith, moderated the event. Ombuds is a neutral, impartial and independent resource for students and faculty to discuss university-related conflict. "So that puts me in a good position to be here tonight to facilitate this discussion," said Smith.
While there was a general structure to the meeting, with prompt questions and a discussion arch that was suggested, students and faculty responded honestly to the concerns surrounded Spicer's lecture. The only stipulations to the town hall were that each person had two minutes to speak, that every person present avoided blame, speculation and inflammatory language and that everyone was to be mindful of their emotions. Notes were being taken by members of the SGA to be compiled and given to the administration.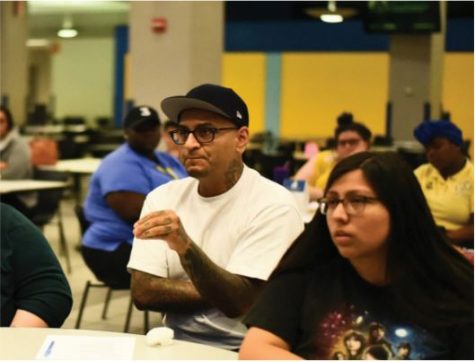 The first topic of discussion that was raised around why there would not be microphones available for the audience to ask questions to Spicer directly. The general consensus of the group, simplified by Smith for the note-takers, was that "there's some reason behind the decision that doesn't seem so clear or transparent. It may be in some way to monitor and weed out certain questions that they don't want to address at the lecture."
Faculty Senate Chair and professor of English and women's and gender studies, Vicki Byard, rebutted this concept. Byard stated that the reason there would not be microphones available at the lecture was that "they wanted to be able to get in as many questions as possible and then hear from the speakers. That's the rationale for why they're doing it this way."

The discussion then shifted to why Spicer was being invited to begin with. NEIU student, Isaac Krantz-Perlman, was the first to bring up the underlying fear felt by other students in the room. 
"I'm Jewish, I see a lot of people in the space who are targets, not just of Trump, but of the rising white supremacist violence that's happening in our country right now," said Krantz-Perlman. "That makes me really scared."
He continued by making a statement regarding NEIU's decision to bring Spicer to campus.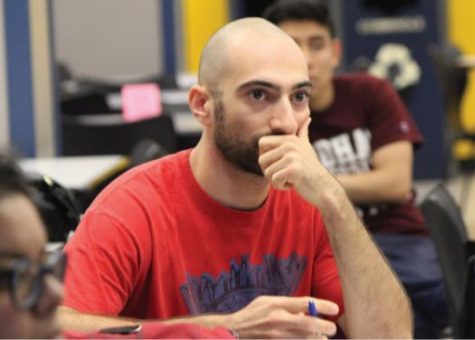 "You give these people who push violent policies like concentration camps, like a border wall, like a Muslim ban, coverage. And when you give these people coverage, on any platform, large or small, I think that encourages violence and helps make their ability to grow that much better."
The next to speak was undocumented student, Gabriela Loredo. 
"To me, this is like a safe space. So why are we inviting people of this nature, that indirectly attack us, our parents and families, to come to a place like this, and enter our safe haven? Why are we not allowed a voice in our own safe space?"
Smith summarized Loredo's statements for the note-takers. 
"I just want to capture this underlying theme of everyone really questioning what you understood to be true about this institution. And how you will feel about being here moving forward."
Listening to the students speak about their trepidation of Spicer being on campus elicited a response from justice studies Assistant Professor, Adrian Castrejón. 
"It just makes me so angry that we're doing this. And if you are a faculty or staff and you are not angry, then that is a problem. This goes against everything that we should be doing for our students, we should be here supporting them and not inflicting this sort of trauma and fear," said Castrejón.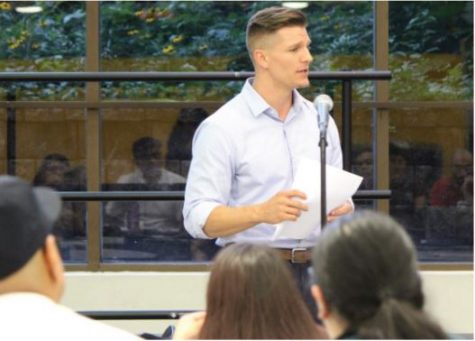 Student Wendy Cruz called attention to the fact that Northeastern was just recognized as the seventh safest campus in the United States. 
"What does that say for our institution? It is not only affecting our lives, but it is affecting our academics and our careers. How are we supposed to feel safe to come to campus and focus on education, when we're allowing a future for white supremacy to happen in our school by inviting this specific person on our campus?" said Cruz. 
As the discussion reached its end, NEIU student, SGA trustee and note-taker for the town hall, Fatima Siddiqua, rose to speak. 
"I want to thank you for being advocates for yourselves. For being thoughtful for your friends who could not be here and for showing up today and for making sure to ask those questions. I was able to meet with President (Gloria) Gibson and while none of us can speak for her, what I took away from our meeting was that she is our advocate," said Siddiqua. "At the end of the day, she works for the students and I think we should give her the benefit of the doubt."
Following Siddiqua was a conclusion from Lopez.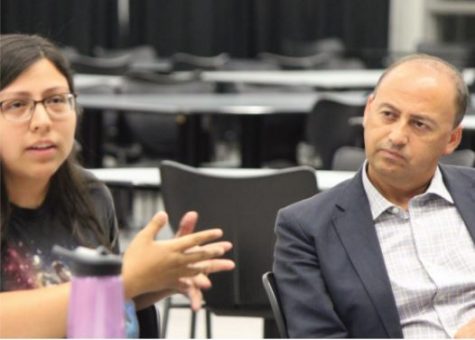 "But I think it's important for me to say that if I was not an advocate, I wouldn't be here. So I'm here for you. I appreciate you being here," said Lopez. "I think it takes a lot of courage for you to express these concerns. And just know that whatever we end up doing, my job is to protect you."
Other lecturer, Donna Brazile, was not mentioned during the discussion.
The town hall ended with organization and further discussion of countermeasures to address Spicer arriving on campus on Sept. 12.
Correction: In issue 20 of the Independent, news editor Rebecca Denham stated in the article titled "SGA organized town hall for Sean Spicer lecture" that Faculty Senate Chair Vicki Byard "rebutted" the concerns of students. This phrasing was incorrect to the intention of Byard. A more appropriate phrasing would be that Byard offered her own opinion and speculation as to why the administration was withholding microphones at the Daniel L. Goodwin lecture, which hosted Sean Spicer and Donna Brazile on Sept. 12.
View Comments (3)