Free counseling on campus for students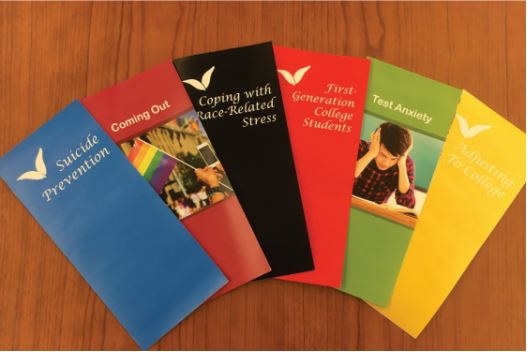 The Student Counseling Services (SCS) office, a department of Student Affairs, offers a variety of free and confidential counseling resources for currently enrolled students. In the last year, SCS saw approximately 420 students. Running independently from private insurance and student fees, Nancy Easton, director of student counseling services, stated that "our services are offered by the school because there is a recognition that when problems come up in someone's life, they can really derail a student's ability to do what they came to school to do."
SCS provides individual counseling, group counseling, couples counseling, crisis intervention, outreach workshops and programs that cover topics such as test anxiety, public speaking, anxiety, healthy relationships and self-care. "We try to help with things that will give people skills that can help in their college career, even if they might not ever really want to come into a counseling center and talk about their own personal problems," said Easton.
However, if a student was looking for a professional to speak to, the process to schedule an appointment can be done in person at one of their three locations – main campus in room B119, El Centro welcome center annex or CCICS wellness suite on the first floor – where the office's front desk will work to find an appointment slot that aligns with students' schedules. Otherwise, a student can make an appointment over the phone at (773)442-4650. Both Valerie Olson and Ashley Reyes (pictured) work in the SCS main campus and are also alumni of NEIU. Olson double majored in psychology and women and gender studies and Reyes majored in sociology and minored in women and gender studies.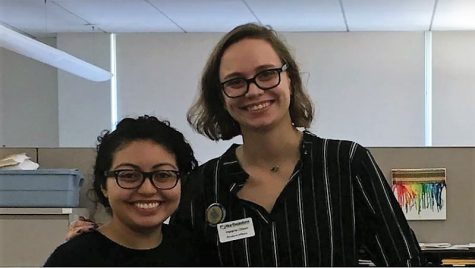 For the initial appointment, Easton explained that the student will, "spend about 90 minutes with us. The first 30 minutes will be to fill out some initial paperwork and then they will meet with a counselor for the remaining 60 minutes. During that time, we will get more of a sense of what is happening and maybe be able to make some recommendations."
Despite how busy the schedule gets during the course of any given semester, "we try to see everybody for that first appointment within a week of they're coming in," stated Easton. "Which means sometimes we add in additional appointments. However, that can depend on a lot of different things, partly the students' schedule versus the availability that we have. Sometimes they might have a preference in a particular counselor and that will change the time frame."
While SCS prefers to work on an appointment basis, they also have an open availability crisis intervention service. According to Easton, "anyone who walks in and says, 'I really need to talk with somebody, today,' we will make someone available to meet with them and help them sort out what needs to happen to come up with a plan." Crisis intervention meetings generally last between 20 and 30 minutes. For more long-term treatment to maintain a student's mental health, SCS will assist in connecting students with resources off-campus that can provide medication that works with their insurance or offers medication at a low cost for students that do not have insurance. Depending on the situation, SCS also offers a treatment summary where, with the student's consent, CSC could "facilitate what would be either a verbal discussion or written summary with an off-campus provider in order to allow the student to transition from our office to another." Similarly, SCS can also connect students to services on campus that they do not offer, such as the food pantry and housing resources.
A new feature that Easton is excited to share is SCS's extended hours. "While we are not open for business outside of nine to five, if a student is an established client, we now have appointment availability in the five o'clock and six o'clock hour. So for students who are taking evening classes, we will have those counseling appointments available Monday through Thursday."
For more information on what SCS can offer, visit their office from 9-5, Monday through Thursday and 9-4 on Friday.
Leave a Comment