NEIU's very own aficionado: Becky Sarwate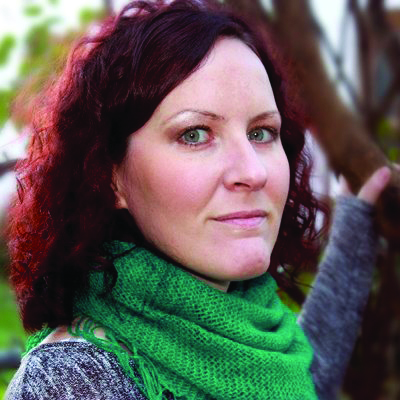 Becky Sarwate is a NEIU alumna and currently teaches a class called Making Your Liberal Arts Degree Work For You, a class that I had the privilege to take during my final year as an undergraduate.
Sarwate is not only a professor, but she also works full time for TransUnion, writes for different blog websites and is a published author – which makes her more than qualified to teach a class about making it after you graduate.
"The inspiration in designing the class was that I spent eight years f****** around after getting my master's degree, not feeling like I had quite what I needed to go into what I wanted to do. I kind of generally knew I wanted to go into the corporate world communications or marketing, but I didn't know how to get the foot in the door, the writing samples you do in school are not useful for that. So after I finally made it to a small degree, and continuing my friendships with some of the professors from my own MA program; I was always telling Tim Libretti that there was a disconnect for me, between the kind of rigor of academia and earning your degree, especially the liberal arts degree, and then transitioning and pivoting into marketable job skills, and that I felt I had figured out how to do that, but it took eight years and who has that kind of time?  especially with student loans. And then one semester, he came up short, there was a few professors on sabbatical and I think a class got canceled last minute. He said, Okay, let's give this a shot. And I have never taught – I don't have a degree in education. I haven't even run a daycare, soit was very daunting."
Sarwate brings something unique to the NEIU English department that many professors don't and that is that she is an alumna of NEIU, so she knows what it's like to navigate the university as a student.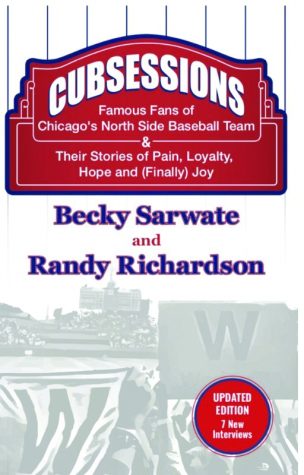 "It's really special, I didn't just want to teach the class that I teach, I wanted to teach it at Northeastern. Now, There's been times where I've been frustrated by the class itself, or administration or whatever. When Rob Rauner was looking like he might run Northeastern into the ground, people were like, 'wouldn't you just teach your class somewhere else?' I said, 'Well, no, because it wouldn't be the same.' Because I walked into Northeastern very clueless and that doesn't mean I came out with all the answers after my MA, but I was definitely a better, smarter person. It's done so much for me, the school is important and it feels great to be able to give back."
I learned more about Sarwates giving-back nature when I got a chance to discuss her book, Cubsessions, which she wrote with co-author Randy Richardson. A book that has all its proceeds going to charity and really encompasses the feeling of community and family with different people sharing their stories of what it's like to be a Chicago Cubs fan.
Discussing how the charities were chosen, she said, "one of the interviews in the book is a man named Stuart McVicker who runs Club 400. It's a cool venue and I'll be able to see it in person in July. But when he hosts the events at his man cave that was shown on Netflix, he does charity events. So I interviewed him for the book. He was delighted to be included in it. But I mentioned to him that it might be cool to partner with him on a charity event. And that just naturally started the ball rolling. So in July, we're going to his Club 400. Though they'll bundle our book with ticket sales to an event where Cubs catcher Wilson Contreras will be. He's a cool guy and a super Cubs fan and has some media interaction. But then it just seemed natural that  his foundation's mission is called fans supporting other Cubs fans. And that's kind of what my book is about, if not from a charity angle. It's about the community, right? So that seemed like a very natural partnership. So we are we're working with them this time."
Sarwate also talked about her experience interviewing people for the book and she said, "the fact that I exchanged emails with Nick Offerman is great. I love his wife a little bit more than him, if possible. But that was a big deal. That was also a big deal for my husband. Bill Curtis, who's been one of my journalism and media idols since I was young enough to remember, I mean he started out in Chicago on TV. And then Joe Monteña, who I already mentioned, and Bob Newhart, who is the coolest person."
The biggest thing I took from reading Cubsessions, which was briefly mentioned earlier, was that the entire book embodies the sense of family and community. Everyone in the book has their own stories to tell, but what connects us all is our love for this team, even when they're not the most fun team to watch. Sarwate said, "I think it's where we ended up. Where organically, I know for me and my experience as a cub fan, when you're losing for 108 years, you have to be bothered by something other than winning, right? Because that wasn't my thing. So I think it was this kind of long suffering community vibe that you get. And yeah, not so much today as the team is getting more corporate ties. But back in the day, when most of the Cubs games were day games, and I'm young enough to remember I have been to many of those. You'd see a guy in a suit with his sleeves rolled up. There's a guy who worked third shift, who stayed up and got breakfast and came to the park. So yes, there's that. If you meet a Cubs fan anywhere, and I travel lots of places and have seen them in places, it's automatically like you have something in common. And I think the book echoes that – especially the fact that it was written by two different authors."
Cubsessions is about to be re-released in the form of a new special edition featuring 7 new interviews and it's an exciting time for Becky Sarwate. Not only is her book a phenomenal read and one that really captures the essence of Cubs fandom, but she is doing amazing things for the NEIU community and deserves all the praise and recognition coming her way.