NEIU's pantry helping year round
Located in the basement of building E, next to the cafeteria, NEIU's Student Pantry provides perishable and non-perishable food items to students year round at no cost. Ranging from fresh produce and canned goods to essential toiletries, an array of products is collected by volunteers throughout the year. "In order for a student to gain access to the food pantry, all they need is their student ID. The only reason we need that information is to verify that they are from NEIU," said Jannedh Lema, an NEIU alumna and this year's student pantry supervisor.
When asked why she got involved with the pantry, Lema said, "as a previous student myself, I also had struggles and hunger. Paying tuition is not easy, so I know how it feels."
The pantry is open Monday's and Thursday's from 1 PM to 4 PM, year round. Students are encouraged to come once a week; but if a student is in need, they are more than welcome to come twice a week. "Especially in the summer – we have a lot of products," Lema stated. "So we want them to come every day that we are open if they can." Due to lower student volume in the summer, perishable items get disposed of if not picked up.
"Because of lower student traffic, we are more focused on programming for the fall semester because we are trying to set up events for the upcoming school year," said Lema.
Collections for the food pantry come from three different locations: the Greater Chicago Food Depository's Healthy Kids Market, outreach to local grocery stores and donations from NEIU faculty, staff and students via donation bins placed around campus. There are approximately seven bins set up throughout campus, in buildings such as LWH and the library. The food pantry's staff consists of mostly volunteers, ranging from current students and alumni to those who do not have any affiliation with the NEIU community. Some have been volunteering for years while others have just began this last semester. The duties of the volunteer staff include checking students in, distributing food, organizing products and collecting donations.
There are multiple ways to get involved, from walking in to the pantry during their open hours and signing up in person to registering on NEIU's website. In the targeted announcements that all NEIU students receive in their student email, a QR code can be found that will also link students to the food pantry's web page.
Places to drop off donations: Academic & Community Partnerships (E 047 C)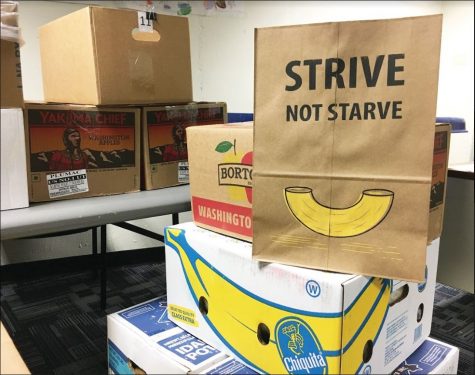 ❏ Advising Center (LWH 0027)
❏ Angelina Pedroso Center (B 159)
❏ Learning Support Center (4th floor of the Library)
❏ Project Success/Proyecto Pa'Lante Office (LWH 4029)
❏ Student Disability Services (D 140)
❏ Student Leadership Development Office (B 119)
Leave a Comment