NEIU faculty celebrate each other and their work
NEIU's annual faculty publications and creative works reception allows faculty to promote and show their newest works
The story in on the Faculty Publications and Creative Works Reception, March 28, 2019
Sponsored by Academic Affairs and the Ronald Williams Library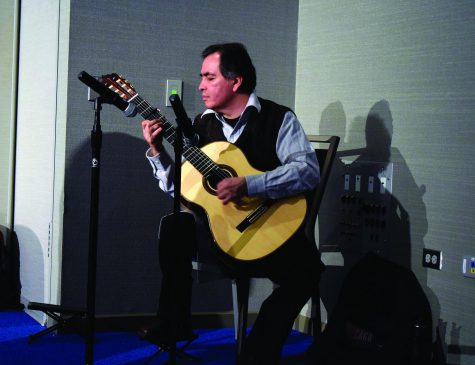 The gentle guitar music played in the background by Dr. Brian Torosian, the director of the NEIU guitar ensemble, as NEIU faculty members and community members mingled around the circular tables placed around the room. The annual Faculty Publications and Creative Works Reception kicked off on March 28 for NEIU faculty and staff to come together to celebrate and honor their peers who produced scholarly material and creative works in 2018. Refreshments such as meats, cheese, fruits, vegetables, pita bread, pastries and coffee were served.
Lisa Wallis, Acting Dean; Ronald Williams Library; Bonnie Pfeiffelman, Library Administrative Assistant; and the Deans of the College of Arts and Sciences, College of Business and Management, and the Daniel L. Goodwin College of Education helped organize the event.
Pfeiffelman made the extensive list of publications and creative works available for faculty and staff to browse and recognize.
Dr. Gloria Gibson gave a speech recognizing all the time and hard work faculty and staff have put into producing publications and creative works.
Gibson said, "I'm so happy to be here this afternoon to help celebrate, celebrate, celebrate. So many times we're just so busy, busy, busy. We don't take a minute to say thank you. Thank you to each and every one of you for the work that you have done over the last year. It takes a lot of work to produce a manuscript; to produce an article; to produce a creative work. … But it takes time, it takes energy, and it takes having a mind that is creative and innovative. You know, I don't know about you, but sometimes in the evening, all I wa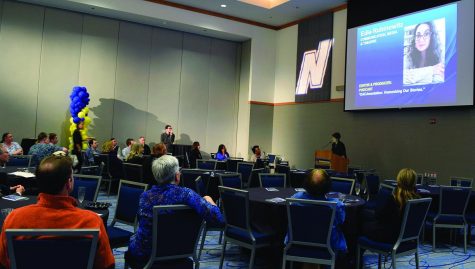 nt to do is just plop on the couch for a few minutes. So after having a busy day, then you know you are putting on your creative hats, and really thinking about not only regional issues, but global issues as well in all of our disciplines."
The National Center for Education Statistics (NCES) reported that during the 2015-2016 academic year 18% of teachers in the United States reported income from other jobs other than their teaching job.  The teachers in the midwest and the northeast region had the highest percentage of teachers with second jobs.
Gibson said, "I'm so proud of the work that you do each and every day and I'm sure some of those works are in other universities; faculty are using them in their classes, they're in our libraries, they're in research institutions, and they bring great prestige to the institution. So thank you for the work that you're doing."
As Gibson closed off her speech, she encouraged everybody to raise their glasses, celebrate everybody's hard work and said, "I will say to the continued success of our faculty and our staff and to Northeastern Illinois university."
Associate Dean of the College of Arts and Sciences, Tim Libretti; Associate Dean of College of Business and Management, Nont Dhiensiri; and Dean of the Daniel L. Goodwin College of Education, Sandra Beyda-Lorie gave their own speeches. They thanked and recognized the many works by the faculty in their college.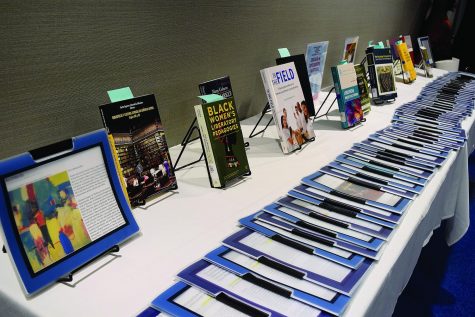 Psychology professor specializing in gerontology, Dr. Masami Takahashi, said, "This is a very good event to see faculties from different departments publications. You rarely see and know about these publications. So once a year, we get together. And food and alcohol helps."
Beyda-Lorie said, "This is a nice way to honor and recognize people's scholarship."
Vice-President for Legal Affairs and General Counsel and Juris Doctor, Melissa Reardon Henry, said, "It is always a delight to celebrate the accomplishments of our faculty."
Vice-President for Institutional Advancement and Executive Director of the Northeastern Illinois University Foundation, Liesl Downey said, "I really enjoy coming to this event every year to see the breadth and depth of expertise that our faculty produce and add to the academy. It's just it's inspiring."