Student Sues NEIU on ADA Violations, Illegal Search, Racial and Harassment Discrimination Allegations
Editors note: This article has been updated to reflect the most current information available. 2-26-2019
NEIU student alleges employees and campus police officers harassed and discriminated against him based on his race, physical and mental abilities based on a lawsuit filed in July of 2018.
On Sept. 9, 2018 the Independent received a tip from an anonymous email stating, "Big story the new pres. Does not want anyone to know about: Federal Civil Rights Case: 1:18-cv-04831, Jackson v. Northeastern Illinois University. Courtesy of your friends at North Park, you all might cost much less, but your claims of diversity are worthless."
The litigation, Jackson v. Northeastern Illinois University, complaint states the NEIU student, Curtis K. Jackson Sr., suffers from a variety of disabilities: bipolar disorder; cluster migraine headaches; chronic allergic rhinitis and sinusitis; bilateral torn ligaments; osteoarthritis in his knees; a dislocated left shoulder; hypertension; sleep apnea and morbid obesity.
These disabilities, according to the complaint "substantially limit more than several major life activities of his, such as: working; caring for oneself (bathing and cooking); learning; reading; traveling; walking; standing; lifting; pushing; pulling; shopping; sleeping and exercising."
In July 2017, Jackson fell in the Physical Education Building (PEB)'s main shower due to an uneven and wet floor and sustained injuries due to the fall that left his face swollen and unable to eat or communicate. These injuries resulted in a trip to Cook County Hospital's emergency room, where the emergency room doctors, according to the complaint, diagnosed him with Bell's Palsy.  
Due to this, he requested accommodations from the PEB staff to use the PEB facilities in a safer way. These accommodations including receiving extra towels to walk on while in the shower, locker room, steam room and the use of the handicap accessible door at the main entrance. According to the complaint, after receiving the accommodations, he began experiencing harassment from the PEB staff, student workers and NEIU police officers.
The initial complaint named 15 different NEIU employees but has since been dropped to the following defendants: Northeastern Illinois University; Director of Campus Recreation, David W. Merrill; NEIU Police Officer, Pablo F. Castro; and NEIU Police Officer, Arturo Galindo Jr.
NEIU does not comment on any ongoing litigations. The Independent sent emails to the defendants on Oct. 29, 2018. Merrill said, "Thank you for reaching out. I do not have any comments at this time."
Police officer Castro replied, "Not interested."
Jackson replied to the Independent's attempts to request him via email on Dec. 24, 2018, stating, "First, I would like to say that I appreciate your tenacity and willingness to reach out to me and offer a forum for me to talk about my experiences contained within my complaint. What I will say… is that my experiences and opportunities to learn and work towards my degree have been mostly been positive, particularly at NEIU's Jacob H. Carruthers Center for Inner City Studies (CCICS). However, due to my experiences contained within the complaint in federal court, this is as much I as I should say at this time. I'm hopeful a mutual resolution can be met so that I can feel comfortable and safe enough to return to campus, because I only need two more courses in my major, a natural science and math courses required to graduate with honors. But, if this is not the case, I will have to continue focusing on my health and a surgery I have coming up, and pursuing justice in this case. Therefore, this all I can say at this time, but, thank you for the opportunity to be heard."
The complaint filed with the courts claims the PEB employees routinely kept the handicap accessible door locked and denied Jackson his accommodations, causing him to suffer physically and emotionally. According to the complaint, on March 10, 2018, Galindo and Castro approached Jackson in the PEB shower area while Jackson was naked. According to Jackson's complaint, Castro and Galindo illegally searched his locker, pulling out his medication and publicly humiliating him. The complaint alleges Castro pulled out medicine bottles from Jackson's backpack that were prescribed by Dr. Nelda F. Akinbile, his psychiatrist, and yelled, "I got lithium over here!"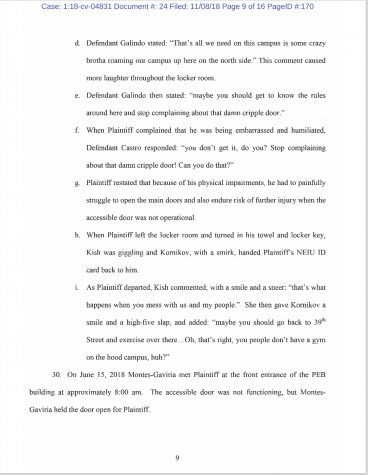 Immediately after this, the complaint alleges Galindo Jr. said, "That's all we need on this campus is some crazy 'brotha' roaming our campus up here on the North Side."
The complaint goes on to allege that this harassment continued for 20 more minutes with Castro and Galindo searching through his belongings and attempting to go through his cell phone, with Galindo Jr. allegedly stating, "Maybe you should get to know the rules around here and stop complaining about a d—m cripple door."
According to the complaint, "On June 20 or 21, 2018… defendant Dave Merrill, Director of Campus Recreation, driving a silver-colored four-door sedan with black tire rims, wearing a blue shirt and white or tan pants, sped through 'stop' sign without stopping, and turned eastward through the crosswalk of the P.E.B. south parking lot entrance with only a few feet to spare, in front of the plaintiff… . Merrill responded sarcastically saying: 'It's a message to you, smart guy. Stop with screwing with staff people and crying to Kerr about the handicap door not being turned by the staff. You don't run s—t around here, all this disability accommodation bulls—t needs to stop. Have a nice day.'"
Northeastern Illinois University, Galindo Jr., Castro and Merrill are all being represented by Husch Blackwell LLP. Jackson is being represented by Shaw Legal Services, Ltd.
In an email to the Independent on Jan. 7, Jackson said, "I'm hopeful that NEIU students, staff, instructors campus police, and administrator will see my experiences as an opportunity to listen, learn and teach about the true meaning of: compassion, empathy, real diversity, understanding the daily challenges students have with disabilities and the lawful, meaningful access to NEIU programs, services, and activities students lawfully preserve."
Jackson is a senior at NEIU, majoring in inner city studies, minoring in social justice, has a 3.55 GPA and has 12 credit hours left to graduate with a bachelor's degree.
The next status hearing for Jackson V. Northeastern Illinois University is set for Feb. 6 at 9 a.m. The Independent will continue to follow and report on this event.
Updated:
In July 2018, NEIU student Curtis K. Jackson Sr. filed a civil rights complaint against NEIU and more than 12 employees on the Americans with Disabilities Act (ADA) violations. As reported by the Independent on Jan. 22, several of the defendants were dropped from the suit, leaving only three.
Currently, there are no updates on the case. There have been several documents filed with the Illinois legal system requesting more time. The next status hearing has been reset for March 12, 2019 at 9 a.m. The Independent will continue to keep the community up-to-date on this issue.
For more information about the lawsuit, please read the Jan. 22 article.