Multi-Level Marketing Company Targets Students
In recent weeks across campus, Vector Marketing (VM) job flyers have been pinned in several NEIU locations such as Lech Walesa Hall (LWH), the Fine Arts Building (FA) and even in bathrooms. The flyers state the job pays $17 base/appt (appointment), offers a flexible schedule, among other benefits, with no experience needed.
VM is a multi-level marketing (MLM) subsidiary company of Cutco Corporation. Brian Langenberg, NEIU professor and CFA of Langenberg & Company, explained an MLM "is a strategy that some direct sales companies use to both mark and recruit new distributors.  The established distributor participates in both their own "production" or sales and a percentage of their sub-distributors or recruits."
MLMs target college students because according to Langenberg, "Generally, college students do not have a lot of money.  If it is a legitimate organization and I perform, I can do well. But some will show up looking for the gullible; when you are young, you generally have fewer tread marks."
As of Nov. 26th, the website from the VM flyers, WinterBreakWorkNow.com, was an application, first requesting a zip code, name, email, phone number and which of the following age groups you fit into: 18 years old; 17 years old in high school (graduating in 2018); or none of the above.
The website stated, "We're filling positions here in Niles on a first come, first serve basis. Pay is $17.00 base – appt., schedules can be full to SUPER part time, and best of all, we do not require any previous work experience. Apply today and you could be working within the week! -Danny Lewis, VM's division manager."
On Nov. 28, Wilde and Lewis were at NEIU's Student Union sitting at the VM informational table. When pressed for more information about VM, Lewis told the Independent he would send over the information for VM's Campus Relations Team (CRT) at a later time; however, he did not send any information along. The VM website didn't offer any information about the CRT and Lewis became difficult to get into contact with.
NEIU's Student Union and Career Services Department have both stated their policies do not allow outside companies to freely post flyers. Director of Career Services Kris Pierre said because NEIU is a public university, NEIU has to "provide access," meaning VM can vend and occupy Student Union spaces as long as they pay the $75 vendor table fee to Student Union.
Speaking as to whether or not NEIU could determine what companies, even with questionable business practices, could vend at NEIU. Pierre stated, "We're really not set up institutionally to to be the judge on that."
Pierre later stated there are students who have expressed concerns over VM. Director of Student Union, Kyle Burke, stated there are terms and conditions that businesses must comply with when vending in Student Union.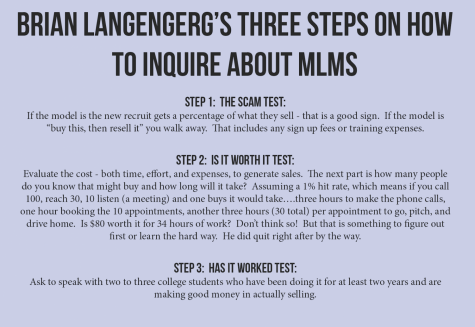 Former salesman of VM, Matt Fischer, worked for Lewis from 2008 to approximately 2015. He said he loved the seven years he worked for VM but on why he left, he said, "I just got burned out after a while. I wanted to do other things."
While working for VM, Fischer sold Cutco's knives. He said, "I started with people I knew first and then we branched off from there. My first summer I made 10-grand."
Fischer stated that when he started working at VM, their "most basic knife set" was $945. He said, "The Vector and Cutco warranty are phenomenal. If anything ever happened to your product you can ship it back to the company and they'll fix it for, well, it depends on how it happened. They'll either send you a new one for free or replace it for half the retail value."
VM doesn't help any of their employees find clients and when asked if Fischer had any repeat clients, he said no; his new clients would generally come from referrals, and if they were clients he had before, they were requesting him to come sharpen their knives.
When starting for VM, Fischer had to buy several inventory items such as his sample kit and a sharpener, which cost him more than $100. He said, "I wrote up orders after the customers saw my sample kit. The sample kit was mine. That being said, I always had the opportunity to return the sample kit and get all my money back. I just never had to."
Fischer said he "never paid attention" if VM was a legitimate MLM or not because his goal while working at VM was to make money.
It took two weeks for Lewis to provide the information for VM's CRT, but said he would only connect the Independent with the CRT if it was a three-way call between involving him, the CRT and the Independent.
A three-way call was scheduled for Dec. 17 but after several attempts to contact Lewis, the three-way call didn't happen. Two days later on Dec. 19, the Independent reached out to VM's Northshore Branch's Pilot Sales Manager, Abiola Adun, who told the Independent he would call back after their VM holiday finished at 9 p.m.. Adun did not call back or pick up any attempts to contact him.
After further searching, the CRT did end up having a website: www.campusrelations.com. The Independent contacted VM's CRT and was put in touch with Campus Recruiting Manager, Amanda Sahawneh, located in Arizona.
In regard to being unable to contact Lewis, Sahawneh said, "I can shed a little bit of light into the situation. Obviously, the company encourages professionalism and communication. Danny's role as a division manager is to run an office where he recruits, trains, and manages his sales representatives. I'm sure he probably just wasn't sure exactly how to handle it. He did reach out to me and let me know and we were waiting on receiving your contact information. A lot of our representatives in our campus department has been traveling over the last two weeks. Not that that's any excuse, of course, but just to give you a little insight into the proper channels. I think he was waiting. He knew I was traveling. And I think he might have just been waiting 'til I got back from my travels versus coming to me directly when you had reached out in order to set up that call."   
Sahawneh said, "We work with campuses all across the nation and we're part of the National Association of Colleges and Employers so it's very important for us to make sure we adhere to all school policies and obviously to facilitate those relationships. So for us we don't want to do anything to jeopardize those relationships and one of the first things we do is work with our career centers to find out policy."
She then stated VM representatives don't have any forced quotas and instead are "very personal in our coaching and our managing of our sales representatives. So we would sit down with our sales representatives to speak with them on what their particular personal goals and based off what they tell us we help them develop, you know, a guide to schedule into what their next action steps are. So we don't necessarily terminate performance wise. The only time where there would be any termination with one of our sales reps is if there was a breach of integrity or of the representative agreement that they signed."
All VM employees must go through unpaid training. Sahawneh said, "As our representatives are independent contractors, again, I'd have to get the legal wording for you and because it's different from state to state as far as policy, it's not a set hourly wage so it's very difficult to pay that out. It is known to our representative when they come on board that what the training is like and it is in their contract as well that they understand. And it is stated in all of our interviews that the training is not paid. Also, it gets difficult because some classes over the country also utilize our sales training program as part of their school. So, they require their students to go through that program as well. There's two parts to our training as well. So, there's the initial training time and then their practice appointments is also part of their training which they are paid for."