The Book Nook: 'The Gentleman's Guide To Vice and Virtue' by Mackenzi Lee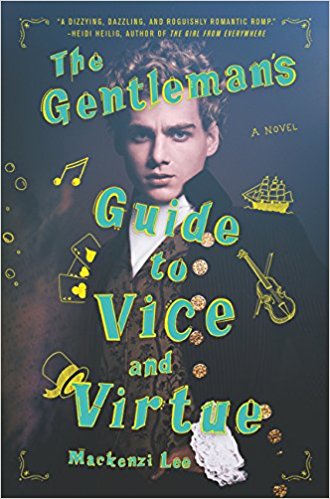 I knew this book was going to be a new favorite when within 50 pages I encountered LGBTQ+, Feminism, Race and Disability representation. To me, an author that can tackle all these themes takes a lot of skill and Mackenzi Lee definitely delivers.
"The Gentleman's Guide to Vice and Virtue" by Mackenzi Lee is the story about Monty, an 18 year old bisexual teenager who indulges in rebellious behavior despite his parent's wishes for him to be an upstanding citizen. Set during the 19th century, Monty is set to go on his Grand Tour of Europe with his best friend Percy (whom he has a crush on) and his 15 year old sister Felicity. While on the tour they are catapulted on this wild goose chase when Monty steels an important box belonging to a duke, who will do anything he can to get it back.
Throughout the story, Monty struggles with his father's lack of approval regarding his bisexuality.  While there are times where you want to strangle him for the choices he makes, the reader can't help but to feel for Monty and the abuse he has endured at the hands of his father.
Felicity (my favorite character) is this sassy, spunky teenage girl who doesn't care about the societal norms she is expected to follow as a young woman. She has dreams of becoming a doctor, even though it is unheard of in this time period.
Finally, there's Percy. Percy is a young black man with epilepsy struggling to fit in within a society that dehumanizes him and thinks he doesn't belong. Everyone around Percy feels that his epilepsy means he belongs in an institution, or that it's something that needs to be fixed.  Lee really emphasizes this in the dynamic between Percy and Monty.
There's one scene in the book where Percy tells Monty, "I'm an epileptic- that's my lot. It isn't easy and it isn't very enjoyable, but this is something I've got to live with. This is who I am, and I don't think I'm insane. I don't think I should be locked up and I don't think I need to be cured of it for my life to be good. But no one seems to agree with me on that, and I was hoping you'd be different, but apparently you think just the same as my family and my doctors and everyone else." This powerful speech from Percy really emphasizes the dynamic between the two characters because it forces Monty to pay attention to how privileged he is, being a white able bodied man, compared to Percy.
This book is a brilliant craft of written language that is shedding light on our current societal issues by placing them in the context of 19th century England.
I would highly recommend this novel to anyone who loves a good adventure story but also wants to find deeper meaning  in its pages. I cannot wait for the next book in the series, which is supposed to follow Felicity's perspective. "The Lady's Guide to Petticoats and Piracy" is on shelves now, so go pick up yourself a copy after you read "The Gentleman's Guide to Vice and Virtue."