So Long Brian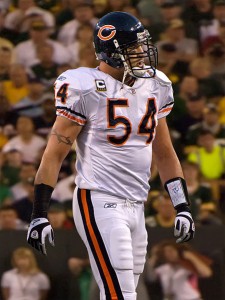 For the first time since the 2000 season, the Chicago Bears will be without middle linebacker Brian Urlacher. Since winning Rookie of the Year in 2001, Urlacher has been the face of the franchise. He was there when Dick Jauron was head coach and fans were hopeful if the Bears won more than five games. He was there when Lovie Smith took over and was the main reason, along with other defensive players, that the Bears went to the Super Bowl in 2006.
Now, after 12 seasons, the Bears have decided to part ways with the future hall of famer, making him an unrestricted free agent. While general manager Phil Emery and new head coach Marc Trestman stated they wanted Urlacher back, Urlacher claims the Bears never really intended to resign him. According to multiple reports, the Bears offered the 35-year-old veteran a one-year deal for $2 million, but Urlacher and his agent wanted a one-year deal for no less than $3.5 million deal. The Bears refused to budge, which consequently ended Urlacher's tenure in Chicago.
"It wasn't even an offer, it was an ultimatum," Urlacher told the Chicago Tribune. "I feel like I'm a decent football player still. It was insulting, somewhat a slap in the face."
It is understandable to see why Urlacher would find this offer insulting. In 2012, he made $8 million. Despite this, the Bears made the right move. Urlacher has very little left to offer the Bears, or any team for that matter, particularly with his inability to stay healthy in recent years.
I'll always remember Brian Urlacher as a great player who made the Bears defense one of the top defenses in the league, but I will also remember that he said he doesn't care about the fans. So long Brian, you have worn out your welcome.