'The Prodigal Rogerson: The tragic, hilarious, and possibly apocryphal story of circle jerks bassist Roger Rogerson in the golden age of LA Punk, 1979-1996'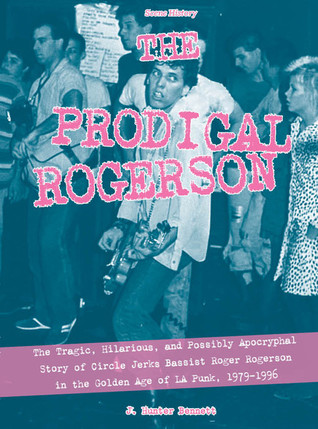 Every once in awhile, the music-loving world that enjoys reading is given a unique surprise: something unexpected, enlightening, and provocative. This sentiment applies to the forthcoming release this May from Portland, Ore.'s Microcosm Publishing. The book's title is "The Prodigal Rogerson: The Tragic, Hilarious, and Possibly Apocryphal Story of Circle Jerks Bassist Roger Rogerson in the Golden Age of LA Punk, 1979-1996." This pocket-sized soft cover book is a lighter-than-average 96 pages, but packs a wallop on the fun-o-meter. Included are never before published photographs of Rogerson (and bandmates), which is an added bonus for those interested in early American punk culture, especially as it pertains to the Circle Jerks. The Prodigal Rogerson is the fourth installation in the Scene History Series, which aims to lift the veil on the hidden histories of American underground music scenes.
The Prodigal Rogerson is written by J. Hunter Bennett, a resident of Washington, DC, and bassist for the pop band Dot Dash, who happens to also be a government contracts lawyer. The probing research is culled from journalistic investigations and interviews of the numerous people that were associated with Rogerson during his lifetime. This includes bandmates, partners, friends and stepchildren, each contributing to a rounder profile on a man and musician that led a tragic yet prolific life.
Chronologically, the book skips around a bit and follows the pre-formation of the Circle Jerks starting with the mid-to-late 1970s and ending in 1996. It includes the tragic second and final overdose of Rogerson in Long Beach, CA–days after an attempt at reforming the Circle Jerks with a reunion practice in 1996. This never occurred due to Rogerson's erratic nature: he had a thirteen year disappearance in 1983 where Rogerson suddenly dumped the band, stealing back the same van he sold to them. He ran away to Reno, NV. Mind you, the Circle Jerks officially formed in late 1979 as a four man group once they auditioned Rogerson for bassist. He was actually a guitarist from Kansas with classical musical training. Rogerson wanted to be a bassist and not guitarist for the Circle Jerks simply so he could get wasted on stage since bass playing for him was easier than the busier strumming of guitar work.
The Circle Jerks rose to fame in the late 70s/early 80s on the west coast and actually made livings as musicians during the height of the American hardcore punk era. The separation and transition from punk to hardcore punk music was based on what was considered boring, formulaic punk music that became watered down. The hardcore scene strived for better, faster and harder music. The Circle Jerks, like other successful LA hardcore bands, were very much about living life in the moment and all about the sex, drugs and, of course, rock-n-roll. This is where Bennett's wry wit complements the ups and downs of the oral history of life with Rogerson, as revealed in layers of direct quotes from those who knew him for better or for worse.
At times, you will laugh while reading this book, and at other times you will wince. Apparently, Rogerson was not only an elusive figure, but a prodigal one. Not only was he wild and carefree, but he also tried his hand at being a family man. Brilliantly talented but terribly troubled, Rogerson suffered from addiction issues and mental illness. This book tells it like it was, with sprinklings of bafflements.  For instance, Rogerson was enlisted and honorably discharged from the army while holding a hardcore pre-Circle Jerks band together, all the while not divulging this information to those closest to him. Without putting out a spoiler alert, there are other fun moments in the book such as gay dogs eating rocks, carpet fiber smoking and falling into the ocean Malibu beach houses.
The Prodigal Rogerson is a fast, fun and witty read—much like punk culture itself. I recommend it for anyone interested in hardcore punk rock, especially as pertains to the old school LA punk scene of the 80's. It is a much needed epitaph in the history of American hardcore music. It is an enlightening reveal of a complicated man that plunged himself into the midst of it all, left it all behind, only to come back around and leave us once again for good.