A Night of Family, Fun and Folklorico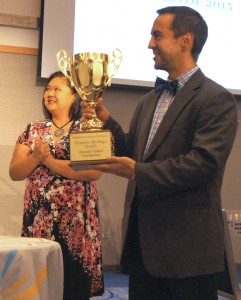 Students, faculty and community members gathered in Alumni Hall last Wednesday to celebrate Hispanic Heritage Month in a night filled with music, food and dancing.
Noche de Familia opened with a warm welcome from Maria Genao-Homs, director of the Latino/a Resource Center, followed by remarks from junior Brenda Bedolla, president of the Student Government Association. Director of Alumni Relations Damaris Tapia touched on the achievements of Northeastern's approximately 74,000 alumni.
A major highlight of the evening was a traditional Mexican folk performance by the group Horizontes Mexicanos. The performance was a lively display that took the audience on a virtual tour of Mexico via dance.
The keynote speaker for the event was Juan Moreno. Moreno is the president of Juan Gabriel Moreno Architects, the firm that worked on designing El Centro. The Colombian born architect talked about his life and upbringing and spoke of his mother's tough decision to stay in the United States as a single parent.
Moreno talked about the prejudices he faced as a Latino. He was denied entry into a hotel in Europe because of his South American background. Despite his hardships, Moreno started his own architecture firm in 2010. He said that working with Northeastern was a "transformative moment" in his career.
Latin American Studies senior Carina Flores said, "I thought (Noche de Familia) was a wonderful event that brought many people together," she said. "Not just the Latino community, but many other people to enrich themselves within the Latino community…I saw many other cultures here present, and I thought it was awesome. Getting together, dancing, enjoying the food."
"I do feel that tonight we achieved the goals that we set out for," Genao-Homs said. "We were really trying to get a lot of students to come out, and we had a nice group of students that were able to come out."
Genao-Homs added, "It was really a true cross campus collaboration, so we had support from academic departments as well as student affairs departments."
The event was catered by local restaurants Taste of Cuba and Señor Pan. A percentage of proceeds from artwork sold at Noche de Familia will go towards helping undocumented Northeastern students.