Saying Goodbye To An All-Time Great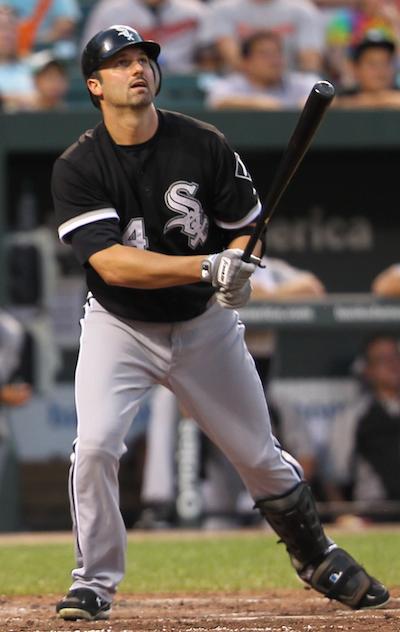 Once in a great while a city gets an important player that plays for one of their teams. For the Chicago White Sox, that player has been Paul Konerko. After 16 years with the White Sox, The Captain is retiring.
Konerko was not the greatest player ever, but he put together an impressive resume throughout his career and has been highly respected throughout the league. His stats were not the only thing that mattered to the White Sox. His leadership has been vital to the team since day one, but especially this season with the signing of young Cuban first baseman, Jose Abreu.
During Konerko's retirement celebration, Abreu said "What he did for me and how he helped me, I am always going to carry that in my heart. And any accomplishments I have had this year, I consider Paulie and Dunn integral in helping me accomplish those things."
Long time teammate Gordon Beckham, now playing for the Los Angeles Angels, cherished their time together. Remembering his all-time favorite memory of Konerko, a game where he was struck in the face with a pitch and continue playing, Beckham said, "To get hit in the face and keep playing and then next at bat hit a homer? Shows character."
In an interview with Comcast Sports Net's Chuck Garfien, the subject of a White Sox scouting report on an 18-year-old Konerko was brought up. That report read, "Big, strong, thick legs, heavy rear. Strengths: showed bat speed, towering pole fence power. Weakness: did not throw well in game situations when catching. Had little quickness. Struggles with the feet in either direction, needs a lot of work at catching. A poor runner." Konerko for the first time heard this and jokingly says, "Geez, how the hell did I get here?" This was a theme of Konerko's celebration. A humble guy who was never the most talented, but always the hardest working now has a statue at U.S. Cellular Field.
That hard work paid off in almost every offensive statistical category. In White Sox history, Paul Konerko ranks top five in runs, doubles, home runs, walks, runs batted in and hits. He is the all-time total bases leader and he is also the team's all-time leader in postseason home runs and runs batted in.
His stats are great, but his dedication and loyalty to the White Sox are what he says he is most proud of. During his celebration, he alluded to many years when he had contract offers that were more lucrative than what he had in Chicago, but he had such a connection with the organization and fans that he always knew this was the place for him.
During that Sep. 27 celebration, long-time friends and teammates gave Konerko a great goodbye. White Sox general manager, Rick Hahn, said it felt like playoff atmosphere at the stadium that day. A video that featured congratulatory messages from Derek Jeter, Ozzie Guillen, A.J. Pierzynski, Mark Buehrle, Scott Podsednik was shown. Even Metallica's James Hatfield congratulated him and thanked the slugger for using one of Metallica's songs to bring him up to the plate during games throughout his career. Governor, Pat Quinn, officially proclaimed Sep. 27 as Paul Konerko Day in the state of Illinois.
The chairman of the White Sox, Jerry Reinsdorf, brought up emotional moments between him and Konerko. The day the White Sox celebrated with a parade for the 2005 World Series championship, Konerko called up Reinsdorf to the podium and gave him the ball that had made the final out to win it all.
Reinsdorf, sobbing in tears, said "getting this ball from Paul Konerko was the most emotional moment of my life." Reinsdorf returned the favor on Konerko's special day. He brought out a special guest, a fan that had caught the grand slam ball Konerko had hit in the World Series and handed the ball to Konerko. The statue standing in left field also commemorates that career-defining hit. Miniature replicas were given to Konerko and his parents during the ceremony.
Konerko had that type of magnetic response from everybody. Konerko and the fans had an instant connection from the day he started in 1999. The fans filled up the stadium on Sept. 27 and #14 thanked them as friends and not just fans. Konerko's career will go down as one of the best in White Sox history. The statue, and eventual retiring of his number will forever keep his legacy present on the South Side.