El Centro Opens Its Doors, Students Open Their Minds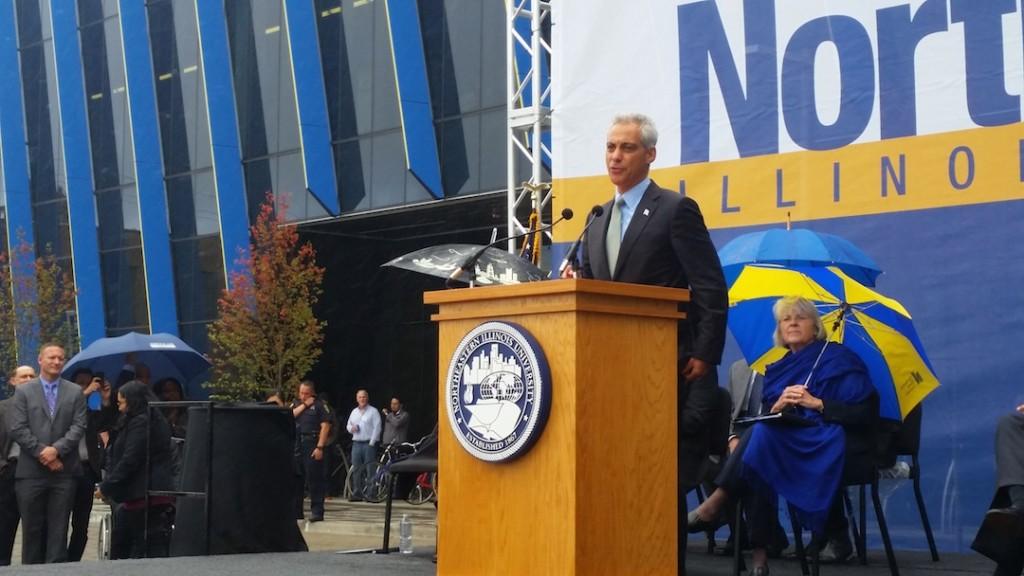 Despite the weather conditions, hundreds of people gathered at the new El Centro building, located at 3390 N. Avondale Ave., for its opening ceremony.
Appearances by Mayor Rahm Emanuel, U.S. Rep. Luis Gutierrez, U.S. Sen. Dick Durbin, State Sen. Iris Martinez, and Ald. Rey Colon made for an exciting ceremony.
"This new building, the El Centro building of Northeastern University is a symbol of that great university and what we will be as a nation," said Durbin at the opening ceremony after speaking upon the strengths that NEIU brings to America through its diversity.
Nicholas Martinez, a sophomore double major (psychology/communications) at NEIU, spoke to the crowd of how unexpected it was entering college. He was lost but thanks to the guidance of the staff at El Centro, they were able to show him the ropes and Martinez was able to navigate through college. He calls El Centro his other home and said, "El Centro has been a beacon of academic light in my life, and with this new building I believe that El Centro now has the opportunity to reach more people in its community to make a positive difference."
Though the school is relatively small compared to the main campus, it makes up for it in modernization. Kip Conwell, a biology lab manager, commented on the labs, "It has two brand new state of the (art) labs that are just as high quality as the ones in main campus, except these are brand new. They have a spectacular view of the city with the glass windows."
NEIU student Paola Canales describes the old campus as small and recounted having to share the old campus with high school students. She likes the new El Centro improvements and said, "Now we have more space, more privacy to talk to tutors. Everything was so clutter. Like when you had to talk to a tutor, there was other people listening to you if you had a problem." She noted her admiration for the architecture as well, specifically commenting on the lighting and windows.
Northeastern students are not completely alone on campus. Made known through the NEIU newsletter, El Centro also serves as a community contributor, providing programs such as English as a second language, health and financial seminars and computer literacy courses.
As of right now, El Centro currently has four degree programs: Computer Science, Justice Studies, Social Work and Special Education. As shared through Dana Navarro, the university is "exploring the possibility" of furthering the degree programs by adding a Master's in Public Health, a B.A. in Philanthropy and a B.S. in Nursing. These degrees would be exclusive to the El Centro campus.
Contributions to this article were made by Emmanuel Gonzalez