Review: 'Jimi: All Is by My Side'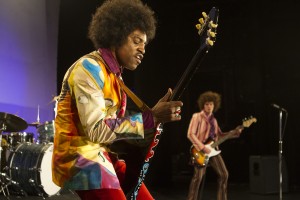 Jimi Hendrix is a bit of a mystery. He preferred to let his guitar do the talking for him.
Performances like "The Star-Spangled Banner" at Woodstock and the Monterey Pop Festival where he famously set his guitar on fire, as well as four classic albums, spoke greater volumes than anything he could have said.
Getting a view into his motivations as an artist is a difficult challenge. The new biographical film, "Jimi: All Is by My Side" tries to uncover what lies beneath the rock-legends exterior but is ultimately paralyzed, creating a film that doesn't quite know what its strengths are.
The film stars Andre Benjamin (aka Andre 3000 of OutKast fame) who has previously acted in the musical "Idlewild" (2006) with his OutKast partner Big Boi.
Fans were skeptical upon hearing that Benjamin would be filling the role, knowing him mainly for his music career, but I was surprised at how well he was able to evoke Hendrix's voice and mannerisms.
Unfortunately, writer and director John Ridley, who brought home an Oscar last year for his adaptation of "12 Years a Slave," doesn't allow Benjamin to do much with his performance.
While the characterization of Hendrix as easy going and quiet seems to correlate with the real-life accounts of Hendrix's persona, it doesn't necessarily make for good drama.
Ridley does attempt to delve into deeper territory occasionally, like one scene where Hendrix calls his father collect from London to tell him about his record deal, only to get berated for placing the expensive call.
Benjamin is able to portray a heartbreaking need for approval while maintaining Hendrix's mellow, hippie demeanor, and we can finally grasp some notion of why this shy guitarist would want to pursue fame the way that he did.
Unfortunately, the film doesn't follow up on the inner trauma of Hendrix's relationship with his father. Instead Ridley constructs a domestic abuse scene (reminiscent of "Purple Rain") in which Hendrix beats his girlfriend Kathy Etchingham (Hayley Atwell). This choice contradicts the film's earlier characterization of Hendrix and jarringly changes the tone of the picture. Furthermore, Etchingham herself has been widely quoted in the press denying that any such event ever happened.
During this part of the film, I wondered why I was watching a scripted version of Hendrix's life at all, when I could have seen the new PBS documentary "Jimi: Hear My Train A Comin'" (a good recommend for Hendrix fans) which at least has the rights to feature Hendrix's music.
That's right, none of the artist's actual songs appear in the film. The filmmaker makes-do with a variety of mimed covers, including Sgt. Pepper's Lonely Hearts Club Band.
However, there were a few qualities that make the film an interesting one to watch, especially for fans of late '60s rock.
One of the most compelling parts of the movie was Imogene Poots' portrayal of Linda Keith, a 20-year-old model and girlfriend of Rolling Stones guitarist Keith Richards. She discovered Hendrix while he was playing back up for Curtis Knight and the Squires.
Linda's storyline provides some insight into how managers, such as Chas Chandler (Andrew Buckley) and Michael Jeffery (Burn Gorman) crafted the careers of rock stars.
The scenes chronicling how this young woman introduced Hendrix into the international music scene are the ones with the most energy, and are ultimately the ones worth watching. Indeed, the film could have been more satisfying if it focused on this material instead on trying to rely on clichéd dramatics.