The Exchange Experience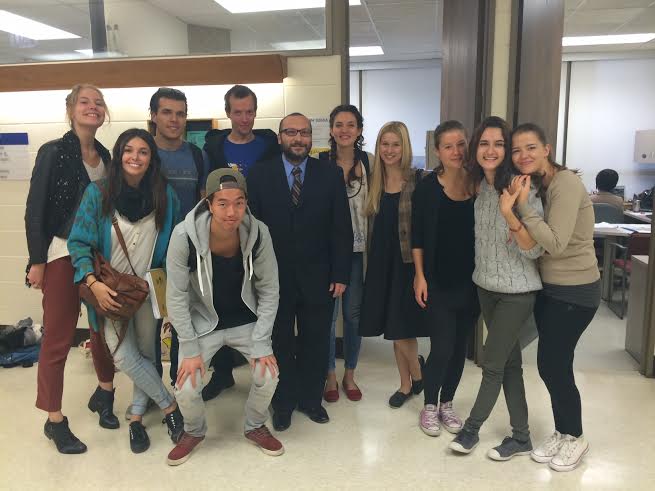 "You have to venture outside your world in order to find yourself. It is good for a person to leave the comfort zone and explore different cultures," said Christian Groen, a business administration student from the Netherlands. Groen is one of 45 international exchange students attending NEIU for the fall semester.
In the short time they've been here, the students have been exploring campus, attending events, meeting students, getting additional help from the library's tutorial system and taking the occasional nap on the couches in the Student Union.
For Groen, the biggest advantage of attending NEIU is that he could put together his own schedule. "I wanted to have all my classes in two days to have some spare time for my co-curricular activities. In Rotterdam, it's impossible," he said.
Advertising and Public Relations student Beatriz Achaques from Madrid is thrilled to develop her skills in various areas. "I like the possibility of taking a subject that is not specific of my major," she said. "For example, I am taking introduction to graphic design…That helps me to improve in another field and see my own degree from a different perspective, which is always enriching," she added.
Science student Robin El Hayek from France was excited about the P.E. complex. "I am really glad I have an opportunity to try so many sports. Kick-boxing is one of them," Hayek said.
However, they found some issues difficult or surprising. "The American educational system is different than the European one. Here, you have to read a lot and we don't have to read that much in The Netherlands," Groen admitted.
Achaques said that in NEIU, there is more day by day work. "In Spain the university gives more independence. You have to write longer essays, but they are more spaced in time. No daily monitoring and home assignments," she said. Additionally, the exchange students are less familiar with American history, political system, media and local issues which can be problematic at times.
The students not only admire the international atmosphere in NEIU, but also all over Chicago. Even though they are on exchange in a foreign country, they do not feel different. "This is a very international, modern city with beautiful places like Millennium Park or Navy Pier and delicious food," said Rong Du, a Landscape Design student from NEIU's sister school Northeastern University in China.
"In my opinion, the biggest problem of the city is the traffic. Every day I spend too much time waiting for the bus or train," Du said. Groen echoed the frustration. "I hate the public transportation system. You can't rely on the bus schedule, because it doesn't exist," he joked.
Even though they dislike some things about the school or city, the exchange students keep in mind that they are here to widen their horizons. According to exchange coordinator Wojciech Wloch, students who go abroad are able to a build stronger transcripts and resumes, get personal and academic enrichment and enormous cultural experience, while continuing on the path towards the student's major.
NEIU students are encouraged to join the exchange program for a chance to study abroad in 29 universities located in Europe, Asia, N. America and S. America. "Participation in the exchange program does not slow a student down, because the student is taking Northeastern classes for Northeastern credit," Wloch said.
For more information, contact the international programs' office at (773) 442 4796 or visit their website at neiu.edu/academics/international-programs.