Chicago's Sky High
Shortly after Chicago sports fans rode the Jackie Robinson West Little League team through their United States Championship run, that same group of fans has a new summer sweetheart to close the season with. The Chicago Sky have advanced to their first ever WNBA Finals where they are playing the Phoenix Mercury.
After an injury-ridden 15-19 regular season, the Sky has fought through two tough series to get to the championship round. Stars Courtney Vandersloot and Elena Delle Donne both missed significant time during the regular season and, while Delle Donne's play has been shaky, both of their presences have helped the team advance. After beating the No. 1 seed Atlanta Dream in the first round, the Sky won a double overtime thriller over the Indiana Fever in the deciding game of their series.
While both Indiana and Atlanta are quality teams, they don't compare to the dominant force that is the Mercury. Led by NCAA Women's Basketball legends Diana Taurasi and 6'8" Brittney Griner, Phoenix finished 29-5 in the regular season and have waltzed through the playoffs so far.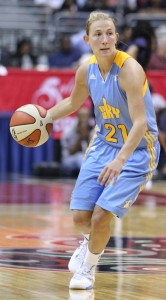 The Sky will have their hands full with the WNBA's best offensive team, but with two-time defensive player of the year Sylvia Fowles and the continued healing of Delle Donne, Chicago could fight their way to another deep series. Game two of the best of five series is tonight, Tuesday, Sept. 4.